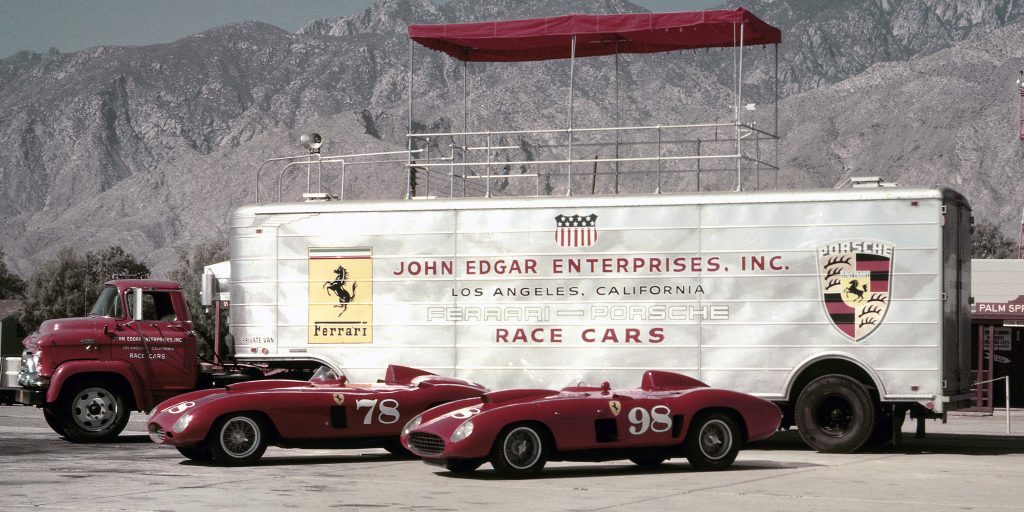 QUIET OBSERVER
"I've lived a packed life, and exist on what it's taught me." 
Indeed. Born to John and Jerry Edgar in Troy, Ohio in 1933, automotive & motorsport writer, photographer, former documentary filmmaker William Edgar absorbed his father's passion for life, photography, cars, racing, and anchored by a deep appreciation for literature inspired by his mother, ran at life, full throttle. 
"My father John Edgar was a star salesman for the Hobart Manufacturing Company.  Hobart's primary products were KitchenAid, and heavy-duty appliances for commercial kitchens. He got a job in Hobart's Los Angeles sales office in 1935, so we moved to Toluca Lake near Warner Brothers studios."
The early years of William's life were spent in California before his father took the family back to Ohio for Hobart in 1938. 
"My grandfather Edgar was one of the four founders of Hobart. When he died in 1941, while vacationing in Florida, my father received an inheritance that afforded him a different life without working as a salesman, and we got out of Ohio in 1943 and moved back to southern California, this time to Beverly Hills."
Who might have possibly surmised at that time what the next two decades would bring . . . a Southern California legacy that would leave his father, as William describes, an "accidental pioneer" in Ferrari sports car racing in America.    
"John Edgar had a love for photography since the 20's, so he rented a little studio in Hollywood where he did portraits and wedding pictures, and he went to the Art Center School.  
"My father also loved cars. We had originally moved to California in a Pierce Arrow and I loved the Cord 812 he bought for my mother before we returned to Ohio. I loved to ride in it, sit in the front seat, and look at the metal tooling on the dashboard. I got a child's kick out of people who would gawk at the car.
"In 1944 my father closed the studio in Hollywood and opened 'John Edgar Modern Photography' on the Sunset Strip, across the alley from the old Trocadero nightclub.  He did pinups for the GI's, and ordinary portraits. It was all large format camera, 8×10, lights, a huge darkroom, everything. I was eleven but I knew what was going on and I used to sneak a look at the pictures and the scantily clothed women. [laughs]
"My adolescence was mainly about cars and photography. I loved to draw from as early as I can remember. I first wanted to be an architect. I drew cities and designed modernistic houses and buildings and roadways. I also had a great interest in automobiles.
"I spent a lot of time in the photo darkroom with my father, helping him with chemicals, developing, drying and printing. I didn't get too involved with the printing, but I loved the fact that I could help him and hang negatives for him once they'd been in the soup, and that was a good bonding.
"In 1945, my older brother Jackie and I started Harvard School, a boy's military school in North Hollywood where we lived on campus. He wasn't at all into cars like I was. His interests were classical music and math. I was a really poor student, spending most of my time drawing cars in study hall and talking about cars."
But William and his father were also into motorcycles.
"From a young age, John Edgar was enamored with motorcycles and speed.  He rode a Henderson-4 in college. He hit a pig on a country road in Ohio and went flying over the handlebars and landed on the palms of his bare hands. Years later, he bought a 500cc Triumph Tiger from Johnson Motors in Pasadena. Ed Eskenderian, only 27 years old then, built up the engine. 
"When I was 14, my father came into my room one morning and said, "It's time to learn to ride a motorcycle!" That floored me because it was something none of my friends' fathers would ever say to them.  I learned on the Triumph in a parking lot behind his studio.  
"I used to ride the Tiger to school after I stopped being a boarder. My father gave me the bike, even though it wasn't mine in title.  It had 4-inch megaphone pipes on it, and I taught myself how to speed-shift by using the kill button, no clutch. I really was a nut for motorcycling. I loved the speed it gave me. It made me feel like I was Superman. Sitting on this thing, I could make it go anywhere I wanted, as fast as I dared go. I mean, I was a terror. 
"The kids at Harvard were mostly from wealthy families and they had their own cars when they were like sophomores in high school, really neat hot rods and customs.  But I was the only kid at Harvard who rode a motorcycle and I rode the hell out of it.  
"My father also had an Ariel Square Four that I'd sometimes steal out of the garage and ride off down twisting Sunset Blvd to the ocean and onto Pacific Coast Highway, and I'd feel like I was king of the road.
"Talking with people at Johnson Motors like Ed Kretz, and other hot riders at the time, my father got it in his head to have a land speed record motorcycle.  So, he contacted Philip Vincent and Phil Irvine in England and had them build him the first 1,000cc Vincent Black Lightning. Rollie Free, stretched out flat, wearing only bathing trunks and tennies, rode it for my father at Bonneville to set a new American Class C motorcycle record of 150.313 miles an hour.
"Simultaneous with ordering the Lightning, my father bought an MGTC and had it supercharged with a vane-type Arnott blower. We hauled it to El Mirage Dry Lake in the Mojave Desert in October 1948. I watched him run the MG through the speed trap at 93 mph, kind of phenomenal for an MG at that time. 
"John Edgar, who was 46 by then, had the fastest time in the MG's class that day, beating Phil Hill in a similar but un-blown MGTC. Phil, only 21 years old, didn't have a racer's name for himself yet.  He was just another kid out there in Levi's and t-shirt with an urge to see how fast he could go in an MG. 
"I was very interested and involved in what my father was doing, and that also put me in a special place among peers at school, because they all wanted fast cars and motorcycles like my father had and theirs didn't." 
But there were also other very strong influences on young William.  Growing up on the Sunset Strip, he and his family lived in the Garden of Allah Hotel on Sunset Blvd, once the estate of silent film star Alla Nazimova.
"A number of high profile celebrities were living at 'The Garden'.  We were in Villa 12. Upstairs was the actor Jay C. Flippen. Next door was playwright Edwin Justus Mayer, and across the walkway was Humphrey Bogart and Lauren Bacall. Down the walkway from us was Jascha Heifetz. We could hear him practice his violin for hours.
"The hotel had a bar famous for who dropped in. Actor Ronald Reagan was a regular customer, so was poet Dorothy Parker, and several other people in the movie business who suited my parents just fine because they were all fond of alcohol and the company that goes with it. That Garden of Allah life was kind of a social influence on me. 
"Our family car was a 1938 Bugatti Type 57 that Roger Barlow had found on a Connecticut farm. Chickens were roosting in it and totally ruined the upholstery, but the car was still in running condition. Roger put a set of tires on it and drove it to Los Angeles and sold it to my father.  
"This Bugatti was famous in its own right because it had been displayed in the French Pavilion at the 1939-40 New York World's Fair as an Atalante Coupé and, after the Fair, converted to a cabriolet body before it became our Edgar family driver. I learned how to drive in it. I had learned to ride a motorcycle on a British Triumph and then how to drive a car in a French Bugatti!
"My mother loved driving the Bug, and she was also an avid reader. She made me aware of literature and introduced me to the work of many writers I admire today, William Saroyan, Ernest Hemingway, Evelyn Waugh, Somerset Maugham, to name only a few."
Approaching 1950, John Edgar was well in pursuit of a passion for sportscar racing that was, as William describes,"a needed and sharper focus to his life."
"Soon after the motorcycle speed record at Bonneville, my father got Bill Pollack to drive the MGTC in its first road race. Pollack was studying to be a lawyer. He was a great raconteur combined with an ability to drive a race car, an unusually interesting driver. He drove the first few races in the MGTC for my father, and then Jack McAfee came onto the scene.  
"Jack was also closely associated with Ernie McAfee, no relation. Ernie had a shop in North Hollywood where Jack worked off and on, in addition to his own shop. He'd helped Ernie develop the highly successful John Edgar owned MGTC, which ran the race number 88 and became known as '88,' 'MG 88.' Jack learned a lot from Ernie, who was a wonderful mechanic, engineer, and great innovator when it came to race cars. I spent a lot of time with Ernie in the race shop. I was fascinated by it all. 
"My father was very restrictive about the MG and, before it was race prepared, if I did take it out, it had to be when he wasn't looking. I got the true feel of a sporty car with that MG. I would pick up my girlfriend, and we'd fly around in this little red MG. It very much paralleled the freedom I had on a motorcycle.  I didn't know that was possible in a car. But I still didn't have any desire to be a racing driver."
By now March, 1951 arrived, bringing John Edgar's first experience of having his MG being badly beaten in Palm Springs by a Ferrari, the first to compete on the west coast, Jim Kimberly's 166 Barchetta, driven to victory by Kimberly's mechanic Marshall Lewis.  That single result set things on a new, unknown course.  It would not be long before John Edgar acquired his first Ferrari, a Touring-bodied 275/340 America.  A car he labeled, "one hot cookie."
"While in the Air Force, and based in California, I went to as many races that our cars were entered in and that I could manage to do with weekend passes. I went to most of the races on the west coast and that's where most of the races were so I was fortunate in that regard." 
However, William's 4-year Air Force tour, two years after he enlisted, placed him in South Korea April 1954 to April '55.
"I missed out on a lot of significant sports car racing at home during that time, but my father was good at keeping me updated. I was stationed in the motor vehicle squadron at K-10 air base in Chinhae, and I would get these long, detailed, type-written letters from him. I would read them to my buddies in the motor pool, and they would sit there with their jaws dropped, listening in awe to all this stuff about Ferraris and Maseratis and all of the racing that was going on Stateside. 
"The main thing I got from my year in Korea was that I read 200 books from the Quonset hut base library.  I read books by all manner of authors, from the classics, to Marcel Proust, to Thomas Wolfe, and again, Saroyan.  The other thing Korea gave me was the opportunity to shoot a lot of still pictures. I bought a Retina II 35mm Kodak at the PX and took pictures of everything, all Kodachrome slides, and still have those of the Korean countryside, the people."
And so upon returning from Korea, William was setting his own course.
"I got into USC with the G.I. Bill and for my freshman year was on a grade-average 'B' probation to prove myself. I did badly in high school because I never wanted to study. I preferred drawing cars and riding motorcycles.  But USC was a new road. I made it through that first year with an A-average, so in the second year I was into my cinema major and I loved it.  I was in film heaven.
"I really saw film as a career path and it was. I never got less than an A in any of my cinema classes and when it came time to graduate, I was offered a Directors Guild of America scholarship to stay on and make a post-graduate film.  I saw in that a lethargy that I just didn't want to sign-on to. I wanted to get out and do it. I didn't want to piss around making a 20-minute student film, and taking a year for it. I wanted to make films that I could do just as fast as I could, and continue my learning that way. 
"I went to all the movie studios that summer after graduation and no one wanted to hire me because I was looked upon as a 'smartass film school brat,' out to upset the precious old guard. So I pursued the documentary film route.
"I knew Bruce Kessler, the hot young driver who'd won the Ferrari race in Nassau with my father's 410 Sport. Kessler wanted to know how I was doing with the film pursuit and I said, 'Bruce, I can't get arrested. Nobody wants me.'
"He told me to call his friend Jack Haley, Jr, at David L. Wolper Productions, and that he'd set it up so Jack would know who I was and take my call.  
"I called Haley every day for a month before I got an interview. He was heading a television series called 'Biography' that Mike Wallace was narrating and Haley hired me to do a research paper, just to get rid of me.  
"I turned in this incredibly long paper, 80 pages, on the Wright Brothers. I researched everything that was ever written about the Wright Brothers, and so he hired me to write a couple more research papers. I did one on Charles de Gaulle, and another on Helen Keller.  That's when I was advanced from research writer to film producer and I did the 'Biography' film about Helen Keller's life. I did seven of those about famous people and at the same time I became Director of Research for Wolper and got involved with a lot of the other films that senior producers were doing on any number of historic figures, using archival footage and old newsreels.   
"I worked at Wolper for about ten years.  Historical documentaries by then became old hat for me, and I needed to get out and do live-action films. Andy Sidaris, a friend of mine, was a top director at ABC Sports, and he let me come in and cut some of the "Wide World of Sports" shows he was doing. I was on a Moviola night and day, editing sports footage. It was literally around-the-clock, totally insane work." 
William ultimately focused on his documentary films for 30 years, and many of them are motorsport themed.
"My Peter Revson, 'Days of Glory' article in Vintage Motorsport magazine was drawn from a film I made about Peter, and Denny Hulme, racing in Can-Am at Road Atlanta in 1971. It was a half hour film for CBS, one of a series of 6 specials I did called 'Once Upon A Wheel', the spin-off from an hour special I wrote for Paul Newman.  I made others about Bobby Allison and Bobby Isaac, Prudhomme and McEwen, and Posey and Hobbs.  I had the greatest time doing those. For a span of 30 years I was associated, either as a writer, producer, director, or all three, in 300 films." 
But the never-ending battle, often struggling to make two 10 ft. ends meet across a 25 ft. span . . . while dealing with all of the uncertainties that life brings  . . . as any filmmaker will tell you . . . took its toll.  
"It kind of wore me out trying to put crews together, especially at the last minute when schedules would change. I finally said, 'I'm not doing this anymore, I'm going to do print journalism where I'm responsible for myself and that's it. I'll also shoot my own stills unless there are already existing photographs, and I'll just do it that way.' And that's what I've been doing since the early 1990s.
"On the other hand, I've never lost my love for films."
Since then, William has made quite a name for himself as a frequent contributor to CAVALLINO, FORZA, SPORTSCAR DIGEST, and a number of other automotive and motorsport magazines and books. His four-part series "John Edgar In Period," published in CAVALLINO issues 235-238, is not to be missed. William's passion for literature is reflected in his writing. His character driven articles on significant racers read as epic, larger than life adventures, and reveal a true appreciation for the impact of story telling.
He also curates and manages the William Edgar Archive of motorsport images from 1948 into the 1970s.
"My father had one of the early Rolleiflex cameras followed by a Speed Graphic, and a Leica, and when he went to the races, he usually had those with him. He had done well, business-wise, through his farmlands and stock market successes, to the point where he eventually backed the construction of Riverside Raceway in 1957. 
"My father became a good friend of Lester Nehamkin, a very active race photographer. Lester shot for us when my father couldn't, being occupied with his drivers, the cars, and running a team. He would then buy those photographs from Lester on the spot.  
"With no special purpose or plan, John Edgar begin amassing the pictures that he, Lester, and Lester's associate Ken Parker took, along with photos I began to take, that would years later, decades later, become the William Edgar Archive. We even shot 16mm color movies at the races, and have hours of that preserved in the archive.
"My archive evolved to be recognized by motorsport authors and publishers, and I was getting requests to supply pictures of cars and drivers for magazines, books, and promotional materials. What people find unique with my collection is that it concentrates almost entirely on 1950s sports car racing in America. The online gateway to it is my 'william-edgar-archive.com' website now available for all to visit."
What a time and place in history that was.  Emerging from the challenges of the Great Depression and WWII, the skies must have been the only limit.  But to consider a commercial appliance salesman from Ohio would one day be remembered along with names such as Jim Kimberly, John von Neumann, Tony Parravano, fielding race cars driven by Pete Lovely, Jack McAfee, Richie Ginther, Carroll Shelby, and Phil Hill; what on earth?  Life is truly stranger than fiction.  And William was right there.
And memories?  Sadly, we can but barely scratch the surface here. 
"Jack McAfee was a big guy, nicknamed 'The Bear'. He filled the driver's space of whatever racing car he climbed into, be it the MG, Porsches, or the three Ferraris he alternately drove for my father's team. His performance was consistently measured and in sync with whatever the car was capable of doing in a race because, at his core, Jack was an excellent race mechanic, just as Phil Hill was.
"All he could think about was how to make a car go faster and not break. It was the tinkerer's passion. Jack was super on feedback, and always ready to grab tools and go to work under the hood of what he was driving. When it came to our own Ferrari 340 America, prone to stutter with only six cylinders firing, Jack made all 12 of the Lampredi's 4.1 run without flaw. In 1953, he famously drove the Edgar 340 from his shop in Los Angeles to Palm Springs, won the Main there with it, then drove it back to L.A.  
"Jack also raced our 857 Sport, the repaired ex-works Ferrari that Gendebien had crashed during practice at Dundrod in 1955, but was never totally happy with that 3.5 Monza, not like he was with the 340 Barchettta. Then, of course, he narrowly escaped with his life when our 4.9-liter ex-factory 1954 Le Mans winning 375 Plus' differential seized in that year's Carrera Panamericana and sent it off the road, instantly killing Jack's navigator Ford Robinson. 
"In that tragedy's wake, after months of depression and alcohol, my father brought three Porsche 550 Spyders into his team for Jack and Pete Lovely and Ruth Levy to drive. Jack was thrilled with the smaller, more nimble Porsches, winning its SCCA class championship in the 550 that my father bought from the factory at Sebring immediately after its class win there.
"Carroll Shelby conveyed a sense of living championship for me, augmented by our good buddy talk and ease of presence between us. He was like a brother, or uncle, I'm not sure which; only ten years separated us. 
"Away from the steering wheel, at the dinner table or bar with drinks, he was family, affecting wisdom about racing and not racing, but he was forever a racer at heart. I always called him Shel, or Shelby, never Carroll. He called my father Pap and my mother Mamoo. She adored him for his combined machismo and grace. He loved her, and loved her chili con carne, and we always thought it inspired him to make his own chili recipe and market it.
"For my father, Shel was like a vaudeville act partner doing their stuff together on stage, the results well-celebrated, and cost be damned. John Edgar bought the best and fastest Ferrari and Maserati of the day for Shelby to drive, and Shel drove the piss out of them on his way to winning. Sometimes now, when I'm dressed to go out, my wife will laugh and say, "With those suspenders you have your best Carroll Shelby look". I can talk and sound just like him, too."
John Edgar became not only a very important figure in sports car racing in the United States, but in Ferrari's sports car racing history.  His son may have had the best seat in the house, but did not just tag along.  A quiet observer, and carrying forward a good bit of his father's evident gumption, William made his passions his life and livelihood.  
"My parents were wonderful, bright people. My life has turned out the way it has through a combination of my father's love of photography and cars, and my mother's love of literature. I melded those more or less inherited traits together to make who I am."
And our lives are richer for it.
All images © The William Edgar Motorsport Archive, courtesy of William Edgar
Originally published in Vol. 30, No. 3 of SEMPRE FERRARI, the bi-monthly of the Ferrari Club of America Southwest Region
Tags:
375 Plus
410 Sport
410S
Carroll Shelby
Cavallino
Ferrari
Harvard Military School
Jack McAfee
John Edgar
March Air Force Base
Palm Springs Airport Races
Phil Hill
Riverside
Rollie Free
Vincent Black Lightning