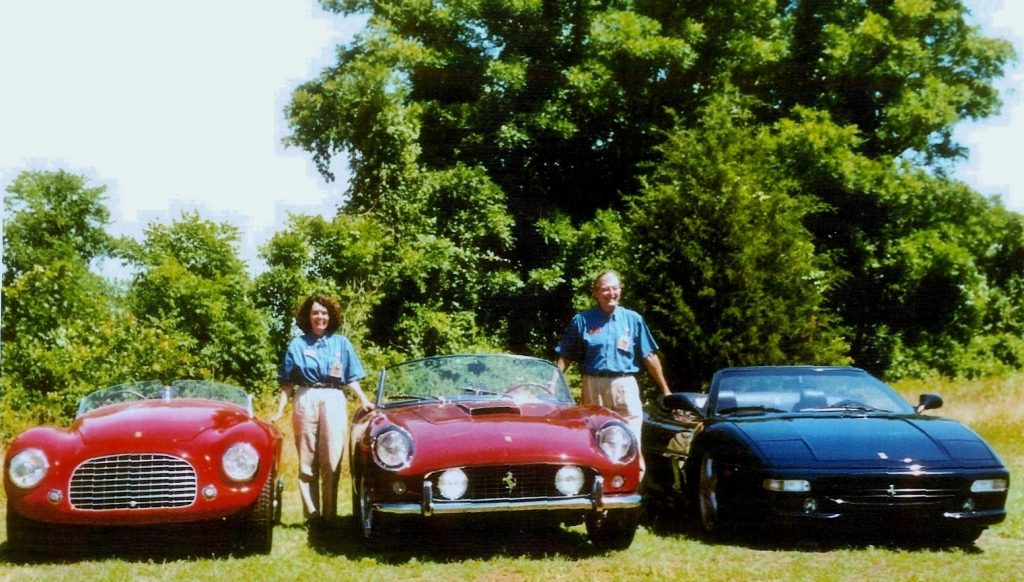 A LIFE DEDICATED TO AUTHENTICITY AND ORIGINALITY
"My first station when I was called to active duty in 1959 was March Air Force Base. I loaded up my Healey with what few possessions I had and headed down to Riverside, only to very quickly discover that, you know what, Riverside Raceway was right next to the base.  
"I was in the officer barracks and another fella said, 'Ed, big race over at the track, would you like to go?' I said, 'Yeah, sure I'll go over,' so we went over to what wound up being the 1959 LA Times Grand Prix, and that's where I saw and heard my first Ferrari. All the great drivers were there, and all the great cars were there, too. Phil Hill was there in a Ferrari 250 Testa Rossa.  As I recall, Stirling Moss was there in a Maserati and I think Lance Reventlow was there in a Scarab, and it just went on and on.
"We're standing down at the end of a straight and here comes this Ferrari 250 Testa Rossa and this thing just screamed by. Of course, it had to slow down to get around the turn, but then it screamed off again. It was just the most fantastic sound I'd ever heard and the car was absolutely beautiful. I was so excited that I said to my friend, 'Oh my god, I can't believe those Ferraris, how they sound. One day, I'm gonna have a Ferrari.'"
Little did anyone realize just how important Ed Gilbertson's Southern California introduction to Ferrari would prove to be, not only for the Ferrari Club of America, but also for international automotive concours and Ferrari preservation the world over.
"Born and raised in North Dakota, Fargo is where I spent most of my time growing up. We had moved from Devils Lake, on the edge of the Sioux Indian Reservation, Fort Totten, when I was around 5.  I was in North Dakota until I got out of school. 
"I don't remember my father, or anybody in the family being really hooked on cars, collecting them, or any of that, but for some reason as a very small child, I got interested. The earliest indications that I can remember are as a kid, 3 or 4 years old, and I would play in the sandbox with little cars and build roads in the sand and so forth, and that's where it all started.   
"When I was 8 or 9 years old, I wanted to build my own soap box derby car. I had already started building things. I would build little scooters using an apple box, a two by four, roller skate wheels, just to have something I could stand on and move.  I was soon ready to build my own Soap Box Derby car and I actually built and raced three of them.  Gosh, I was really young when I think about it. [laughs]
"I was always curious about things and I would take them apart to see how they worked. That came on very early and it used to frustrate my mother.  I'd see a clock or something and I'd want to take it apart and see how it works. 
"I got my first motorcycle when I was 11. Now, it wasn't a big motorcycle, I called it the 'Hardly' Davidson.  It was a bicycle upon which somebody had welded a plate right above where the pedals normally were, removed the pedals, and mounted a one and a half horsepower Briggs & Stratton horsepower engine. It had a belt that went to the rear wheel. It was really basic. You would move a long lever forward and it would push a roller skate wheel against the belt, tighten it up, and get the bike moving. (laughs)
"I saw it at the back of the local hardware store in downtown Fargo. I remember going to the owner and saying I saw this bike that looks like a motorcycle in the back of the store. I wondered what they were going to do with it. They said they didn't know, they really didn't have much of a use for it, so I asked if they would sell it to me. I'm a little kid, but I had a paper route at the time and as I recall, they said it would be 20 or 30 dollars, so I bought it and wheeled it home. That's where I started learning about motors and it was the first motor that I worked on.
"I did get the bike running and had a lot of fun with it. When I was thirteen, I was interested in not only getting a bigger motorcycle, which I did, I wound up replacing it with a real Harley Davidson, a Knucklehead, before I was eligible for a license. Later on, I ran across this clapped-out Ford, which had come from some farmer who had traded it into the local Ford dealer. It was a wreck. I think it cost me 50 bucks. 
"The Ford didn't run at all. It was an early Ford V8, a popular engine that was used for many, many years. I think the only reason my parents let me have the Hardly Davidson, the real Harley Davidson, and later on, the car, is that they didn't think I'd get any of that stuff running.  
"I wanted to be a fighter pilot, and in high school I'd taken math courses, physics and things like that. I'd been in the Civil Air Patrol and I'd been up in some planes and flown a couple, just as kind of a familiarity.
When I got out of high school I went to college in mechanical engineering and signed up for ROTC, and graduated in mechanical engineering.
"When we would get our annual physical, my vision would be 20/20, but shortly before I graduated, I went for that last ROTC physical, and it came out 20/50. I said I want to try again.  I tried three times because I'd had 20/20. Best I could do was 20/50. 
"Today you can have corrective lenses and as long as it's corrected to 20/20 you can still go through pilot training, but in those days your vision could deteriorate some once you were into the training, but to get into the training it had to be 20/20 uncorrected. I was just really distraught, wanted to be a pilot, and they said, 'Sir, don't get too discouraged because you can still be a Navigator with 20/50.' I said, 'Well, I understand that, and I would be on a Bomber crew, but I'd be in the back seat. I wouldn't be up front with the pilot and copilot, and I said that's not what I want. I'll pass. If I can't get in to become a fighter pilot, I'm not interested.' 
"We'd just graduated. I had my 2nd Lieutenant Bar, and my Specialty Code was as a mechanical engineer. I felt when I went on active duty, they could put me in my engineering specialty, so I reported to Riverside and March Air Force Base.
"This was right around the time the Russians sent up Sputnik. This alarmed the US Government, and they sent word out to the various engineering schools that we needed us to get out there, working to develop our own space program and catch up with the Russians.  Word also went out to the big companies, so when I graduated, I had pretty good grades, and I interviewed with and went to work for Boeing in Vibration Dynamics.
"I was involved in developing the guidance system for the Minute Man missile, which was an interesting job, but with ROTC I had an active duty commitment with the Air Force.  Of course, these companies knew we were going to be called to active duty at some point, but it happened pretty quickly for me.  
"Incidentally, it was at Boeing that I bought my very first sports car. I started where a lot of us did, with a British sports car and I got myself an Austin-Healey.
"For a guy that likes open cars and liked to run that Healey with the top down, I didn't like all that rain in Seattle. I was only at Boeing a few months when I got my notice to report to active duty at March Air Force Base."
It wasn't long after Ed had arrived in Southern California, and seen the Ferraris racing at Riverside, that the Air Force would throw him a very much unanticipated curve ball.  
"They had enough engineers of my kind at that particular point, but they were short of meteorologists, so they said how would you like to go back to school and get another degree in Meteorology? I thought, well it's a science degree, and yeah I suppose that would be kind of interesting.
"I'd really never seen a Ferrari until I got out to California. I'd ridden my motorcycle all over the Midwest and rarely saw a sports car, and never saw a Ferrari.  We had the hot rod magazines and Road & Track, who had a lot to say about sports cars and Ferrari, but up in that part of the country it was basically hot rods and custom cars. 
"Anyway, I'd only just reported to active duty, on the base a very short time, I saw that race, and then they sent me back to school.  They sent me to UCLA full time to get a meteorology degree! [laughs] Well, so this is cool. I am going to stay in Southern California, as a college student. They are taking care of all the expenses . . . so I was able to stay in the LA area with all the car and motorcycle activity.
"When it came time to graduate, I could state a preference for the base I'd like to be assigned to, and my first choice was Langley Air Force Base, the headquarters of the Tactical Air Command, a fighter base.
"That was pretty exciting.  I would provide weather service to the crews and when they went on their missions, training exercises to different bases, I would go with them.  We're out there, we're all together, and I would head for the officers club with the pilots when all the duties for the day were over.
"Then the missile program came along and they were looking for launch crew and I thought well that's not being a fighter pilot, but it's a pretty special assignment, so I'm gonna put in for Missile Officer.  I won't have the wings but I'll have the rocket on my pocket, right?
"I was reassigned to Malmstrom Air Force Base in Montana near Great Falls, and I became part of one of the very first launch crews for the Minute Man, the very missile I worked on when I was at Boeing . . . so it all came around full circle.
"I was set to make a career of the Air Force. I'd taken a regular commission which states that you want to stay for a career, but it got to the point that I decided that I didn't want to make that a career, as interesting as it was.  
"I thought about going back to Boeing but then I immediately thought about how it rains everyday (laughs). I'm going back to California. I've pretty much been here ever since, except I did spend a few years in New York City because the company I was working for, in conjunction with Bell Labs, was headquartered in Manhattan. I got sent there on assignment, and it was where I got to know and then courted my wife, Sherry.
"By that time I had a very nice 4.2 Jag e-type roadster, but I sold that when I got to New York because I knew it was going to be totally impractical and if you have any kind of a car at all, the streets are going to beat it to death.  So, the only thing I had was a motorcycle. Sherry had never been on a motorcycle but I courted her on that bike, rode all over the east coast, we eloped on that motorcycle we got married with it, we honeymooned on it, we still have it. (laughs)  I don't ride it anymore, but it's obviously got a lot of sentimental value.  
"We left New York City in late '74. I'd also decided I'd already spent a great deal of time in Southern California and I just liked Northern California better. 
Sherry was still completing her Charted Financial Analyst Training.  In the meantime I came out to start looking for a house. I looked at all kinds of houses and man, I just wasn't finding anything that rang my bell.
"One day my realtor asked, 'Do you mind if we stop by this wonderful old house over in Liberty Hill? There's an elderly lady over there that's thinking about selling it.'
"'Well,' I said, 'sure.' 
"So we pulled up the street in front of the house. It looks out across a park and downtown area to the bay and the bridge. I looked out across that view – and I thought Wow! Beautiful.  We like Mediterranean style houses, and I said, 'Looks good from the outside. I love this hill. I love the view. Can I get a look inside?'
"In a typical San Francisco house, the entrance is on the ground floor and you walk up the stairway to the living quarters. The garage is under. The garages I'd seen here in San Francisco had like 8 ft. ceilings with no windows and space for only one or two cars, so they'd never impressed me. 
"So, I walked into this house, opened up the door to the garage – got room for five cars. Wow! (laughs) Not only that but the ceiling is 11 and half feet, and it's got windows. I thought, This is cool!
"So I call up Sherry and say, 'Sherry, I think I found the house.' 
"She says tell me about it. 
"'Oh man, it's got a great garage. It'll hold five cars. It's got high ceilings. What a great garage! 
"She said, 'Well, what about the kitchen?'  
"'Well, it has one.' (laughs)  
"'What about the bedrooms?'
"'Well, its not a big house, got a couple of bedrooms.' 
"'What about the closets?' 
"I said, 'Well, I think when I peeked in there . . . 
"Ed, she says, 'don't sign anything until I get out there.'
"We like original things, like we like original cars. We kept this old house pretty much the way it was built in the 1920's. It was expensive to buy in San Francisco in the '70's, but as things go, prices were still very reasonable and now we're in a part of town where the successful people of Silicon Valley like to live and they'll offer just about anything to get your house. The houses on both sides of us sold to high tech people and we've had many people approach us. "No, I say, 'We've been here a very long time. We're not ready to leave San Francisco. Thanks, but no thanks.' 
"Now I'm back in car country. I have a pretty good job, and I'm certainly making more money than I made in the military, and so I got looking for a Ferrari.  In the 1962 issue of ROAD & TRACK, I saw for the first time a photo of the Ferrari Berlinetta Lusso, and I said to myself, 'My god that's the most beautiful car I've ever seen.' I decided I was going to have a Ferrari Lusso.
"So a Lusso showed up at our dealer here in San Francisco and I went over and looked at it. It was maroon with black upholstery; a beautiful car.  Long story short, I stretched and got my Lusso, my first Ferrari, and I remember saying to Sherry, 'I got my Lusso. I got my beautiful Ferrari. This is all I need.' 
"Well, like most people who get into their first Ferrari and think that's it, they soon begin to look around and discover there's lots of other models that look quite different. I soon spied a 275 GTB. I said, 'Oh my god,' and then I drove it. 'Oh, wow is this a great car!' So, I kept my Lusso and I stretched again and I got my 275 and then came a 166MM Barchetta, followed by a Spyder California, and so it went. I was hooked.  
"But that Lusso, that was my dream car. I got it, and that's where it all started. 
"I joined the club, and the club in those days here in California was the Ferrari Owners Club. Ferrari Club of America was active in most of the rest of the country but by gentleman's agreement stayed out of California.
"I started showing my Ferrari in the late '70s. They had a number of local concours events in the Bay Area, and showing my car in the different shows, I discovered almost no attention was being paid to originality and authenticity.
"Each show was judged differently. Whoever wanted to be a judge would raise their hand, and all of a sudden they were assigned to judge cars they often didn't know anything about.
"I said something's got to be done here and people quickly agreed with me because those of us who are interested in originality and authenticity and preserving our cars properly, we didn't feel we were getting a fair shake.  It was very subjective as I'm sure other people who were active in the club back on those days would tell ya. It was very subjective and it was different each year.
"They agreed, but nobody stepped forward, so somebody said, Ed, why don't you do it? 
"I thought to myself – I was already active in the club, I'd already started judging in club events, and they were happy to pick me up as a judge because I did know something about Ferraris. Somebody's gotta do it, so yeah, I'll work something up. I worked up some guidelines and procedures and a judging form and started using them in the area Ferrari club events.
"In 1984, Steve Earle was heading up the Monterey Historics and decided they would feature Ferrari and they wanted to make a big to do with Ferrari.  Steve was an active FOC member and very receptive to the club getting involved.  The board quickly agreed and it was decided that Jon Masterson would handle club activities at the track and I would put a concours together.  
"This was going to be a big event. It was going to be during Monterey Car Week when they had the Pebble Beach Concours and the Historic Races at Laguna Seca, and so I said, 'Yeah, Ok, I'll do that. I'm gonna take my guidelines and my procedures and forms and I'll use them for the 1984 International Ferrari Meet at Monterey,' an FOC event.
"We had many people from the Ferrari Club of America help judge. The FCA, just like everywhere else, didn't have any consistent standards or guidelines at the time. The Chairman of the FCA annual concours, Bob Tallgren had seen the procedures and forms I had developed, so after that '84 Carmel Valley Concours he invited me to come over and be the Chief Judge for the Ferrari Club of America Annual Meet at Watkins Glen in 1985.    
"I thought, 'Really?!  You'd like me to come over and be your Chief Judge?'
"He presented that to the Ferrari Club of America Board. They said, 'What? Are you nuts? We're not gonna have the President of the Ferrari Owner's Club come over and judge our Concours.  No way.' They were totally against it, thought it was nuts, but Bob persisted, anyway. A fellow named Carle Conway was the President of the Ferrari Club of America at that time. He called and said, 'I don't see that it's going to happen.' 
"So, we invited him to come to San Francisco and our house for dinner. By the end of the evening I guess I was convincing enough that he said, 'Ok, I still don't think this is going to work very well, but I'll go back to the Board.' I remember the Vice-President Joe Rosen called me up and said, I know Carle was out to visit with you and he's willing to give you a try as Chief Judge, except I am still totally against it, 100 percent against it.   
"Well long story short, the President prevailed.  They brought me over for the '85 meet and they liked it well enough that after it was over, the Board got together and I became the first designated Chief Judge for the Ferrari Club of America from that first year, '85, for the next 20 years, until I retired."
Taking notice of the Carmel Valley Show, Pebble Beach then asked Ed to help establish their Ferrari Classes, which led to him being appointed Pebble's Chief Class Judge for Ferraris. 
"I brought the same procedures with me, the same things that were now standard for the Ferrari Club of America. I became Chief Ferrari Judge at Pebble Beach right after that '84 Carmel Valley meet. 
"I was still President of the Ferrari Owners Club and the club was a big deal in California. We were the only club here. By gentleman's agreement, the FCA had the rest of the country, but they had a lot going on. They had a big annual meet. I felt we ought to affiliate with those guys. 
"Well, none of the other FOC Board members would have it. They said, 'What? Are you kidding?  We're not going to affiliate with the Ferrari Club of America, we've got our own club. To hell with that.'
"Anyway, I started the charge to bring the FCA to California and we had a big cat wrestle out here. Myles Kitchen, President of the FOC Bay Area, led the effort to bring about the change. People were choosing up sides, the FOC was pleading with us not to go with the FCA, but I was convinced the way to go was to form a Ferrari Club of America region here in California, and so in 1988 a big vote was taken."
The Pacific Region of the FCA was born, and Ed's plate was growing larger.  After serving as Chief Judge for the Ferrari classes for fifteen years, Pebble asked Ed to be the Chief Judge for their entire show.
"I don't know much about Duesenbergs and Locomobiles and those sort of things. I remember Jules Heumann, who was Co-Chairman of the show said, 'You'll learn.'  So I became Chief Judge for all of the classes at Pebble Beach. 
"At one of my first Judges' meetings I said, 'We're going to use the same procedures, guidelines, and the same forms that I've been using in the Ferrari classes for the last 15 years.' They said, 'Ed, you can't judge our classes like you judge Ferraris.' 
"'It will work,' I responded. 'These standard time-tested guidelines will tell you what to judge, but it's not a cookbook, it's a process telling you what you should be looking at.'  I thought it might take five years for all the other classes to come onboard.  But it got fully implemented in the first year with general agreement that it did the job in bringing standard consistent class judging to all classes at Pebble Beach.  That was 25 years ago. 
"Here it is 11 years later, since I retired as Pebble's Chief Judge, and they haven't changed anything. The judging forms and guidelines are still the same." 
For good reason. Ed's lead on the importance of proper preservation and correct restoration and developing procedures that greatly reduce random subjectivity in concours judging has been adopted around the world . . .
"When I developed this process way back in the late '70s for local uses, these shows, all of which were subjective, were paying a whole lot of attention to cosmetics. 
"I used to hear, 'Well, I can't show my car. I can't drive my car this year because I'm showing it.' I said this is nonsense and I developed that saying which has kind of become motto of the club, 'Ferraris are meant to be driven,' so when I designed my original process I did it with the words that we're not going be deducting for use of the car. 
"Cars are meant to be driven. Ferraris are meant to be driven, and there are plenty of things to look for as far as originality and authenticity. You don't need to be deducting for dust specs, dust under the fender, or a small scratch or a rock chip. That just proves the car is being used as it should be used. I told the Pebble Beach judges as well as others, that if you see something like that you congratulate the owner for getting out and driving their car.
"The original three-sheet form (Engine/chassis, Exterior, Interior) worked for a long time. As long as people use it the way they are supposed to, it works, but there were too many cases where shortcuts were taken, where all three judges were not involved, and we wound up with one judge determining the deductions for a given category. 
"To judge a full class – 8 to 10 cars – you have 15 to 20 minutes to judge each car and somebody needs to be keeping track of the time. So, the first cars of the class would maybe get a half an hour, and all of a sudden they're running short on time. I felt that we were winding up with the situation where only one of the judges had looked at each of those categories.  No – I'm folding the three sheets into one.
"I rolled the three sheets into one to eliminate the possibility of less than the full team taking a look at all of the components. I used to emphasize that just because each one of you have a sheet with one of the three major categories, it doesn't mean that you are the only one judging those components  – No.
"When the three judges complete their judging, they are to stand back out of ear shot and compare notes. Just because the Chief Class Judge has assigned one of those judges to be responsible for the interior, it doesn't mean that he's the only one that looks at the interior. The other two guys ought to be looking at the same thing along with him, and then when you stand back before you turn in your judging sheet, you compare notes and make sure all three of you agree on the deductions that have been taken.
"I'm a fan of the one page document and that applies to everything and I get that having read about General Eisenhower when he was Command of the Allied Forces in World War II, and he demanded that of anybody who sent anything to him – no more than one page. If you can't say it on one page, I'm not even gonna read it. You can put what needs to be there on one page."
In addition to turning three sheets into one, Ed also responded to another challenge that often arose . . .
"Say you get three or four cars in the class that all have 100 points.  We don't want to try and pick the fly specs out of the pepper. Nobody likes that, and the judges don't like having to get that persnickety. Another one of the few, but most popular things I changed addressed tie situations like this. The judging team can now add anywhere from half to three extra points for elegance, presence, or provenance, the factors that are taken into account for Best of Show, and this is added to the 100 point scale based solely upon originality and authenticity.
"I can't think of any clubs that have promoted preservation to the extent that the Ferrari Club of America has.  As far as I know, the Ferrari Club of America was the first car club to present a Preservation Award.  That was in the '80s.  Bob Rapp was a very active member, and right out of the box he was very interested in Ferraris being kept, preserved, and pretty much as untouched as possible, so he sponsored the Ferrari Club of America National Preservation Award, and that's where it all started. I said, 'Bob, that's great idea, and I think it's an important work. We'd be very pleased to have your award,' and the Ferrari Club of America has had Preservation Awards ever since."
Ed is the Founder and Chairman Emeritus of IAC/PFA, the International Advisory Council for the Preservation of the Ferrari Automobile, the guiding organization for Ferrari Concours judging all over the world.  He was Chairman over 20 years. He also founded and served as Chairman for ICJAG, the International Chief Judge Advisory Group.  In addition to being Chairman Emeritus for the ICJAG, he is Chief Judge Emeritus for the Pebble Beach Concours d'Elegance, Cavallino Classic, and the Ferrari Club of America.  He presently serves as President of the Jury for the Salon Privé Concours d'Elegance at Blenheim Palace in the UK and served as a senior member of the Pebble Beach Selection Committee until he recently retired.
Also a lifelong motorcycle enthusiast, Ed was very involved and gained a great deal of experience serving as President of a long running motorcycle club, and also served as the Chief Judge for 'The Legend of the Motorcycle Concours.'  
In 2005, the FCA introduced the Ed Gilbertson 'Ferraris are Meant to be Driven Award,' awarded at Annual Meets to the member deemed to have most closely followed that mantra. The Southwest Region proudly boasts two members, Bill Makepeace and Tony Cole, who have been recipients of the award. Tony took the honors at the FCA Annual Meet in 2012, and Bill received the recognition at Sebring, 2021.
All images courtesy of © Ed Gilbertson
Originally published in Vol. 31, No.1 of SEMPRE FERRARI, the bi-monthly of the Ferrari Club of America Southwest Region
Tags:
250 GT Berlinetta Lusso
275 GTB
Cavallino
FCA
Ferrari
Ferrari Club of America
Ferrari Owners Club
FOC
March Air Force Base
Pebble Beach
Pebble Beach Concours d'Elegance
Riverside
Sempre Ferrari
Steve Earle
Tour d'Elegance