On Via Vignole, a couple clicks east of Il Cavallino Rampante statue at the Via Claudia and Via Nazionale roundabout in Maranello, lies Lo Smeraldo, "The Emerald."
Now, if one were strictly looking for a fine dining experience in the Motor Valley, Lo Smeraldo would more than satisfy. The excellent food and outstanding service are exceptional, even in context of Italy's already high standard. 
However, if one were looking for a fine dining experience surrounded by fantastic Ferrari memorabilia, seated at a table next to Ferrari royalty, then a reservation at Lo Smeraldo would become a must.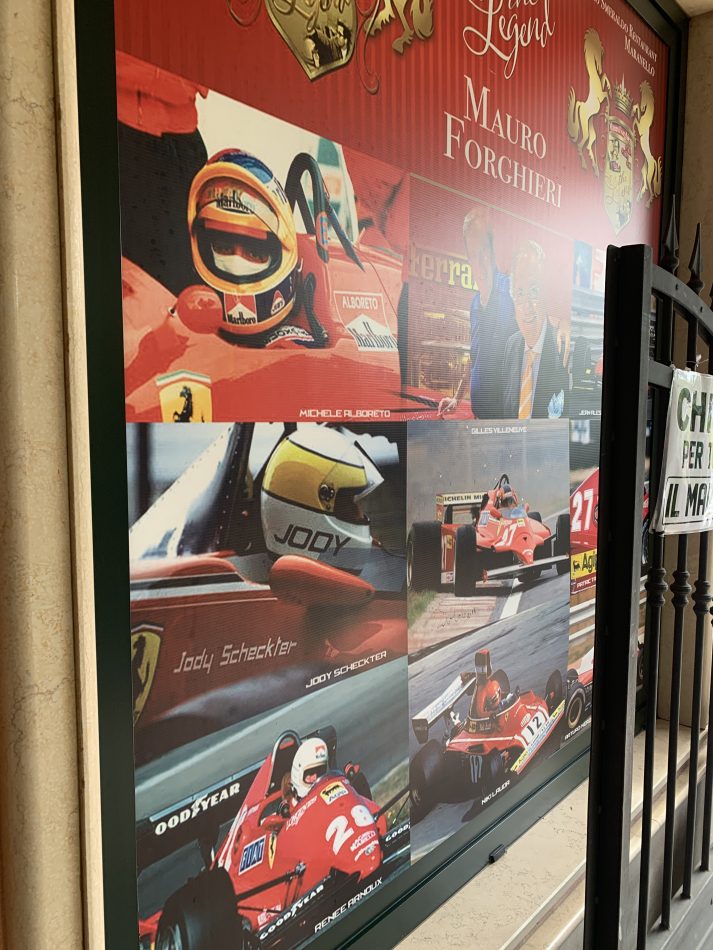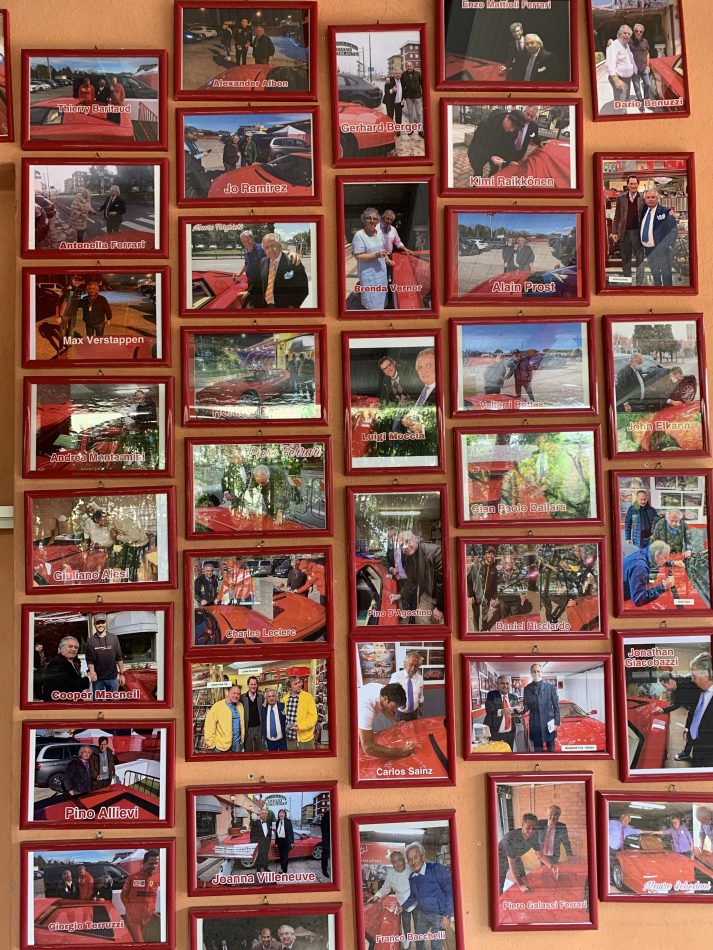 No trip to Ferrari's home in Emilia Romagna would be complete without mention of the cuisine. No question, some of the richest, most treasured culinary gifts in the world hail from the Po River Valley.  Balsamic Vinegar, Parma cheese, Prosciutto, buffalo mozzarella . . . to name a few. From the Scuderia's mechanics dining on the flanks of F1 cars to Enzo's special room at Cavallino, food has often played a central role in the Ferrari fable.  
Lello Apicella, a native of Tramonti, a little town on the Amalfi Coast, moved to Maranello in 1974. Inspired by his family's bakery and cafeteria, he opened a number of restaurants in the Motor Valley, eventually leading to opening Lo Smeraldo in 1985, where he has fashioned a classic Italian dining experience, and in doing so, created a home for those who share his passion for Ferrari.
On a recent visit following the Imola GP, and on the recommendation of Ferrari V8 and Schedoni historian and author Alberto Mantovani, I ran into my friend Luca Fornetti of The Maranello Collection. Just as we were finishing a very nice lunch (my dish a sublime gnocchi that disappeared way too quickly), Luca reappeared at our table, motioning me to follow him. 'Grab your camera,' he instructed. I followed Luca to the memorabilia-rich restaurant lobby, where I was introduced to Lello, who quickly turned on his heel and proceeded to lead me out back of the restaurant. 
Uh oh. Am I in trouble? We had not even gotten the check yet! I had no idea what was going on.
We reach a small shed-like garage at the back of the lot, Lello opens the door . . . and there stands a gleaming rosso Ferrari Testarossa. Not just any Testarossa, a Testarossa covered with signatures. As I was directed to inspect the car closely, I soon realized that these were just not anyone's signatures, but the signatures of  many who have played central roles in the Ferrari legend, including Piero Ferrari, Mauro Forghieri, Nicola Materazzi, Joann Villeneuve, Jody Scheckter, Jean Alesi, Charles Leclerc, Carlos Sainz, to name only a few.
I was allowed a few minutes to capture some of the signatures and grab a quick shot of Lello with the car.  Lello does not speak much English and I, sadly, remain delinquent in learning Italiano, but with the help of his son Mattia, I was able to later learn a little more about the car.
The Testarossa is not Lello's first Ferrari.  In fact, he owned a dozen other prancing horses prior ordering the Testarossa new from Ferrari.  Interestingly, Commendatore Enzo Ferrari arranged an early, highly unique, very special delivery of the car. Lello took delivery of his new Testarossa, s/n 80994, at Fiorano, from Piero!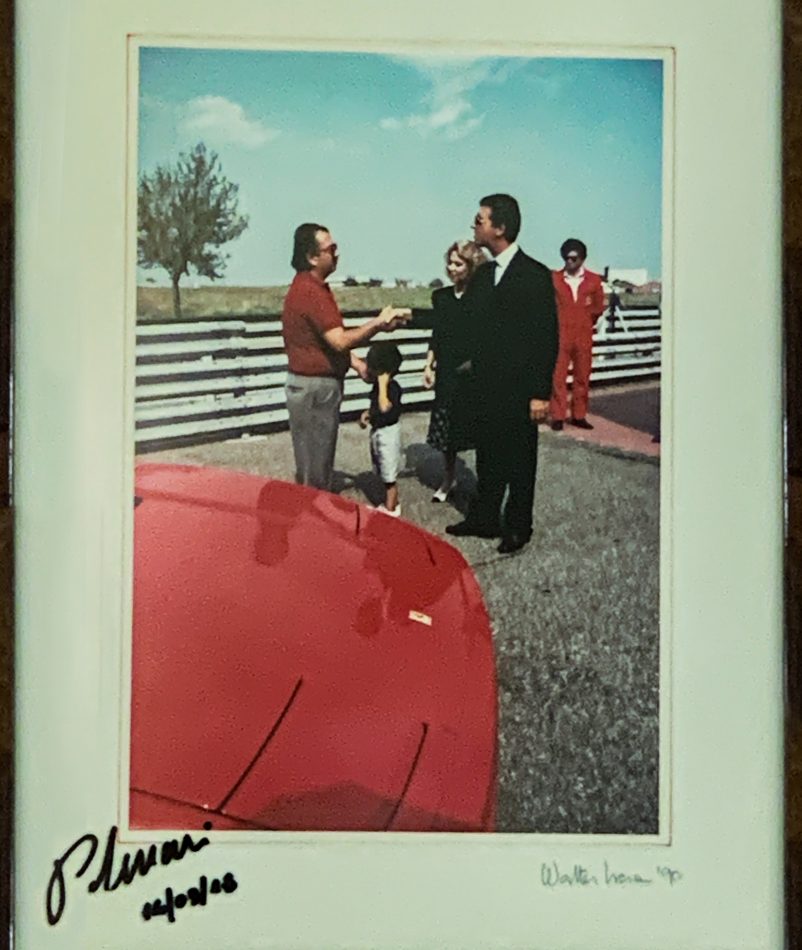 When Lello later had the car Ferrari Classiche Certified, the Red Book came with an extra page, on which Piero wrote something special, "A Lello, amico mio e della Ferrari per sempre!!"
 (To Lello, my friend and Ferrari's friend forever – Piero Ferrari)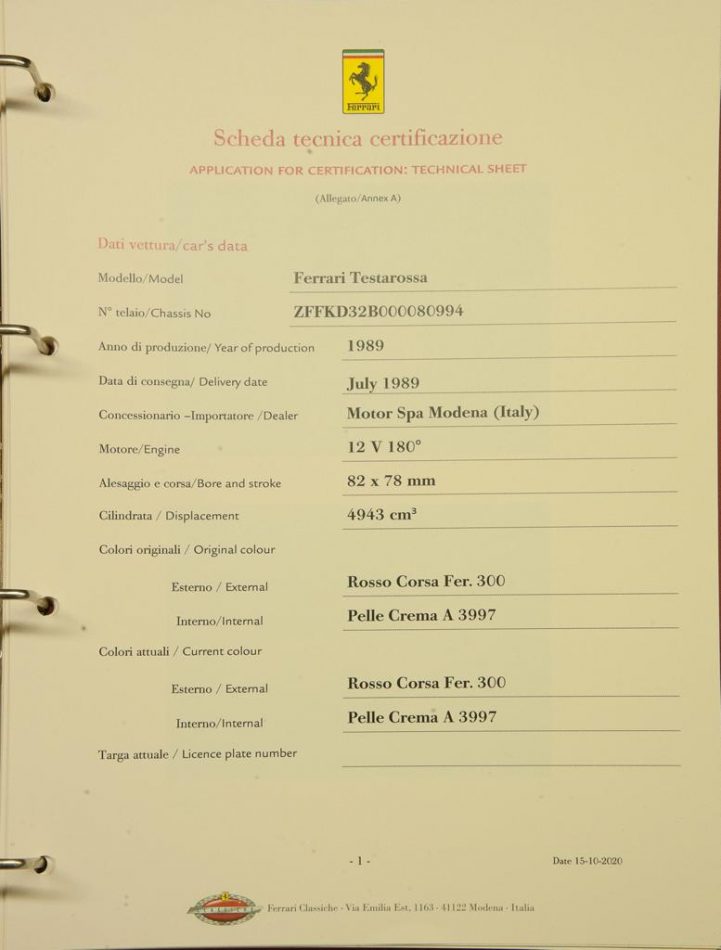 Lello believes that passion for Ferrari is not something that everyone can understand, but it is a product of driving a Ferrari, and few love the brand as he does. Lello and his son Mattia saw the idea for the signatures as a way to celebrate their friends through Ferrari, and to make his Testarossa a unique example . . . a better investment. For certain, this unique example stands as a testament to the deep, long-lasting friendships that are intrinsic to Ferraristi worldwide. 
Mauro Forghieri provided the very first signature, and Lello has had little trouble attracting the signatures that have followed. There is no formula applied to those asked to sign the car. Some of the signatures are of personalities not directly associated with the factory, nor the Scuderia, but who are still passionate Ferrarista.  When asked if there were any signatures that got away, Lello remarks, "For sure, Enzo and Schumacher, but also my dear friends Michele Alboreto and Niki Lauda."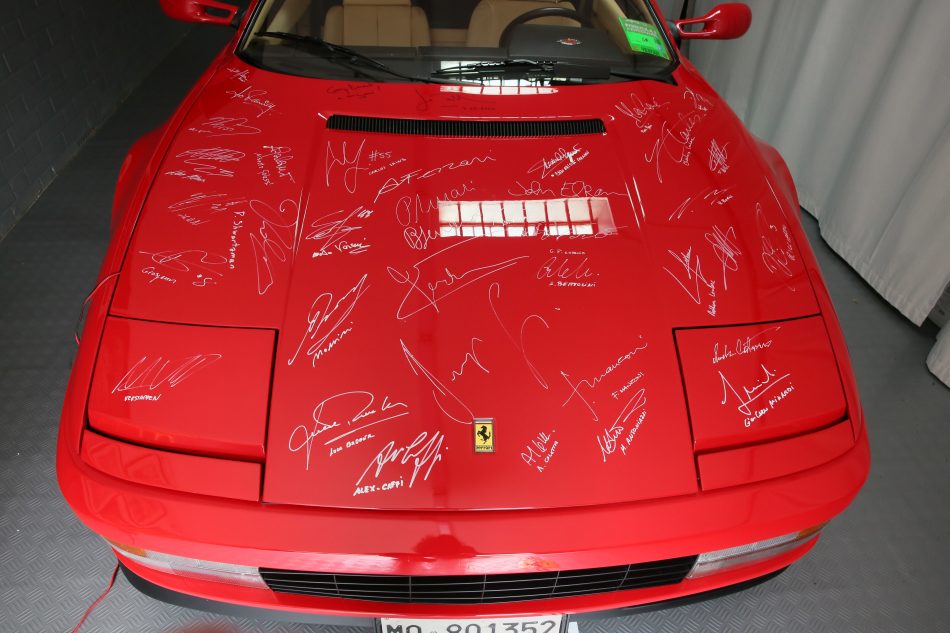 Many of the signatures are already permanently protected under clear coat.  Lello thinks he'll wait another year before getting another coat as new signatures are added. 
Lello credits almost all of his friends and close ties to Ferrari with Lo Smeraldo, as they began visiting his restaurant from the beginning. Over the years he has hosted so many of the old and new generation. In 2019 he hosted a special tribute to Legendary Ferrari Engineer Mauro Forghieri . . . who sadly recently passed . . . a special evening attended by almost everyone and anyone who has played a significant role at the Scuderia over the past 60 years.
Next time you are in Maranello, be sure to take in all that Ferrari's home has to offer, and most certainly, don't miss a chance for a truly memorable dinner at Lo Smeraldo.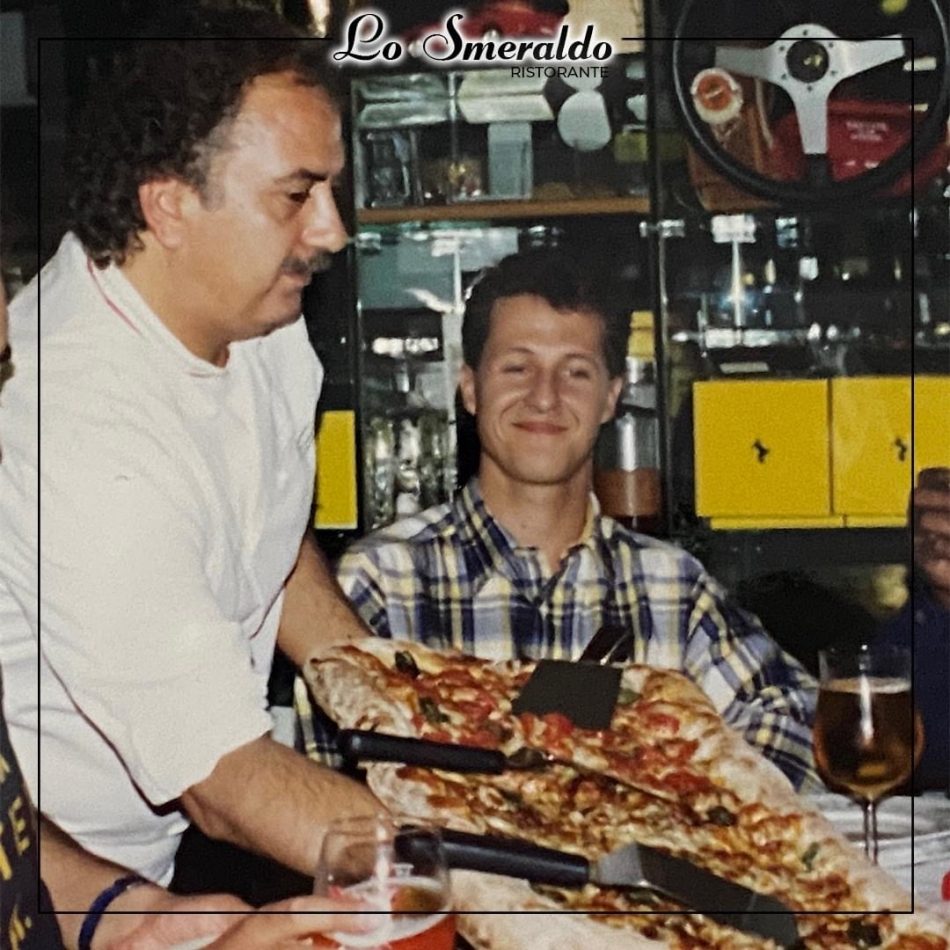 Grazié Lello!
Photos courtesy of Lello and Mattia Apicella, unless otherwise noted
Originally published in issue No. 227 of PRANCING HORSE, the Quarterly magazine of the Ferrari Club of America 
Tags:
80994
Alberto Mantovani
Enzo Ferrari
Ferrari
Lello Apicella
Lo Smeraldo
Luca Fornetti
Maranello
Mauro Forghieri
Piero Ferrari
s/n
Testarossa