Very Speciale: Vaile Shelton's beloved 348tb Serie Speciale is one unique Ferrari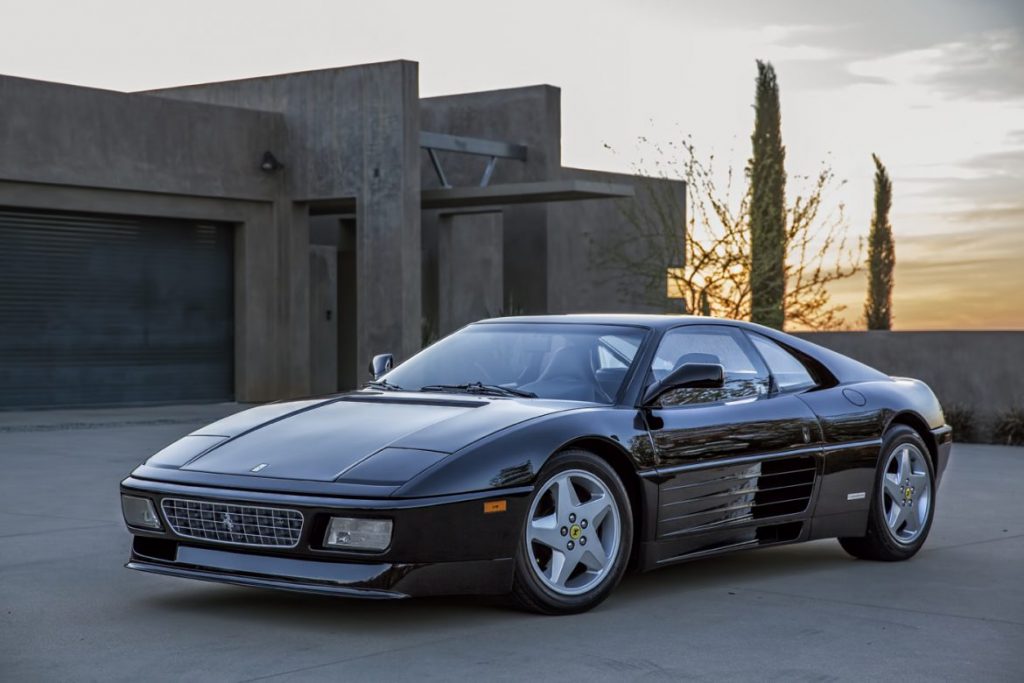 "I think it kind of had my name on it."
Vaile Shelton has had a thing for cars his entire life. Sports cars. Black sports cars. Black on black sports cars.

"I was living in Texas, kind of going back and forth from California, and was in San Antonio one weekend and stopped by the Ferrari dealership. They didn't have any Ferraris, but they did have Jaguars and I ended up buying an XJS convertible that weekend and stayed in contact with the salesman.
"He called me in early '93, 'Hey, I've got a black on black 348 that just came in. In fact, I've got two of them. You need to come out and take a look. So I flew out to San Antonio and there sat two 348's, both black, side by side, on the showroom floor. One was a tb, (transversale berlinetta), and the other was a TS, (transverale, or targa spider)."
On first glance, picking one looked simple, "I always wanted the removable roof," Vaile recalls. But he soon realized the tb was different.
"'That's called the Speciale,' the salesman said. 'They're only making a hundred of these and it's got some factory modifications you're gonna wanna check out.' He'd kind of explained to me the differences in the cars, the wider track the little bit lower, little more horsepower, the F40 styled seats, the fully body colored accents. As it also had that little name plate in the passenger door showing that it was 1 of 100, I found it to be even more special."
The 348 was the first car produced by Ferrari following Enzo's death in 1988. It was introduced at the Frankfurt Salon in 1989. The car was a departure from the 308 and 328 series cars that preceded it, but like those cars was penned by Leonardo Fioravanti at Pinifarina. With deeply raked intakes along the doors and rectangular rear lights, Keith Bluemel noted in his book ORIGINAL FERRARI V8, the 348 was, "in looks more akin to a scaled-down Testarossa."
The 348 carried a longitudinally mounted 3.4 liter, 4 valve per cylinder engine, linked to the rear wheels by a transverale mounted gearbox, much like the Mondial T, which was introduced a few months prior.
The Serie Speciale, later introduced at the Los Angeles Auto Show in 1992, was to be extremely limited to only 100 examples, built specifically for the US market. Bluemel, however, notes in his book that only 80 of the designated 100 cars were actually built, making the Serie Speciale very unique indeed.
"I was a little kid when Hot Wheels came out about 1968. I always took really good care of my Hot Wheels. I wouldn't let them touch each other I didn't want nicks in the paint and things like that. I loved building models, built a lot of models with my Dad, and had a showcase in my bedroom for them.
"I always just loved cars, the shapes of cars, and I loved drawing cars. When I got a camera, I used to take pictures of cars all over the place. There used to be a car dealer down off Sports Arena Boulevard called The Auto Toy Store that had a Daytona Spyder and a Cobra and a few other cars That Daytona Spyder was just incredible, it was beautiful.
"My Dad was into cars, but not like I was. He would buy a new Lincoln or Cadillac every couple of years. I talked him into buying a 280Z in 1976, which ended up being my first car I actually even talked him into painting that Z black. [laughs]
"I used to go to Los Angeles a lot in the late 70's with family and you'd see Ferraris all over the place. One time I heard a Daytona going down the street. I'd never actually seen one in person driving before, and I got hooked on that sound. Fast forward, I wanted a Pantera for my first car but of course, that was wishful thinking, didn't happen. [laughs] For my 21st birthday I bought my first car, which was a brand new 1985 Corvette. It was pretty incredible because it had 230 horsepower and I was just amazed by that because the cars in the late '70's were just so choked up. I always wanted a car collection, but never planned to have one, but every once in a while I'd buy a car and hang on to it.
"I always wanted a Ferrari, but when Ferrari prices went skyrocketing through the roof in the late '80's, I thought, well, that's it. I'll probably never have one. They just seemed too expensive, but prices started coming down.
When that call came from San Antonio in early '93, Vaile became, somewhat unwittingly, the owner of the very first in what would prove to become an ongoing series of limited edition, end of model run cars introduced by Ferrari. (348 production the exception, as variations of the model continued to 1995) Beginning with the 348, Vaile went on to add to his stable.
"Another time, driving down Laurel Canyon in Los Angeles, a Ferrari Boxer passed going the other direction. It was black and I just remember thinking that was the most insane looking car. I found one through the DuPont Registry, bought it sight unseen and had it shipped out to my house in San Diego. it was an '84 BBi also black, black, and needed a little, paint work and different things." Vaile never lost his eye for the Daytona.
"The guy doing my repair work in San Diego had a yellow Daytona in his shop and I ended up buying that from him. I had it painted black, did a full restoration, and put Borani wheels on it. It was stunning, such a beautiful car.
"I was also friends with a guy named Sean at Symbolic and asked that if he ever came across a 288 GTO, to let me know. I'd gone to lunch one day and driving down the freeway, his number popped up on my phone. I went, 'Uh oh.' (laughs)
"It was Otis Chandler's car. I went down and looked at it and couldn't resist. I left it red. I knew that would probably be an absolute sin to paint it black. So, I had this nice little collection, the 348, the Boxer, the Daytona, and the GTO. Over time I ended up selling all of them, and have just kept the 348. The GTO was a blast, the boxer was insane, and it was the feel, the acceleration of all those cars that's just so much fun, but out of all of them, the 348 was really the most fun to drive. Certainly not the quickest, but it's just been it's been a really good car."
The 348 served as a blueprint for the factory's approach on following models. With each successive V8 model, the 355, 360, 430, 458, and 488, Ferrari has offered a limited run of enhanced performance enthusiast models. The trend has also crept into 12 cylinder cars, such as the 599 GTO, 60F1, and the Tour de France edition of the F12.
Of note, Luca di Montezemolo revived the era of gentlemen racing with the 348 and the Ferrari Challenge series, launching the factory's modern Corsa Clienti racing program.
Vaile's Speciale carries that pedigree. "It sounded pretty good from the factory, but it was actually kind of quiet. I've always loved the original Ansa exhaust, so I had it modified. It's quite a bit louder now, has a growl at low rpms, and a sort of a F1 scream at higher rpms."
Vaile recalls visceral memories with the car. "We went on the Furnace Creek trip with the club. The drive out to Badwater is this long straight road, no police, so everybody pretty much tends to open up their cars, and I remember passing a 330 GTC, shifting from fourth to fifth. The driver later remarked, 'I'll never forget that amazing sound.' [laughs]
"It's just so much fun under bridges. There's a place nearby where there's a cloverleaf that passes under the freeway in two parts. I'll go over there sometimes and spend like twenty minutes just going around all four cloverleafs, under the underpasses, back and forth, back and forth, back and forth – it just sounds incredible. [laughs]
It's kind of interesting because of all the car's we've had, I've always said that if I could only have two of them, I would keep the 348 and the BMW M5 that I bought within a month of the 348 back in '93. They are pretty similar in the performance, their 0 to 60 times almost identical. The M5 is like a giant version of the 348, and is also pretty rare, I think there's like 800, something that went to the states during that model run.
"It seems like the 348 is kind of one of the least desired Ferraris of all time but it's never really bothered me. I appreciate the way they look and the way they drive. It just happened to be black. Had number 1 of a 100 been red/tan, I probably would have opted for the standard 348 ts! (laughs) It turned out to be the perfect car for me at the time, and will end up being my son's someday, and I want to leave him a nice car that's in good shape."
And that it is.
Originally published in the October 2019 issue of PILOTA, the magazine of the Ferrari Owner's Club.
Tags:
0428MD
0515GT
250 GT Lusso
250 SWB
250GT Speciale
328