The 365 GTS4 Daytona Spyder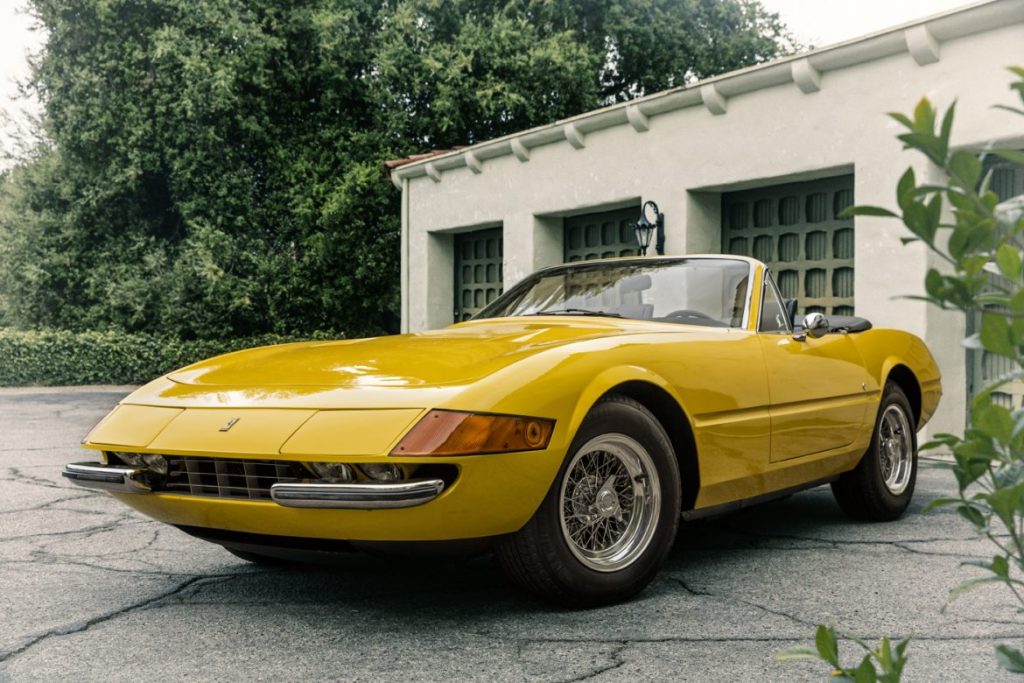 "The first time I could say, 'Yeah, that must be a special car,' was in college. I was in Beverly Hills and saw a silver Ferrari. It probably was a 330, something similar. 'Wow, that's special,' I thought."
For Robert De Pietro, being of first generation full-blooded Italian heritage, this seed would grow into as he describes, a 'natural choice.'
Having visited relatives in Italy in 1983 and taken the opportunity to tour the factory with his Dad, Robert returned home thinking about buying a Ferrari. Encouraged by Skip Vandagriff's wife, Robert purchased an '83 Euro 308 GTS Quattrovalvole. "We would usually go yearly to the Auto Show. After I bought the 308 I found that the Ferrari Owner's Club had a booth, so I joined and started going to some of the events. I remember distinctly this barbeque near Yorba Linda. It was a nice event; people would bring their cars and there were many older Ferraris.
"I thought the older 12-cylinder cars were really nice. In 1986 I started looking around for an entry level 12-cylinder, and since the 4-seaters were never as popular and therefore cheaper, I bought a 365 GTC/4. That was the slippery slope of my involvement with the 12-cylinder cars.
"I had my cars serviced at a small shop in Sunland. The owner said he also worked at a Ferrari dealership. It was also always sort of interesting to look at Ferraris in the classifieds." On one occasion, Robert noticed a C4 for sale at Ogner in Woodland Hills. "I called, just curious as to how much they were selling it for. The salesman and I got to talking about cars I had, and he asked 'who takes care of your cars,' and when I replied, he said, 'Well, he's right here. I'll put him on the phone.'
"I told Alan I was just checking prices on the C4 and he says, 'Well, you know they have a Daytona Spyder for sale.' I laughed, 'What am I going to do with a Daytona Spyder? I mean, it's almost the holy grail. It's not quite, but it's getting there in terms of cost and exclusivity.'"
Robert's hemming and hawing had little effect on Alan, who encouraged him to come on out and take a look 'just for fun.' To further complicate matters, "Ogner also had a 250 GTO replica built on a Lusso chassis. When Robert arrived at Ogner, the salesman said, 'why don't we take the GTO and drive it up the hill and see what you think?' I don't remember which car we drove first but I'll tell you one thing – driving that GTO replica was a kick! Aluminum body and interior, it was so light, so nimble, and it had a completely non-synchromesh transmission so you double clutched up and down. However, the salesman did depart some wisdom and said, 'You really look a lot better in the Daytona.' [laughs]"
Robert knew that many Daytona Spyders were not factory original drop head sports cars. "I was going to Italy for a wedding, so when I was there I would call the Ferrari factory. I hadn't consummated the deal yet, but was going about it as long as it was a real Spyder. So I called the factory and said, 'I'm calling about 16895.' The gentleman said, 'Hold on a minute," and he comes back on the phone with the build sheets and says, 'The car is an authentic Spyder. It was fly yellow when it was built and it was delivered to Modern Classic Motors.' Alan helped get me a slight reduction on the price. They also took care of several service items such as a new clutch, new XWX tires, rear stainless exhaust sections and a proper side view mirror." Robert de Pietro took ownership of chassis 16895, a true Scaglietti Spyder, in October of 1997.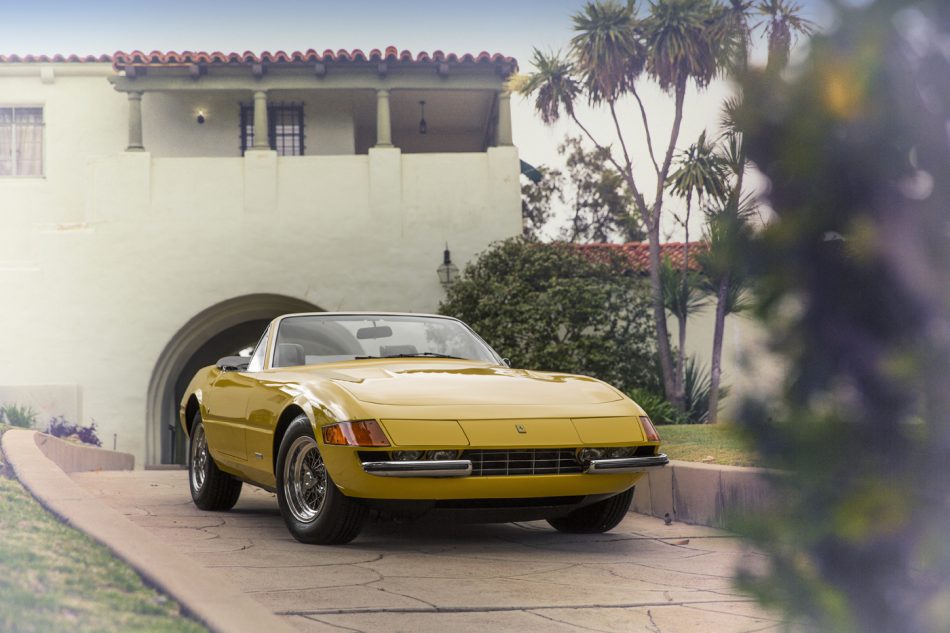 Ferrari introduced the Daytona, formally known as the 365 GTB/4, at the Paris Auto Salon in October of 1968. It was the last Ferrari 12-cylinder introduced prior the Fiat era. The nickname was a nod to Ferrari's dominant 1-2-3 finish at the 1967 Daytona 24 Hours. The model replaced the 275 GTB/4, and retained the classic front engine configuration, but introduced Leonardo Fioravanti's radical styling as a departure from previous Ferrari Berlinettas.
The Spyder was later introduced at Frankfurt in 1969 and chassis 16895 was one of 121 Spyders built. The chassis' first owner was former FOC member, New Orleans Attorney Earl Perry. "I had a college roommate who was a real Ferrari fan. He had another friend from Chicago, we were all in the same grade together. His name was Harley Cluxton. Harley and my friend, Jay Glass, used to dance around the Ferrari subject, but I had a friend here in New Orleans, Tom Reagan, who was interested in Ferrari, too.
"I used to go visit Jay in New York over the summer, and we used to go down to 11th Avenue to Mr. Chinetti's facility there. I'd go in and look for Mr. Chinetti and talk about the cars. When my friend Tom wanted to buy a Ferrari, we tried to buy a GTO from Mr. Chinetti, but he laughed and said 'Well, you can't buy a GTO if you're a first time buyer. You have to buy something regular,' so Tom bought a brand new Lusso and had it factory delivered, drove it around Europe, and then flew it back. I went to New York with him and drove it back to New Orleans. I got the bug, and a nice heart surgeon here in town was selling a 365 2+2, the Queen Mother with the incredibly big turning circle, because he was getting the 365 GTC/4 from the factory. I bought this Queen Mother model and drove it for a couple or three years, and then I wanted to step up a little.
"Talking to a friend of mine on the west coast, he said Bill Harrah (Modern Classic Motors) had bought three Daytona Spyders." The friend told Earl that Harrah didn't need three, and that he'd been helping him move one car to a guy who was involved with the Alaska pipeline, but that didn't work out. He wondered if Earl might be interested. "He had it delivered to the dealership in Denver. He said, 'I'll get the car over there, it will save you coming all the way to Reno.' 16895 had just been sitting in their warehouse until then and we drove it back from Denver. I flew up to get the car with my wife.
The dealership in Denver wasn't that big, it wasn't that fancy, it looked like a small town Volkswagen dealership, but the Daytona was on the showroom floor. I had seen a lot of cars over the years I had been to the dealership in New York. I had been to a bunch of Ferrari Club gatherings. I knew what I was getting and I knew what it looked like but I was not prepared for how bowled over I would be with the fact the car looked so much better than I thought it would. I went there thinking it would look like a Lusso with the top cut off, but it was longer and more elegant and it's hard to use that word in comparison to a Lusso, which is an elegant car.
"On the way back to New Orleans, she commented, 'It looks like a Ferrari, smells like a Ferrari, drives like a Ferrari, and sounds like a Ferrari. It's great you know!'
They stopped at Sid Simpson's in Houston to iron out some new car bugs. "He had Simpson Automobilia gussied up like a real Ferrari repair place, and at the time he was working on a 330 GTC, the Liliana de Rethy car with the swept rear window and swoopy front end that belonged to the fella who used to own the New Orleans Saints, John Mecom. Sid called me later to tell me Mecom said, 'Ask that guy if he wants to swap me my Liliana de Rethy car for the Spyder.' I said nah . . . in a sense that would have been a better swap all the way to today, but I would never have held a car that long.
"I drove 16895 every day for over three years. That's a commitment In New Orleans because we have rain regularly. This is a monsoon town, but I really liked it. It was a lot of fun. Finally, after a while you know you can only drive one car so long and wanted to get another one. When I got ready to sell it, I sold it to Harley. I paid $29.5K for it brand new. He gave me, I think, $38K for it and then sold it to a doctor and got $48K. He turned it right over. The doctor apparently then held it for a bunch of years. I said, 'Harley, you don't know what the doctor got for it?' He said, 'The doctor got enough money that I've put it out of my mind. I don't wanna look back.' [Laughs] It went from there to the place in Philadelphia . . . Algar."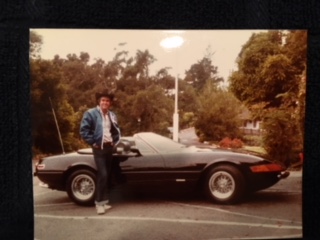 Retired News Anchor Paul Moyer had always been a car nut, had owned a quite a few cars, but started reading about Ferraris in the very early 80's. "I got really kind of enthused to get one. The Daytona Spyders really peaked my interest. They were the thing to have back in the day and a friend of mine from my days at KDKA in Pittsburgh said, 'I know a guy in New Jersey that might be able to help you find a Ferrari.' One thing led to another and I called Mark Tauber in New Jersey. He's a broker but deals primarily in Ferraris and has turned out to be one of my very best friends. We started talking about Daytonas, Spyders particularly, and I said, 'Listen, I'd really like to have one of those and he said, 'I know where there's one in Wilkes-Barre, Pennsylvania.' He told me it was black/black which is what all my cars were back then, so I flew back to Morristown, NJ, where Mark lived. We went down to Wilkes-Barre. There was this big warehouse and this guy had three or four including 16895. I asked him if I could drive it. He looked at me like I was crazy; 'You don't drive these things. You just buy them. It's a Daytona Spyder. You don't kneed to test drive it.' Anyway, he let me and I made him an offer and came back to Southern California and the car arrived on a big truck on Ocean Avenue in Santa Monica My wife and I took it out and drove the hell out of it on PCH that night [laughs].
"The guy that owned the car before had put pin striping down the side of the car, if you can believe that. I didn't know a lot about Ferraris back in those days, so I took it to a show. I thought to myself, 'Man, I got a Daytona Spyder, isn't this cool!' Guys would come by, look at it, and kind of look at me like 'What the hell did you do to this car?' [laughs]. I had it for two or three years maybe, and used it for a couple of stories that we shot when I was Channel 7, which was really cool, on a show called "Eye on LA." I paid $121 for the car and they'd gone up to like $200 or something like that and I decided that I could make some money, so I sold it. Immediately they just went bang through the roof and ended being a million bucks or more! Anthony Goldshmidt (an FOC member) bought it from me and painted it back to fly yellow, the original color.
"Mark and I were at Pebble Beach some years later. I was looking at a Daytona Spyder, and it suddenly dawned on me, 'Mark, this is my car! It's 16895!' I don't know what happened to it after that, but yeah, that was my first Ferrari and first Daytona Spyder and I loved driving it. I took it to work at Channel 7, they'd never seen anything like it. That car was rally cared for. I really loved it and after I sold it I thought wait a minute, what did I do here? I shouldn't have sold this car!"
Paul would go on to own another black on black Spyder that he also sourced through Mark. It was the third from the last Daytona built, and originally ordered by Sonny and Cher through Modern Classic. However, delivery took too long and it wound up in the hands of Miami resident Cosmo La Boof instead. That Spyder became known as the Miami Vice car.
Noted Ferrari restorer Charles Betz muses over peculiarities of the Daytona line.
"As is the case so often, it was a car that was made for a considerable period of time, and the variations in the cars are just staggering. A lot of people think they're experts on them after being involved with one or two cars, but many of their ideas just don't correspond with reality. The early ones were extremely crudely made and were very, very difficult to work on because even when you took a part off a car and went to put it back on, it didn't seem to want to fit. They were pretty loosey-goosey. They were Scaglietti. That was, and is, one of the things that make them so interesting.
"I think the same would hold true with the Spyders. Some of the simplest little things on those cars could be just absolute nightmares, but boy, did they go fast."
Robert contrasts 16895 against his other 12-cylinder cars, "It's a lot different because the C4, in my opinion, suffers from a too soft of a suspension and doesn't have the Spyder's snappiness because of the side-draft Webers. I really enjoy driving the Daytona because it's more taunt and just has a bit more power. I feel like you can't break the Daytona, it's indestructible. It's tough, whereas I always think of the Lusso more as a sewing machine, where you have to be careful. I enjoy driving the Daytona more than 512 BB. The 512 was a pretty formidable machine in it's day. They both were, they were the fastest production cars in their time."
Robert has certainly driven and enjoyed the Daytona. The first trip that we took it on, shortly after I bought it, was one of Tino Mingori's runs to Death Valley. Tino had a Daytona Coupe with flared fenders, a neat looking car, and said he wanted to get Daytonas to come out this particular time since it was 30th Anniversary of their introduction. There was also a black Daytona Berlinetta from San Diego in the group. I had been on Tino's Death Valley runs previously. I remember Wende and I were excited as we drove to the meeting point in Ontario. I'd had the car detailed, honestly it needed a good detailing, and when I got it back it really looked pretty good.
"The Furnace Creek Inn would let us park at the top and we took a picture at the main entrance. We had the three cars like lined up like that and we were all standing next to our cars and Tino even asked me, 'Did you just have this restored?' So I thought, 'Wow, it looks better than I thought, you know!'
"I always keep the top down unless I have to put it up for some reason. Every so often I'll put the top up just to make sure it's still there. [laughs] It's been to Death Valley twice, Sequoia twice, its been to Yosemite, and it's been to Monterey once or twice, so the car has been driven and has performed well. It's been dependable.
"It turns out that when I was in grad school, ROAD & TRACK and CAR & DRIVER both had articles about the Daytona. I had bought both copies of those magazines; however, I never thought about having a Daytona. It was the furthest thing from my mind at the time. After getting 16895, I went back and read the articles again and it was pointed out in one of the articles that the hood would start to sort of waiver back and forth (because it's huge) at high speed, and sure enough it does that. They're absolutely right.
"Originally, I thought to keep the Spyder for only a while. Their values had gone up, and I got it right at the bottom of the market, which was really great. I had figured that when it went back up in value, I'd sell it and buy two or three cars. However, I've fallen in love with it. It's been a great car. I'll probably own it until…"
Originally published in PILOTA, the magazine of the Ferrari Owner's Club
Tags:
365 GTB/4
Daytona
Spider