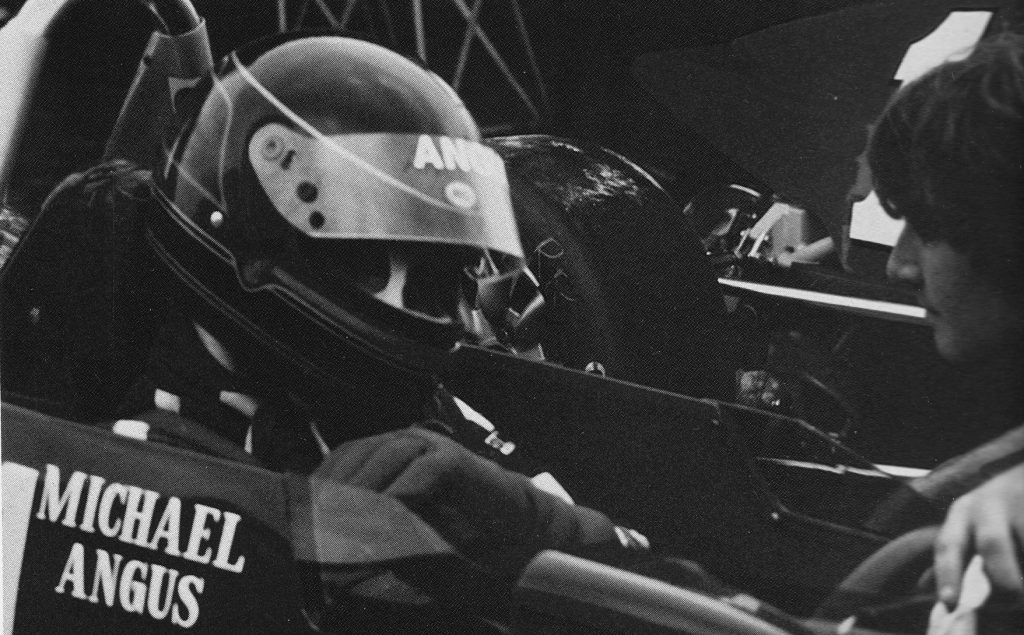 "Racing just brings out the little kid in you. You're just completely in another world."
"There's a lot going on. Your heart rate is way up. You're thinking get away clean – don't spin the tires. You're basically revving the engine to 10,000 rpm and dumping the clutch, all hell breaks loose, and yes, it's an absolute, absolute thrill.
The 47th member of the Ferrari Club of America, Chicago native Michael Angus arrived in Southern California and to the Southwest region via Vancouver in 2015. If you're a F1 or motorsport enthusiast, his name may ring a bell. Michael won the Formula Atlantic driving title two years running in 1984 and '85. Yes, the same Formula Atlantic series that introduced all of us, including Enzo Ferrari, to Gilles Villeneuve.
"When you're starting out, you don't know what the limits are. If someone told me that I would win the championship I would have said 'you're nuts.' I mean, I can still vividly remember somebody told me, 'No, I think your gonna win this thing,' and I'm like, 'You're absolutely nuts.'
"Growing up, my family wasn't into cars. I was the oldest of five; we had Buick LeSabres and Ford Country Squires. That was about as sexy as anything I got to drive, but when I was maybe in sixth or seventh grade I had a lawn mowing business and borrowed money from my Dad, bought a tractor, and paid him back. It happened to be red. I would polish it and that was my Ferrari. I had a little business and would ride around on this thing shifting gears.
"My first real, put me over the top moment, was when I went to the F1 race with the Ferrari Club at Watkins Glen in 1974. There weren't very many members then. It was a small group and we had a police escort into the track. I'm in college and my eyes are bigger than saucers. I'd never been around anything like this. We ended up with front row seats, right above the Ferrari pit, and like 10 feet away, are Niki Lauda, Clay Reggazoni, Luca di Montezemolo, and Mauro Forghieri. We got into the Ferrari pit and they would roll the car over your toe if you didn't get out to the way. It was heavy stuff.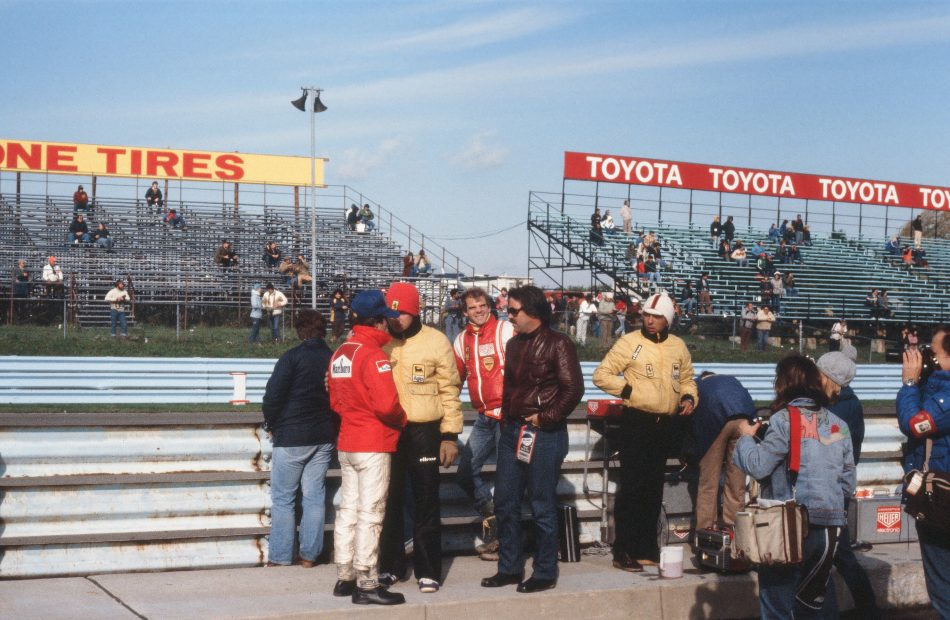 "I wasn't out of school very long and bought a Jensen Healey. I traded in my Buick Le Sabre with a Craig cassette deck and shag carpeting on the back and bought this sports car. Of course, my Dad thought that was just crazy. I had it maybe three weeks, maybe a month, and ended up totaling it. I lost control in a corner, teaching myself how to drive on the street. A big no-no. I ended up flipping end over end, side over side, just completely crashing it. After that I decided I really should go to a driving school to learn how to do this properly in a safer environment
"I went to Bondurant's in 1977, and a professional golfer was there by the name of Danny Edwards who had a red Ferrari Daytona. He was taking the class in that car, and so Ferrari just kept coming up over and over again.
"That was sort of the theme and then my Father in law later acquired a 250 LM. We would go to Ferrari meets, vintage and historic car events, the Brian Redman Challenge. We'd go to Atlanta, Daytona, Sebring, West Palm Beach, Brainerd, Mn. It was great stuff. It was racing the car, but it was also being around legends like Redman. It was very informal and everybody, and you'd be in the parking lot under the wing of an airplane at Sebring, chit-chatting with Stirling Moss.
"We went to the Glen and would be part of the F1 weekend at Watkins Glen. We'd stay at the Glen Motor Court and there'd be James Hunt standing in the bar with Niki Lauda, bare feet, having a martini and eating a hot dog backwards. In those days, if you were a driver, you got into the pits during the F1 race and you could stand at the guardrail and watch the cars rip by, right next to the guys giving them signals. How could you not just be completely, I mean you're not 200 yards away in some protected fenced-in little area, you're right there, right next to it, and Gilles Villeneuve comes ripping down the straight in the rain, rooster tails seventy five feet in the air. It was awesome."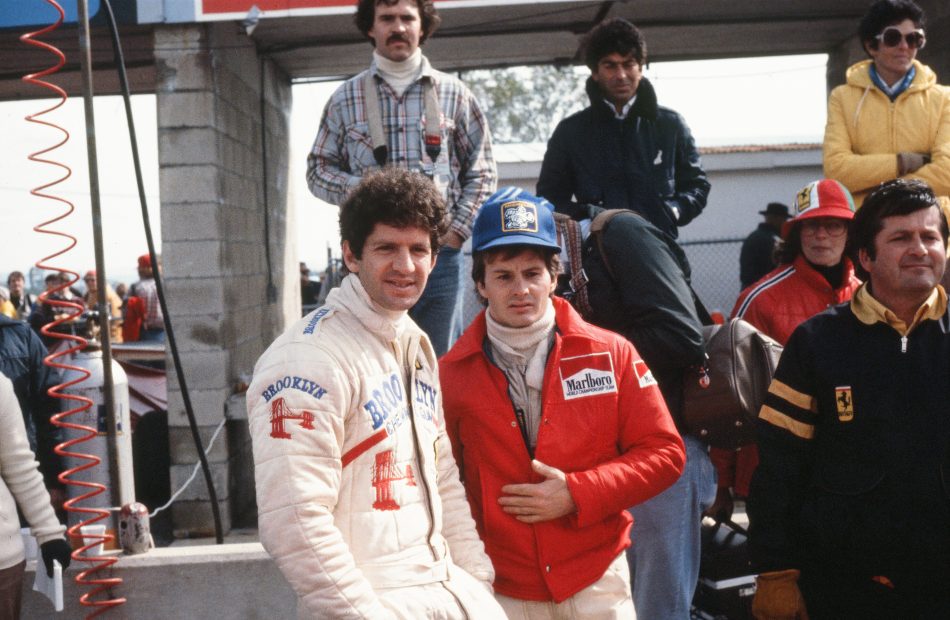 Such were Michael's own adventures with the LM. "You're out there with GT40's, 917's, and 250 GTO's and SWB's. We'd occasionally crash and you'd pound out the body with a hammer, get it pretty good, throw some red spray paint on it, and polish it out. From ten feet away it looked pretty good. Then we'd go back out and run it some more."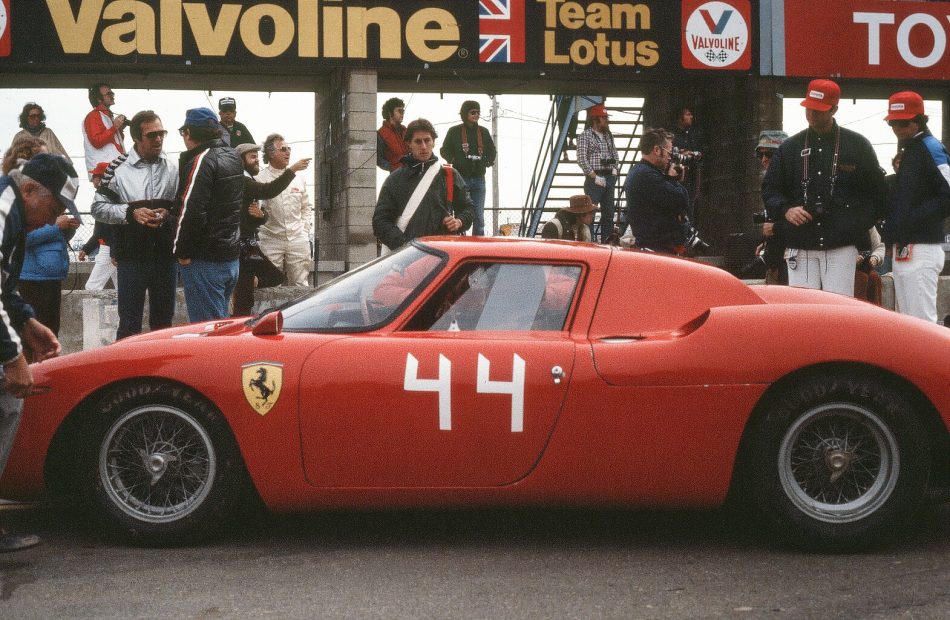 However, Michael notes, "There's only so much you could do with the vintage and historic car stuff. I was fortunate to have had the opportunity to drive those cars, but if you were going to run as hard as I was running it, you had to maintain it, and we were doing it a little bit more of a hobby than an all out race team. So we started moving away from that and I ended up doing Daytona in a Chevron/Buick prototype. From there, I went on to race in Formula Atlantic. I had, not Gilles', but his brother Jacques' car; I acquired it the year after he won the title in 81.
It's hardly surprising that even with his immersion in racing, Michael never lost sight of his passion for Ferrari road cars.
"That's some of the passion, some of the love, and the street cars that came along with it. I would go to the meets and drive my father in law's Dino or GTC. I always wanted a 12 cylinder I always wanted a 12-cylinder. I think it was January, 1980 (prior Formula Atlantic), I was 24, maybe 25, and I had found a 275 GTB Alloy in New York. I ended up flying out to look at this car, got a loan from 5 different banks plus some of my own cash, and bought the thing with the goal that I'd pay it off by the time I was 30. I've had the car since. Back in the day I was more interested in running cars than concours. I would run it at events and I don't mean just pussyfoot around. We'd run it for all it's worth and as fast as we knew how to run it.
"In those days, we didn't think too much about what it would be worth some day. You knew that Ferraris were robust cars that stood up to time on the track very, very well. I would redline in every gear, mash the brakes as hard as I could, and hope I didn't lose too much oil pressure as I slid it around the corner and grabbed the next gear. It's just a blast to drive. The gated shifter, everything is where it should be. Your hand comes off the wheel and just falls right on the shift knob. The pedal positions make it very easy to heel and toe. It's very easy to toss around, very predictable, and it doesn't bite. You can hang the tail out with a little bit of opposite lock. It's a very rewarding car that way."
Michael's since restored the 275. "The thing that I like about it is that I want the car to be correct as it left the factory. I have a deep appreciation for that as long as you can still drive 'em, enjoy 'em, and have fun with 'em. They're meant to be driven and one of the things I love about 'em is that you can just run the crap out of these cars and they can take it." The car has taken two Platinos this year, starting with the Cavallino Classic and more recently at Concorso Pasadena, respectively.
"The car's bullet-proof. I didn't put any money into the 275 until I restored it. There were probably 20 years, maybe more, where I literally did nothing to the car except change oil, brake pads/fluid, and tires. I mean nothing. You could just pound on 'em. I used to throw 'em sideways, opposite lock, four-wheel drift, drop a gear, and boom down the straight! They were just glorious. The water temp would stay good, the oil temp would stay good, all that.
"I've never heard a pilot say, 'No, I really don't like flying.' Racing just brings out the little kid in you. You're just completely in another world, like you've been transported some place else. It's metal, its tires, it's rubber on the track, it's the sound, it's everything. I used to always walk the track, look at the corners, look at the pavement, and talk quietly. It's serene, so peaceful – compared to what's going on in the cockpit – noise and tires screeching.
"You're not casual about it."
Originally published in SEMPRE FERRARI Vol. 25, No. 5
Tags:
0428MD
0515GT
250 GT Lusso
250 SWB
250GT Speciale
328