"1973. My roommate, Larry Ragland, came home one night and said, 'I found your Ferrari. Drive down the alley, south of Camelback, right into downtown, right about 11th Street. You're going to see a car in a old dusty parking lot.' He wouldn't tell me what it was.

"I'll be damned if didn't recognize the car as one from campus in Flagstaff, a short nose 275, with a crummy silver paint job that a teacher from Tucson drove to summer school. He had shown me that it was a 6-carb. I'd just sit and stare at it. Well, here it was, sitting out here under a big layer of dust, and hadn't been driven.
"It was owned by a DJ at one of the local hotdog radio stations, 'Humble' Heller. It was summertime in Phoenix, and he couldn't get a date as long as he drove the 275. They'd go out with him once, but never twice. He bought a new Thunderbird with damn good air, and couldn't wait to unload the 275. 'Give me $5000 and it's yours.' 
"Larry was going to drive me over, 'Bruce, where's your money?'
"'Right here, in my pocket,' I responded. 
"'Let me take a look at it.' It was all hundred-dollar bills. He peeled off three of them. 
'What are you doing? You're screwing up my Ferrari deal,' I protested. 
'You need to learn about haggling. Here's your $4700. Now, go buy the car.'"
Bruce goes to see Humble. "'The best I could come up with was $4700.' 
"Humble counted it out, and handed me the key. I couldn't believe it. Larry later gave the $300 back. He said I would need it for maintenance.
"Larry is the only guy who has won Baja five times. He's a legend in off-road. He also made amazing waterbed frames. We were in the business, and it grew by leaps and bounds. We expanded to 80 stores from San Diego to Milwaukee becoming the largest waterbed retailing chain in the world.I was in a position to travel pretty much wherever I wanted to, and was on the road all the time. I could sit in one of my stores and call half the night, chasing down lost Ferraris, and I chased down a lot.
"I spent my early youth in South Dakota. I didn't even know there was such a thing as sports cars. I had toy tractors, farm implements, that stuff. But we moved to Flagstaff, and I told my parents time and again it was the best thing they ever did for me.  
"One Sunday in 1952, walking to McGaw's Newstand, I must have had 35 cents in my pocket. I was rich. I found a car magazine. I'd never seen one before. That's the truth. Reading it on the way home, I can point to the place on the sidewalk today where I saw my first picture of a Ferrari. A 166.
"I remember high school study hall with my books, notebooks, and under all that was always my ROAD & TRACK. I thought, 'Wow. Testa Rossa. I wonder what that means?'
"I always had about three jobs, and was always reading the want ads. Once around '62, there was an ad for a 500 Scaglietti Mondial. With lots of miles, it'd been beat to death. The car was in Milwaukee, and had a Ford engine in it. They would split the cost to ship it to Phoenix. I had to raise $2000, which was a bunch in those days. I quit school and got one more job.
"At least it had a four-speed, a transaxle, and it ran!  I used to drive it to school. It didn't look neat, was plenty bent up, but it was my introduction to Ferrari. 
"My next Ferrari was the Short Nose, and with whatever change I had left in my pocket I got a membership in FCA. It was a really a big deal. I started understanding what I'd been missing out on.They were talking about the next annual meet, 1974 in Atlanta, the first outside the upper Midwest, and I said, 'I'm gonna be there.' So I left Phoenix with a pickup loaded down with waterbed frames (laughs). I made it to Atlanta just fine, and had the most amazing time.
"I can't believe all the people I met. Anyone who wasn't a believer would have been converted. Gerald Roush. Fred and Sue Leydorf. Dyke and Sue Ridgely. There was one fellow, I didn't know who he was, I had never heard of him.  Richard Merritt (one of the seven, and last surviving, founding members of the Ferrari Club of America).  All hell!  I'd had his book FERRARI, THE SPORT AND GRAN TURISMO CARS for several years! (laughs).  
"It seems Dick and I were always sitting on the steps of some building, chatting nonstop. We became great friends that weekend and it's never changed. 
"Everybody was good friends with Gerald. Great guy. I used to call him at night, 'cause I knew he was sitting there by the phone. Everybody called him at night.
"Between Gerald and Dick, I was always hearing about something I should drag home. In those days there were a lot of lost Ferraris out there, and always for the same reason. The guy who bought it was not a Ferrari guy, but he'd seen a picture and thought they were neat. In the process of finding them, you met the darnedest people.
Gerald said, 'I know you drag home all these old goats, and I have been reading through race programs. Here's a 750 Monza that's cropped up, 0502, from a race in North Carolina. It looks like something, but boy, it's old, beat up, and has a Chevy motor in it.'
So, I'm out in Arizona, calling about this old 750, and the man on the other end of the line says, 'We finally took that thing downtown and sold it to a used car lot.' 
'You're, not serious,' I said. Well, of course he was serious. That's what people did in those days, you know. 'What used car lot?'
 'Madison Smith Naturally,' he replied.
'What? What is that?' 
"The man's name was Madison Smith. Where the rest came, I don't know. I called, and I actually got Madison Smith. 
"'Hang on, I'll have one of my girls go back in the dungeon and pull that old file out.' 20 minutes later, this girl finally came on the phone. 
'This car went up to a Mr. Wright in Bethpage, Tennessee.'
"I don't know how many, I mean, dozens and dozens of phone calls, but I finally got a number for Wright. A lady answered. 
'Hello, I'm calling from Phoenix, Arizona. I'm looking for Mr. Wright who has an old Ferrari."
'Why?,' came the crisp response. 
Turned out Bruce reached a couple whose son had bought the Monza, took it up to their farm in the mountains, and removed the motor.  Unfortunately, he'd gotten in trouble with the law and landed in prison.  
"The very next day, I packed a bag, went to Sky Harbor Airport and got a ticket to Nashville. When I drove into Bethpage, I blinked, and missed the town. It was just a tiny village, but I finally pulled up and knocked on the door. A lady answered. I said, "Missus Wright?" 
'Yes?' 
'I'm Bruce Lavachek from Phoenix.' 
She said, "We just spoke two days ago?" 
"I know. I'm very interested." 
'I guess you are. Come on in.'
"Her husband came down. They were really friendly. They wouldn't show me the car, but she made the greatest dinner, and showed me the guest room.
"The next day, her husband took me to the berry patch, we brought home a bucket of berries, and she made cobbler.  I was there for three days, living in their house. This is the absolute truth. Nothing added up, but I finally figured it out. I was now their missing son. I said, 'I've got to keep moving.'
"With that, they finally took me out, opened the barn, and showed me the car. It had been in that barn for a long time, the old remains of a dead squirrel in the seat.  No running gear. No engine. 
'We know it's worth $6000,' she said.
'Boy, that's a lot for a car without an engine,' I said, but they wouldn't budge. I wrote them a check for $6000 and said, 'I'll have somebody come to pick it up, probably in the fall.' They were crying.
"Every fall, I would meet Dick Merritt at Watkins Glen.  We'd be sitting down in the basement cocktail lounge of the Glen Motor Inn, and all the drivers were there. There wasn't one missing. It was that way every year. They were all there, chatting, having fun. I told him about this 750 Monza I found without an engine. Oh, he just had a fit. 
'Ha, ha, Lavachek, I've got you now!,' and ordered another round.
'Now what the, what's this all about?' I responded.
"Did you say 0502?" 
'Yes.' 
'I've got your engine in my basement.'  
"I knew I was dead. Dick never sold anything cheap in his life.  
'Just give me 10 thousand dollars.' 
"I had known Dick for years. I knew that figure was not going to change.
"In the very early eighties, I got a letter stamped with a picture of the Queen. A letter from England?  Someone named David Cottingham? 
Anyway, Cottingham had somehow heard about some guy in Arizona finding 4-cylinder parts, and he was simply trying to make a connection.  I was a foolish desert rat, didn't have time for that, and just ignored the letter.
However, '84 was the Ferrari year at Pebble Beach.  So, I'm standing in line for lunch and there's a guy in front of me who's just is amicable as can be, talking to everyone. He turned around, stuck his hand out, and said, "Hi, I'm David Cottingham. I have an 860 Monza, 0602." 
'I don't believe this. I have the engine for 0602,' I replied. 
"I had big plans on finding the chassis but I didn't even know where to start. I knew it was in Europe. David found 0602's chassis sitting outside a Bardinon's place in France. 
"'Come on, let's see what we've got,' I encouraged him. David wasn't gonna let the best 860 get away. Later, sitting in my living room in Scottsdale, we came up with a kind of complicated swap, became fast friends, and that's where Earl Waggoner came in. David would always stay at Earl's, and I got to know Earl very well." The friendship between the three would pay huge dividends.
"Back the autumn of '78, and back at Watkins Glen, Dick had said, 'Lavachek, I know one you should be dragging home.' One night in the mid-70's, a friend had taken him to see a derelict Ferrari race car in Wisconsin.
"'I don't have any way of telling you where I saw this,' Dick said, 'but its a 500 TR, a rat, in bad shape, serial number 0614. You should find it.'
"So, I called Gerald, who offered, 'Here a while back I picked up the phone and a gruff voice on the other end said, 'Hello, I own 0614.'  Of course, Gerald always had a pen and paper handy, but the phone went dead. The caller never called back."
Inspired, but armed only with Dick's fleeting memory and Gerald's mysterious phone call, Bruce set out on what would become a 25 year odyssey to find and acquire chassis 0614. With a great deal of tenacity, Bruce eventually made the call that was answered by that gruff voice.  With a great deal of patience, he eventually brought the engine-less chassis home. Entrusting it to David's DK Engineering, with Earl's help getting the motor to England, and wife Joyce's enthusiastic support, Bruce realized a full restoration of 0614, completed in 2015.
Bruce and Joyce accompanied 0614 on the Casa Ferrari lawn at Pebble, celebrating 90 Years of Scuderia Ferrari.  Surrounded by good friends and significant examples of the marque, Bruce reflected, "I went through this whole thing because I love these cars. They are the neatest things ever built!"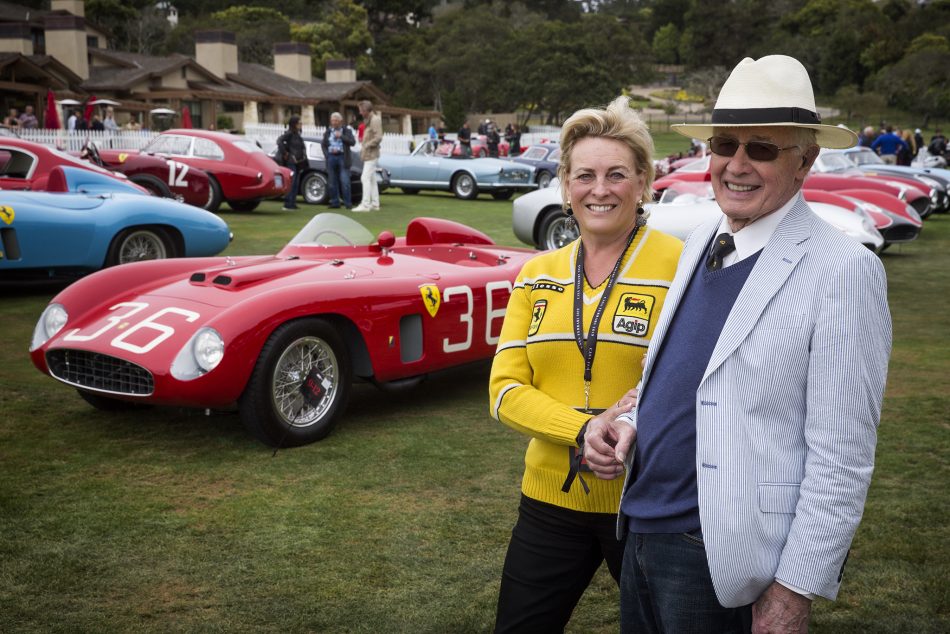 Originally published in SEMPRE FERRARI Vol. 265, No. 6
Ferrari Club of America Southwest Region
Tags:
0428MD
0515GT
250 GT Lusso
250 SWB
250GT Speciale
328