Dutchman Ed Swart is a racing driver. When I say racing driver, I mean serious racing driver.
One never knows whom they will meet through the Ferrari Club of America.  Enthusiasts are drawn to Ferrari, and the club, for a variety of reasons. Through the very process of immersion into all things Ferrari, one can cross paths with and meet a wide range of interesting, dynamic personalities . . . and a few surprises.
Our Member Profile subject for this issue of SEMPRE is no exception. In fact, for those of us drawn to the rich history of international motor racing, he pegs the throttle when it comes to unexpected excitement.
Meet Ed Swart. Dutchman Ed Swart is a racing driver. When I say racing driver, I mean serious racing driver. Born in The Hague, Ed won the 1965 FIA Touring Car Championship for 1000c cars. Having proven himself in a privately entered 1000cc Abarth in 1964, he won six of six early '65 events and attracted the attention of Carlo Abarth who telegrammed an invitation for Ed to join the works Abarth team as a factory driver, competing in the Nurburgring 6-Hour.
Ed remained a factory driver for Abarth, winning the FIA Touring Car Championship twice more, plus the 2-liter Sportscar Class in the FIA Sports/Prototype Championship in 1970 in a works-supported Abarth 2000SP.
"I lived in the Netherlands until 1980. My family had a Fiat-Lancia dealership in the Hague, an old family business started in 1921. My Dad's hobby was photography, and he took me to international races at Spa-Francorchamps, the Nurburgring, and Zandvoort where he took pictures for a friend who published a Dutch auto sport magazine. So, I got hooked as a youngster.
"I went into go-karting and was doing very well. I've always tried to make business out of a hobby, so I started a go-kart company together with my Dad. We even built a proper karting track.
"As soon as I got my drivers license, I started with rallies. I was quite successful and together with the several years of go-karting, I felt I should really go and race on the track. My first race was at Zandvoort in 1961, with a purpose-built Fiat Nardi with a 1000 cc engine."
Ed's family business obviously played a role in his early association with Italian racing cars.
"Because we were a Fiat dealer, I went to Italy for a year and worked as a student at the Fiat school. They have a special school for foreign dealerships and I learned Italian there, which was great, and then I got involved with Abarth in 1964. Of course, being a Fiat dealer, it was always Fiat or Lancia, it was always their cars. I was never oriented to German cars. It was always Italian, because I had lived in Italy for a year and spoke the language."
Ed's run with the Abarth factory resulted in four championships and a number of wins, but his ties ended when Abarth sold to Fiat in 1970 and the factory ceased producing race cars.  It should be noted that during this time Ed also won the Dutch National Touring Car Championship five times.
"My Dad had told me that I should stop racing because I was away from the company too much, so I thought well, if this is my last season, I'd better make it a double-season."
Ed moved to a Chevron (a fast race car that his friend Brian Redman raced that also posed no conflict to their road car business) and took on an almost impossible schedule in 1971, as it was to be his last season as a professional. He attracted Canon Cameras as a sponsor, launching the Canon Racing Team, and contested in a number of events early in the year before entering a Chevron B19 in the South African Springbok series, with an up and coming Formula Ford driver from South Africa. Jody Scheckter.
"We finished very well. I think 2nd overall in the series behind the John Love-Helmut Marko team. Jody later went on to McLaren and then to Ferrari, where he became the 1979 F1 World Champion."
Ed's pro career reads like a who's who of motor sport royalty.  He raced against Jacky Ickx, Jo Bonnier, Mike Hailwood, Brian Redman, Niki Lauda, Clay Reggazoni, Jody, and many others.  He drove for one of the sport's most heralded designers, Carlo Abarth, on the world's greatest racing circuits such as Spa-Francorchamps and the Nurburgring,  
"After I stopped at the end of '71, I became very involved in our local racing organization in the Netherlands, called NAV (Nederlandse Autorensport Vereniging). I became Assistant Clerk, and then Clerk of the Course at Zandvoort, including the F1 Grands Prix there.
"In '75, whilst I was basically managing racing activities, Historic Racing came on in support of the professional series. I saw old racing buddies of mine running two or three Ferrari 250 SWB's. They said, 'Hey, Ed you should come back and do this. This is fun.' As Ferrari was bought by Fiat, I could easily race in a Ferrari.  In fact, Ferrari came into my mind very early, and I started collecting in the mid-70's and went through several Daytonas, Lussos, a couple of 250 GTE's, and a 275 GTB-4.
"My parents didn't want me to race anymore. I said, 'Well, this is just demonstrating old racing cars, it's not real racing.' But of course, in reality, it was real racing!  Historic racing is about as frenetic as pro racing. [laughs]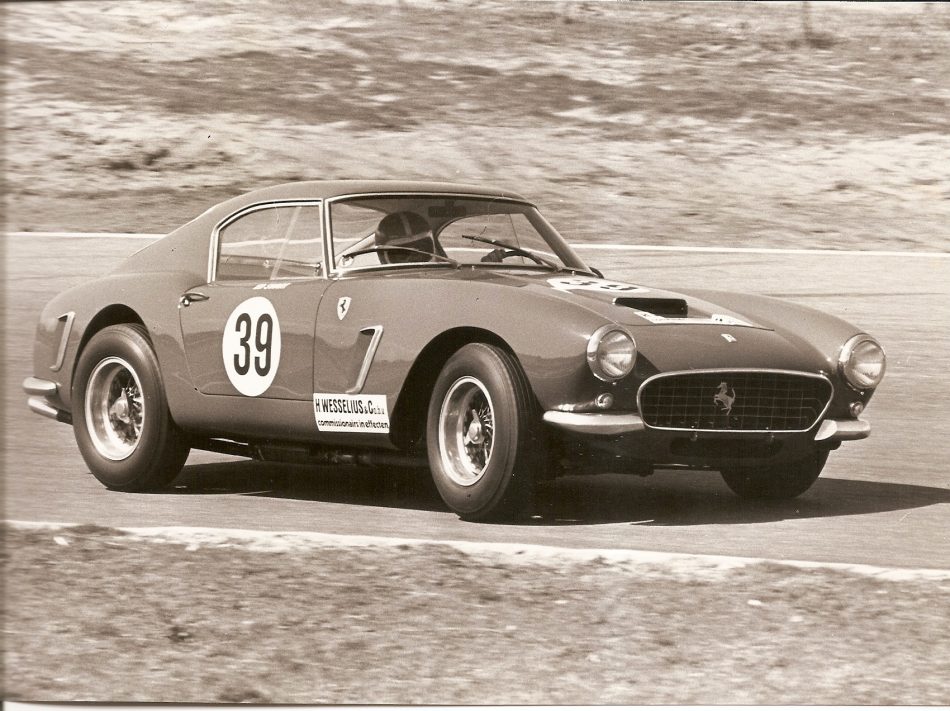 "So I bought a 250 SWB Competizione in 1976, an alloy car with a Monza cap (outside filling cap) and everything. The car came out of Portugal and had some history, driven by two different Portugese drivers in rallies, slaloms, hill climbs, and a few races." The car wound up in the Museu do Caramulo, founded by Dr. João de Lacerda and his brother Abel.
"Dr. de Lacerda bought the car and put it in his museum. When his son started college in London, he asked if he could have the Ferrari to drive around whilst studying there. Dr. de Lacerda made the big mistake of saying, 'Yes, that's ok.' [laughs]  His son took the car to England and showing off, damaged the engine. The car went to Greypool Motors, a known facility for Ferrari repair and restoration. Dr. de Lacerda said, 'That's it, I'm selling the SWB, you buy another car.' I saw a tiny little ad in the English magazine Autosport at a time when I was selecting between several SWB's that were for sale in England. I preferred this car because it was alloy and had some racing history. I called Dr. Lacerda up, we made a deal, and I bought the car.
"When I was at Zandvoort, the FIA switched from giving the Grand Prix start with a waved flag of the host country to starting with lights. Zandvoort was one of the very first races to use starting lights, and I did that as the Chief Steward, Clerk of the Course.
"A couple of weeks after I actually drove a race with the SWB at Spa on the very fast old track, won that race overall, and then I went to Italy with my Daytona. At that time it was incredible. You arrive at Pista di Fiorano in Maranello with a Ferrari, and they open the door for you! [laughs] 
"Ferrari's Chief Engineer Mauro Forghieri knew me from Zandvoort. He'd just seen me a few weeks earlier and said, 'Ed, come here, I need you. I want Jody and Gilles Villeneuve to practice starts with the lights because we have Monza next week.' Ed helped conduct the simulated starts with the Ferrari drivers in their 312-T4 cars.
"Afterwards we had a little chat, and I asked Jody, 'Do you think there is a possibility for me to see Enzo? 
'I think he's here. Let me ask his son, who is here, too.' Jody replied. 
"Jody asked Piero if Enzo was available, and I had 15 minutes to talk with Enzo, in Italian. I told him about my victory at Spa the week before in the SWB, and he asked, 'What was the chassis number of the short wheelbase?' I replied it was 2035 and was Dr. de Lacerda's car, in Portugal. Mr. Ferrari said to me, 'I know the Dr. and I know the car.' Amazing, it was just amazing how he knew that. This was in '79. I really enjoyed being able to talk to him, and I'm probably one of the few people that have been able to do these kinds of things.
"I raced that car for 8 years, 4 years in Europe, and 4 years in America. I won almost all the races. I really enjoyed that car. It was very predictable, fast, and good. I sold it in '84 after winning the last race I did at the '83 Monterey Historics. Of course, I really regretted it. [laughs] The car's value wasn't that much at the time, but a few years later it was already close to a million and then much later 8 or 9 million dollars. I should have kept it, but nobody knew and there are so many people with stories like that. 
"Twenty or so years ago, my daughter gave me a copy of SPEED, STYLE, AND BEAUTY, the book on Ralph Lauren's car collection for Father's Day. She said, 'Dad, I'm sure you will like this book because your SWB is in there.' Right there, in that book, there are four or five pages on my 250 SWB, chassis 2035, and in the back are all the race results, all my races, all my victories, and that's just amazing.
"When I moved to America in 1980, I brought two Ferraris over in a container. One was the SWB, which I then raced for another four years, and the other one was the 275 GTB-4. I later bought a 250 GTE in '86 as a donor car to make a replica SWB because I felt so bad that I'd sold my original one. But before I even did anything to it I said to myself, this is crazy, you sold the original car because you didn't want to race it anymore. Why would you make a replica car? Spend a lot of time and money to make it, and for what? I kept it and kept it and kept it and only recently did I finally do a full restoration on the car.
"I was introduced to Ed Niles and the Ferrari Owners Club in 1984. Ed introduced me to another Ferrari owner, who lived in my city and encouraged me to join the club, so I became a member for one year, instructing at Willow Springs for that club. I'm a race car driver and I just want to race, so I never got further involved with club activities until only recently, when I wanted to show the 275 or the restored GTE at Botanic Garden picnic. Unfortunately, I wasn't a member of the FCA. I talked to Bruce Leeds, who as you know is one of the directors, and he said, 'You should have been there, why don't you become a member of the Ferrari Club of America, maybe you will enjoy it!' So I became a FCA member for the first time only last year."
Ed has been very involved in Historic Racing here in the states and is close to seeing a book on his racing career published.
"I have 16 scrapbooks full of records of all my racing, what car I drove, what date it was, where it was, and what my results were, so when the computer came out I put everything in the computer with lists. I know exactly how many events I've done, in how many different cars, on how many different racetracks, in how many different countries. I raced a total of six Ferraris between 1976 and 1990 starting in Europe with the SWB, followed by a 512 BB LM, a 250 GTO, a 250 LM, a 250 GTE, and a 365 BB. I'm almost at 600 race weekends now and also nearing my decision to stop racing because of my age. Enough is enough. You don't want to go on forever."
Perhaps not, but the SW Region is flattered to have a real international racer in our midst.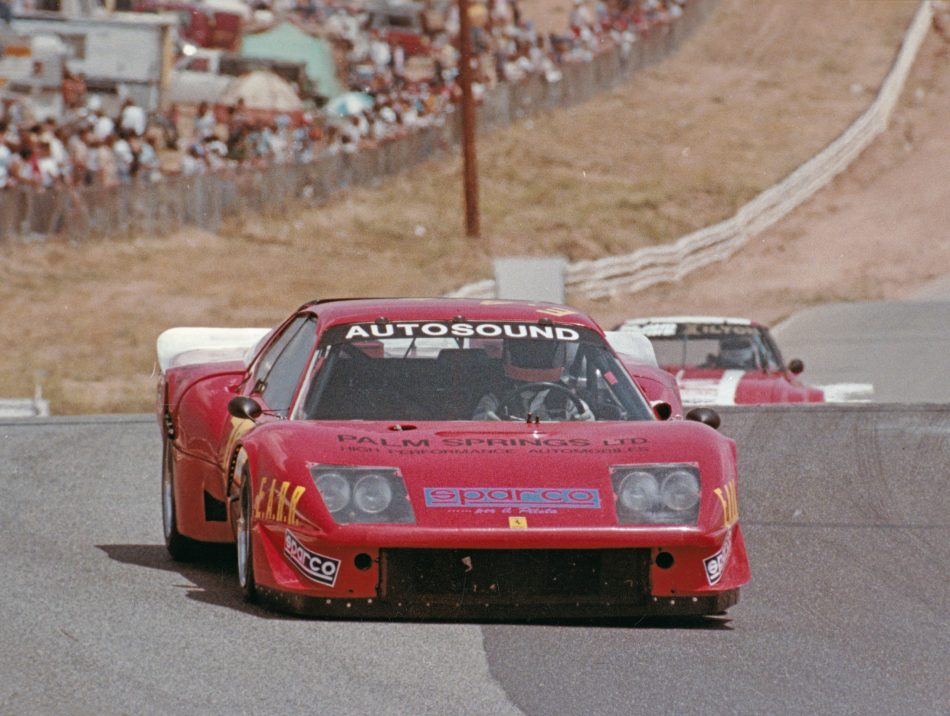 Originally published in Vol 27, Issue No. 5 of SEMPRE FERRARI, the magazine of The Ferrari Club of America Southwest Region
Tags:
0515GT
250 GTE
250 SWB
250GT Speciale
Abarth
Abarth 2000SP
Carlo Abarth
Competizione
Ed Swart
Gilles Villeneuve
Jody Scheckter
Mauro Forghieri
Zandvoort