"I had a fella named John Starkey staying at my house, visiting. He had written a book on the Tour de France Berlinettas and I said, "John, it's Sunday, we don't have anything better to do, would you like to take a ride with me? We're gonna take a gamble.'
"I'd hired a private detective to find an old friend from the FOC. All I had was an address somewhere out in the dry desert. We pull up to this trailer and out front sits the unmistakable shape of a car with a tarp over it.  We knock on the door. This was when the market was just starting to take off. I used to sell these cars for $3500, $4000, if I was lucky, and now they're starting to take on some value. The owner had no clue. He's out there in the desert, not connected with anybody who speaks Ferrari and he and his wife are delighted to see me and talk about old times.  'I see you still have the car out there, can we take a look at it?' [laughs] One thing leads to another, 'Say, have you ever thought about selling the car?' I think I offered him $80,000, something like that, and his eyes drew big.  I mean here he is retired, probably doesn't have two nickels to rub together, and that's a lot of money.  It's a deal. 
"The car was 0425GT, a 250 GT Speciale, what I believed it to be the prototype Tour De France Berlinetta." Ed found the car a new home immediately, netting a modest finders fee, but adds, "Within a two-year period it went from $80,000 to a million.  That tells you what happened to the market.
"I was a little bit of a car nut and my best friend in high school taught me about being a hot-rodder.  For many years he held the sedan record at the lakes and I'd go with him.  I had a couple of hot rods, '34 Fords, before and after the war, so I learned how to play with cars and I actually rebuilt a Ford flat-head engine by myself just to make sure I could do it.
"I'd had several hot rods then I graduated into foreign cars.  I'd had three MG TD's, an Austin Healey, and a Jag.  I was going to the races, sportscar races, started working as a turn marshal. I first started with Ferraris in 1959 and from the very beginning there was a group of hardcore car nuts who knew exactly what a Ferrari was.  Ferraris were mysterious and not mysterious, if that makes sense, the mystery there was the overhead cam V12 engine, timing it.
"The people to whom I sold used Ferraris in those days were not collectors. We didn't have such a thing as a collector.  We had somebody who wanted an unusual vehicle, was enthralled with the look and sound of the Ferrari and were able to lay their hands on three, four, five thousand dollars, which in those days was a sizeable chunk of money, and off they went.  Some of the cars were, frankly, pretty used up. A lot of them smoked badly and there were no mechanics around who knew anything about 'em in the really early days.  But collectors, there was no such thing.
"I got my first Ferrari in 1959 when my parents in-law took my first wife and I on a trip through Europe.  Roberto Goldoni was my friend, I called him my brother because he came over here as an exchange student, living with my in-laws going to high school to learn English.  He wanted to, and did, join the Italian Air Force and later became a pilot for Alitalia, and ended up being their Chief Pilot. 
"We spent 4 weeks driving around Europe in a Mercedes that they had bought. All my friends had told me, 'buy a car when you're over there, you can bring it back and make some money.' I was looking for something like a Mercedes 300 SL. because the profit margin on a high-end car is greater. On the very last day of our trip, Roberto took me to a dealership in Rome where I found a Ferrari, a 250 Europa, serial number 0331EU. I brought it back, sold it and made $1000, and in 1959 $1000 was quite a chunk of money. I not only made some money but I had a lot of fun showing the car off to all my friends, driving it and having a good 'ol time."
Ed enjoyed the experience so much that he told Roberto to keep his eyes open for good buys, and Roberto did just that. Ed began making occasional trips to San Pedro to take delivery of Roberto's latest discoveries.
"Confident is way too strong a word, hopeful is more like it. I knew I could trust Roberto in terms of honest dealings.  I learned that I could not trust his descriptions of cars. [laughs] They left a lot to be desired. I never knew what I was going to get. I'd go down to the dock with a whole bunch of tools, a can full of gas and another container for coolant and we'd fill up the fluids and drive it home. Maybe it ran well and maybe it didn't."
The 1961 Le Mans GT Class winner, 2689GT, when Ed got it. Photo courtesy Ed Niles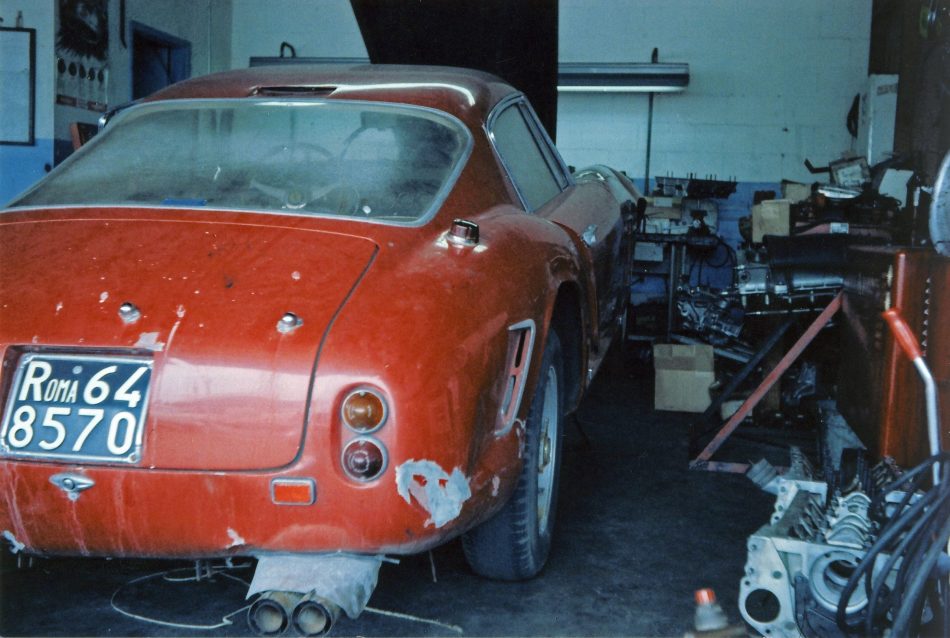 "They had apparently shipped it above decks. Massive dents everywhere. Three different sized wheels. The left door was held closed with a rope. The Plexiglass windows were crazed, you couldn't see out of the car. We didn't use containers in those days. It never crossed our mind to put a car in a container, never crossed my mind to get a trailer.  So I went to pick this car up and the salt water had frozen the carburetors shut, I mean they were absolutely solid.  I got the biggest screwdriver I had and a big hammer and started pounding on the butterflies to break 'em loose. I finally got two of the carburetors out of three to work.  Could not get the third one open, so I drove it home on 8-cylinders.
"I wrote to Roberto, 'What in the hell did you send me this piece of shit for?  He said, 'Yeah, but it's got a great engine doesn't it?'  'I don't know, I've only driven it on 8 cylinders!' [laughs]
"Sal di Natale went to work on it. He got the engine running properly and was gonna do some more work on it, so he drove me home.  I use to live up in the Hollywood Hills, around Lake Hollywood. I drove that twisty road all the time, knew how fast I could go. I had Sal sitting next to me, and put my foot down.  The engine was really powerful, once it hit about 4000 rpm that car took off like I can't describe and all of a sudden the car breaks loose.  The tires are all shot, and on top of that, which I didn't know, all the bushings in the suspension were gone.  It was just loose as a goose.   So the car is going one way, I correct, and it goes the other way! Finally, I just stomp on the brakes because I was about to hit the wall. Sal's sitting there, slapping the side of the car, laughing, having the time of his life.  He thought it was the funniest thing, Ed Niles out of control. 
"Well it turned out that the car is one of those '61 Comp cars that the factory built for racing – a Le Mans winner, third overall, first in GT, and it is the car Bruce Meyer has now." 
No doubt, Ed developed and has enjoyed many relationships through his Ferrari escapades. 
"Actually, I met Ed through his wife Phoebe," recalls noted restorer Steve Tillack. "Phoebe was my boss' secretary and I got a very unusual contract offer. Phoebe said to me, 'Gee, I'm dating this guy, he's an attorney, and I think you guys would hit it off. I'll invite you over for dinner.' From that point on my life was ruined. Ferraris have been putting food on my table for 50 years since, and Ed gave me a tremendous amount of help and encouragement.
"He and I went to the very first Barrett Jackson Auction together. We drove cars from his house and I drove the car that Kirk Douglas used in the movie THE RACERS. It was the first time I had ever driven a car with a crash box, right hand drive, or a Ferrari and this was a real honest to god Ferrari race car. I didn't tell him any of that when I saw the car sitting by the curb. I just thought, 'there's no way I'm not driving that.' [laughs] Part and parcel to driving that first Ferrari to Scottsdale, the car did not sell and I had to drive it through a hailstorm on the way home, a completely open car with an aluminum body!"  
Chuck Queener carved out quite a career as an automotive illustrator and journalist with MOTOR TREND and ROAD & TRACK.  "Ed was a great help to me as an enthusiast, getting into the whole thing." The two became quite good friends and Chuck even served as Ed's best man when he married Phoebe.  "No one knew in those days these cars would become so valuable. He loved the cars, but at the same time had quite a group go through his hands over the years.  He made a few bucks, but was always very generous and let me drive them. He always said, 'I wish I'd kept that one.' 
Ed laughs, "At one point Chuck said, "I'm gonna do a book for you with a drawing of every Ferrari you've owned. What he didn't realize was that I was just getting into wheeling and dealing. I was buying and selling cars faster than he could draw them. He finally gave me a book with a dozen or so drawings, but after that it's a bunch of blank pages!"  
What a book that would have been.
A new book detailing Ed's Ferrari Life will soon be available.  Bookmark this page and check back for updates on the release!
Originally published in Vol 25, Issue No. 2 of SEMPRE FERRARI, the magazine of The Ferrari Club of America Southwest Region
Featured image of Ed, courtesly © Tom Brockmiller
Note:  We lost Ed Niles on August 3, 2021.
I had recently paid Ed a visit, specific to finishing up a profile article on Chuck Queener . . . Ed, as he always was in my experience, gracious, generous, and appreciative.  He was always quick to smile or laugh, and even on that day, when I could tell he'd had far better, he remained a pleasure to be around.  His passion and enjoyment in all things Ferrari strong.
I once asked Ed if he'd ever considered the role he played in Ferrari's North American story. He really did not know what to make of the question.
"Honestly, I never thought I had an impact on Ferrari, the company.They didn't know me and I didn't know them, really. They were selling new cars and I was selling used cars, so we were in different worlds.I never thought about it in that sense.
"The people to whom I sold used Ferraris in those days were not collectors. In those days we didn't have such a thing as a collector.We had somebody who wanted an unusual vehicle and was enthralled with the look and the sound of the Ferrari. They were able to lay their hands on four or five thousand dollars, which in those days was a sizable chunk of money, and off they went.
"There were no mechanics around that knew anything about 'em in the really early days. Sal di Natale was an Alfa mechanic, and he and I learned together about how Ferraris functioned, mechanically. But collectors? The Ferrari gang in those days were mostly young people who would love to go on midnight runs. Stephen Mitchell, Matthew Ettinger and friends were famous for going out in the middle of the night, cruising the canyons, trying to out race each other . . . but did we have an effect on the Ferrari Factory? I don't know. I have no idea."
If a reaction, trend, movement requires a catalyst, it would be hard to discount the spark Ed (west coast) and Dick Merritt (east coast) ignited.  Importing a mysterious, obscure, but exciting hand-built car from a small factory near Modena, Italy, they   were key protagonists behind an introduction that grew into a love affair extending almost 70 years. For anyone who remembers the immediate intoxication of the first Ferrari. . . the first spaceship. . . that they saw on the boulevard, we have Ed and Dick to at least partially thank.
Even if one were to counter that North America's growing fascination with Ferrari was primarily driven by the clubs, Ed had enthusiastically devoted his energies in the mid to late 60's and into the '70's growing California's, Ferrari Owners Club, while Dick almost simultaneously led a small, dedicated group on the east coast starting the Ferrari Club of America.
Reflecting on his club endeavors, Ed mused, "I put in one of my articles anybody can drive a Plymouth, but we were an elite group, in our own minds [laughs], because we knew how to use a clutch. We knew how to shift gears and enjoyed the wonderful sound of the V12. We enjoyed having a car that nobody else had."
Ed imported his first Ferrari, a 250 Europa, 0331 EU, in 1959. In the early days, he managed to import numerous cars, some of significant competition history or ownership provenance, with the help of his friend Roberto Goldoni. Over 60 years in the game, Ed actively traded Ferraris at a pace and quantity very few could fathom possible for a privateer. Eventually, dozens of Ferraris would pass through his hands. Notably, he owned some of these cars more than once, including 0515 GT, the 250 TdF Zagato now owned by David Sydorik, that Ed actually owned on five separate occasions.
"Ed was a great help to me as an enthusiast," Chuck Queener recalls. "He was bringing cars in all the time, was always very generous, and let me drive them. He would loan them to me when he didn't have the garage space, you know 'keep this for a couple of days.'
"No one knew in those days knew these cars would become so valuable. He'd get a car, fix it all up and say, 'Oh, I'm gonna keep this one. I'm gonna keep this one, it's a good one.' The minute someone came up with a check, the car was gone." [laughs]
News of Ed's passing came with a consolation for those of us who appreciate Ed's history with the marque. With the help of his good friend, restorer Steve Tillack, Ed's book Adventures in Ferrari Land has gone to press.
Tags:
0428MD
0515GT
0580MD
16895
250 GT Lusso
250 SWB
250GT Speciale
2689GT
328
4627
60053
Berlinetta
Bert Anakin
Brian Crall
Bruce Meyer
Carrera Panamericana
Chuck Queener
Concorso Pasadena
David Sydorik
Ed Niles
Ferrari
Ferrari 250 LM
Ferrari Club of America
GTS
John Von Neumann
Larry Bloomer
Lusso
Peter Lund
Phil Hill
Robert Fehlman
Roberto Goldoni
Sal di Natale
Steve Tillack
Tour de France
Watkins Glen
Zagato
Zandvoort