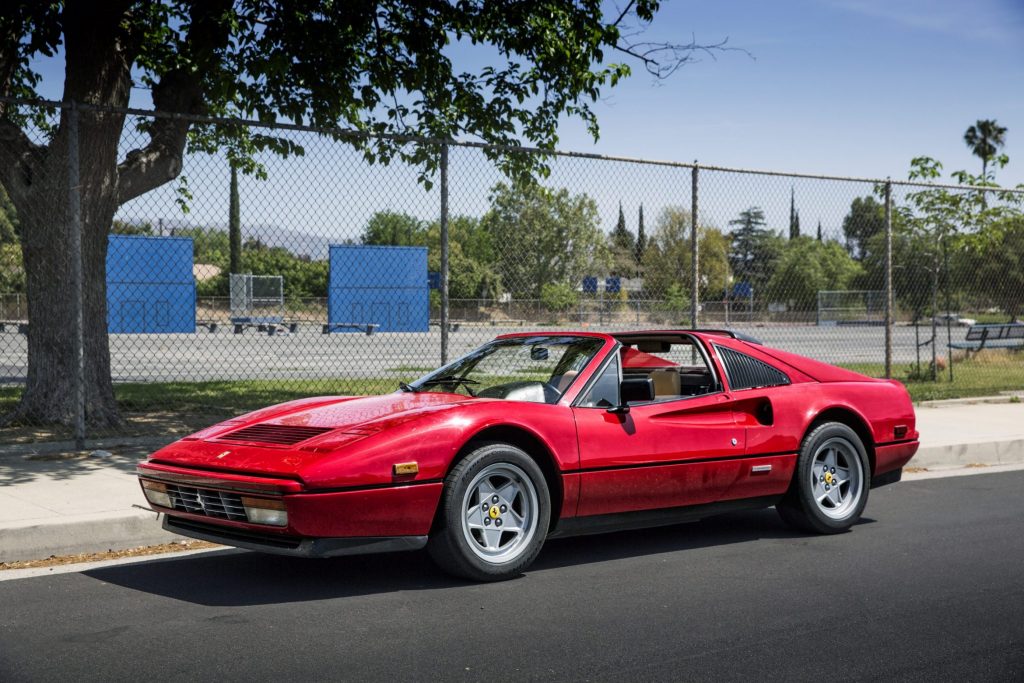 Potentially the very first Ferrari 328 imported to the US, Peter Lund's brief time with chassis 60053 leads to an unexpected bookend.
As I recall, we were tallying our notes.  I mentioned to Carlos (Amato) and Bruce (Leeds) that the emergency window crank was not present in the tool roll.  Carlos, focused on jotting, replied without looking up, '328's do not have emergency window cranks.'  What happened next remains a bit foggy, but I replied something to the effect, 'Well, there's plastic tab under the arm rest covering the port where the tool would be attached.' Given how rarely we see factory anomalies, this definitely got our attention.
Concorso Pasadena, 2016 © Peter Lund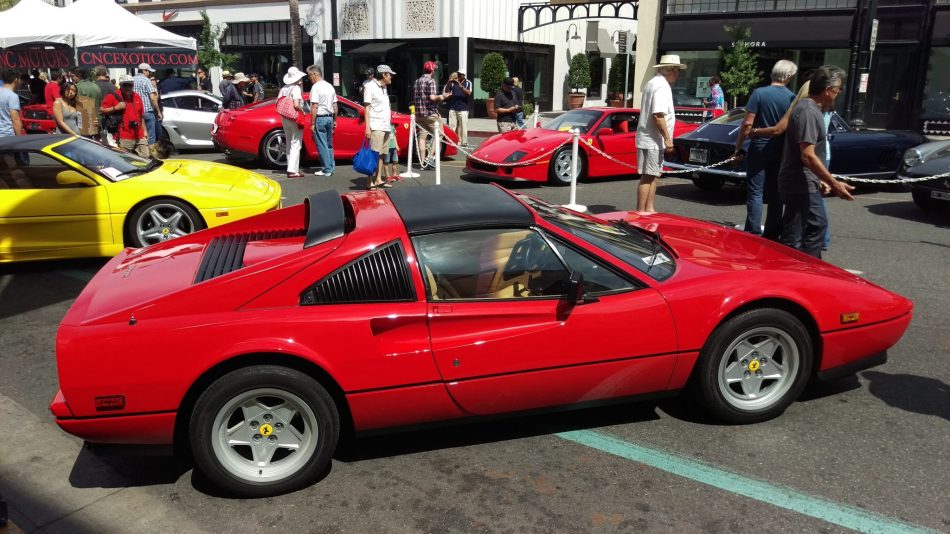 PRANCING HORSE Technical Editor Brian Crall recalls his personal history with 328 GTS, chassis 60053; "That car was sold new to a doctor who was a good client at the dealer I was working for at the time. I have a complete list of all the 328 VIN, and 60053 was the #2 US car, with a large separation in numbers from the #1 car, 59317.  However, I suspect 59317 was built to test the various changes to the US car for problems, either in production or on the road. It may never have even found its way to the US, much like the single 328 Cabriolet prototype."
The window crank port © Jim Hunter/Autospheric
© Jim Hunter 2019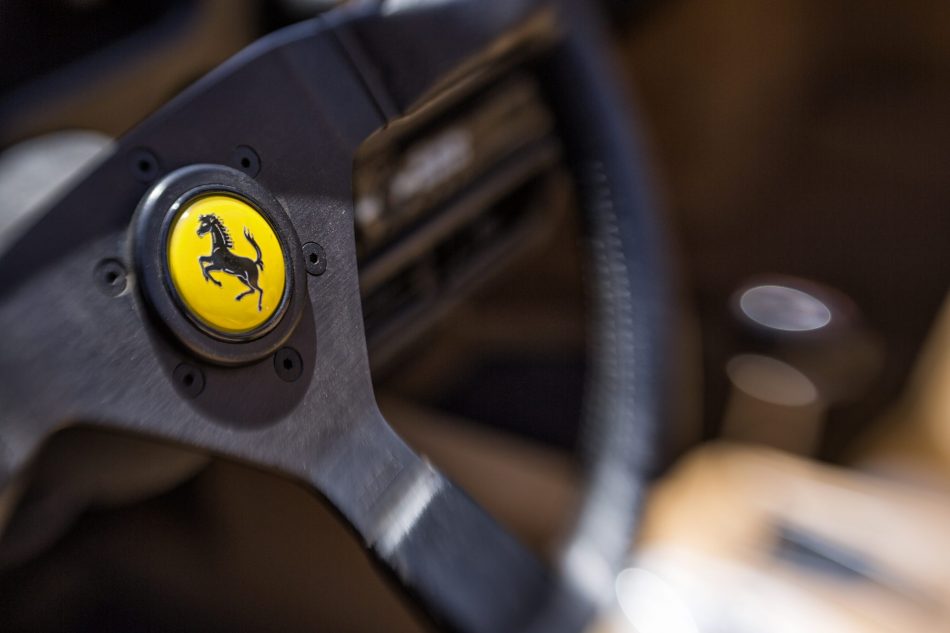 © Jim Hunter 2019
"I always loved the iconic style the 308 and 328, and thought they were beautiful." FCA-SW board member Peter Lund recalls the model that initially looked to be his first Ferrari.  "I happened to live in Hawaii in the early 80's and used to see them filming Magnum all the time, so I've always loved that car.  When I first thought about buying a Ferrari, I was looking at 308's, and then 328's, which offered a little bit more horsepower." 
Peter went on to opt for a 355 because, "Frankly, at 6'1", it had a little more room for me. But I always liked the early Pininfarina V8's, and later I just happened to be on eBay when this car came up. I called to ask about it and the owner really knew nothing. He had bought it in an estate sale, he said. So, I bought it, sight unseen.  I figured for the price, worse case I could part the car out, and best case it might be something decent, so I had the car shipped down and I was pleasantly surprised.
© Peter Lund
"The nice thing was it had almost a complete service history. It had the original service book, stamped when sold by Ferrari of San Francisco, a couple little coupons you would tear out for service, and the name of the tech who did the original prep. It also had the name of the original owner. I didn't have the first couple of years of records, but I was later at Ferrari Los Angeles for a tech session, and they pulled up the VIN and they gave me a print out of all the warranty work. It came with almost every service record from probably '87 or '88 on, anything major that was done.  
© Peter Lund
"I probably pulled three shoe boxes worth of crap out of the interior, out from under the dash, just to get this thing back to original. It also needed timing belts and generally a pretty good cleanup. By the time I was done, I was able to get a Silver and then a Platinum the next year at Concorso Pasadena."
© Peter Lund
The 2016 Pasadena Platino. © Peter Lund
However, Peter found the car a little cramped, and as a result he wasn't driving it enough.  He also wanted a four-seater to accommodate his entire family.  
"When I decided to put it up for sale, I didn't realize the vintage, nor the production number of the car, I just put it out there. In discussing things on-line and seeing some numbers come up, I started questioning.  I sat back and looked at mine and I found out it was built in '85 and the frame was stamped number 2."
Once Peter learned a little bit about the car's history, he shifted his marketing strategy away from eBay and Autotrader to the enthusiast forum, Ferrarichat. "I got a post, someone asking about it.  He said, 'My name is Ed Niles, I'm interested in your car. Here's my phone number, will you call me?'" 
© Tom Brockmiller
Ed Niles role in Ferrari's North American story precedes him, and it began some 60 years ago, in 1959.  In that time, well over 100 chassis, some of the most significant examples of the marque, were imported by Ed or passed through his hands. To name just a few, there was the 1961 Le Mans winning 250 SWB 2689GT, now owned by Bruce Meyer; and a Dino 206 SP, 002, "the most pure race car that I ever owned."   Ed entered the 206 in the Virginia City Hill Climb, only to discover on his run, "that the shift linkage was mis-aligned. I had the choice of falling of the edge of the cliff or hitting the bank. I chose to hit the bank." 
Ed notes those two chassis, with the addition of a 212 Inter Coupe Vignale, 0111ES, as his most fondly remembered cars, but no list would be complete without mention of the 250 GT LWB Zagato, Double Bubble, 0515GT, "a car I've owned 5 and a-half times. I used to tell people when I'd sell a car that if they ever wanted to sell, call me and maybe I'll buy it back.
"I think from the very beginning there was a group of hardcore car nuts who knew exactly what Ferrari was. In those days, we didn't have such a thing as a collector,  but someone who was enthralled with the look and the sound of the Ferrari."
Ed actively stirred the interest in the marque, even if completely by accident.
"Honestly, I never thought I had an impact on Ferrari, the company.  They didn't know me and I didn't know them, really." 
Funny thing, Peter did not know Ed, either.
"I called Ed," Peter recounts. "We talked about the car for few minutes and he said he'd like to see it. He gave me his address and I replied that I'd bring the car by after Piazza GT. So, Chad Woods and I stop by his house and out walks this elderly gentleman with a cane. I'm thinking to myself this probably isn't the best car for this gentleman. I mean it sits so low, and it's probably not something he's going to be able to drive, but he seemed enthusiastic. I probably spent 20 minutes talking both about the virtues of my car, but also subtly trying to talk him out of buying it."  Peter lacked perspective.
 "I was lonely for a Ferrari," says Ed. "I've had them around so much during my life, I can't break myself of the habit. I wanted one more Ferrari and I didn't want to spend a lot of money on it.  I knew who Peter was from his name showing up in the SEMPRE, and that he was a reliable guy from conversations that I had with others. If you're gonna buy a car these days, try and buy the nicest one you can find.
© Jim Hunter 2019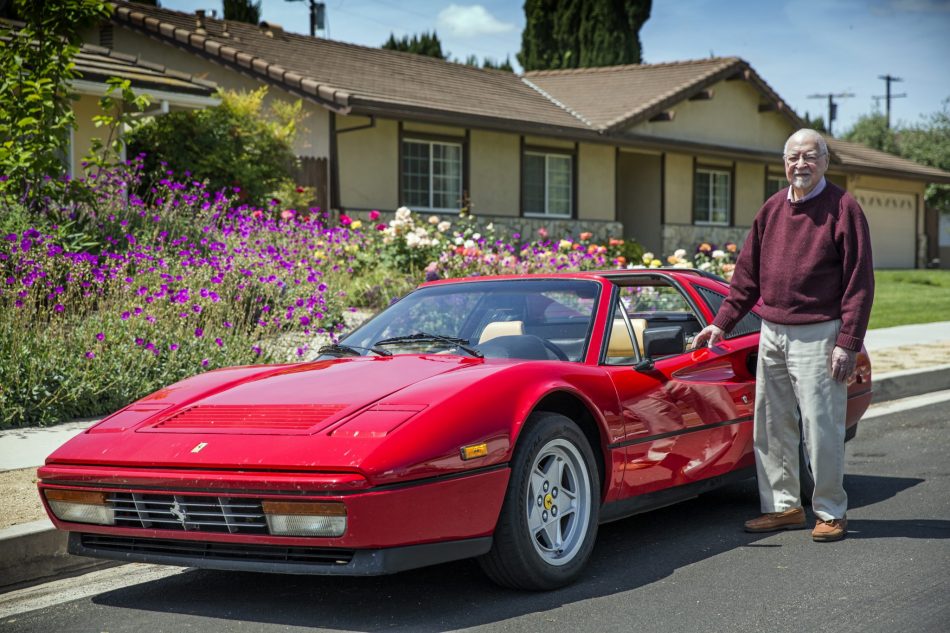 I knew it was a good one because of it's judging history."
Peter continues, "At the end, Ed gave me a deposit and said he'd have the rest of the money in a week, 'I'll give you a call when it comes in and we'll finish the deal.'   As we get back in the car to head back home, Chad says, 'Oh, that's Ed Niles,' and I reply, 'So, who's that?' Chad says, 'When you get home, look him up.' 
The first thing I do when I get home is type Ed Niles and Ferrari and the first thing that comes up is an article that says 'Ed Niles, Ferrari Legend.' It talks about how Ed used to be the big importer of Ferraris and he stopped count at 125. I did a little more research and called him up. 'Oh Ed, sorry, I didn't know any of this about you. You certainly know your stuff. But Ed, please tell me why do you want to buy this car?' 
"He had two things. The first thing he said to me is, 'I've had so many Ferraris in my life but I've been out of it for a while. It's been 15 or 20 years and I want to have one more.'"
The second caught Peter a little off guard. It may not have even registered, initially.  However, stepping back from the moment, it characterizes Ed's entire time in the Ferrari game, 'I think this car is going to go up in value in the next four or five years.' 
Looking back, "I was looking primarily for a high end sports car that I could bring back and make a buck on," Ed surmises. "Gradually more and more people became aware of Ferrari, both through used and new cars. It's possible that I had a small part to play in that, but I just never gave it much thought. I was just doing my thing, having fun, making a buck, and sometimes losing a buck." (laughs)
Ed Niles, Peter Lund, and s/n 60053 © Jim Hunter
"I guess I get a little footnote in the Ed Niles saga," Peter muses. "When you see just about anything filmed at Pebble or about the real classics, and you look down the chain of title, Ed Niles is gonna be the first or second guy on there.  It might have started with some guy in Italy where Ed bought 'em on the spot, seeing 'em drive down the street in Rome, but it'll probably show Ed Niles as the first owner in the US.
"My wife and I delivered 60053 to Ed at his home, and that was it.  I did leave my business card with all the paperwork in hopes that if Ed was going to sell it sometime, maybe he'd give me a call. I think everybody gets a little remorse when they sell something they'd love to have back. I love the iconic style of that car and it's history most likely being the first 328 sold in the US.  It also softened the blow a little bit when I found out who was buying it from me."
Ed laughs, "I think he was a little sad to see it go, but at the same time happy that he got his price.  He wouldn't budge from the set price and there was NO negotiating." [laughs]
© Tom Brockmiller
Ed has taken the car to the Woodley Park, Best of France & Italy show. "That's always a nice event because it's low key and nobody's judging you. The styling's so beautiful, so iconic, and so well known because of the Magnum TV series, I consider it to be a modern classic."
Originally published in SEMPRE FERRARI Vol. 26, No. 4, the magazine of the FCA-SW Region
Note:  We sadly lost Ed Niles on August 3, 2021.
News of Ed's passing came with a consolation for those of us who appreciate his unique history with the marque. With the help of his good friend, restorer Steve Tillack, Ed's book Adventures in Ferrari Land is available via Octane Press
https://octanepress.com/book/adventures-ferrari-land-special-edition-set
Peter is currently serving as the President of the FCA Southwest Region
Tags:
0428MD
0515GT
0580MD
16895
250 GT Lusso
250 SWB
250GT Speciale
2689GT
328
4627
60053
Alfonso de Portago
Asa Clark
Berlinetta
Bert Anakin
Brian Crall
Bruce Meyer
Carrera Panamericana
Cavallino Classic
Chuck Queener
Concorso Pasadena
Don Novack
Earl Waggoner
Ed Niles
Ferrari
Ferrari 250 LM
Ferrari Club of America
GTS
John Von Neumann
Larry Bloomer
Le Mans
Lusso
Pete Civati
Peter Lund
Phil Hill
Road & Track
Robert Fehlman
Sal di Natale
Steve Tillack
Tom Peck
Tour de France
Watkins Glen
Zagato
Zandvoort