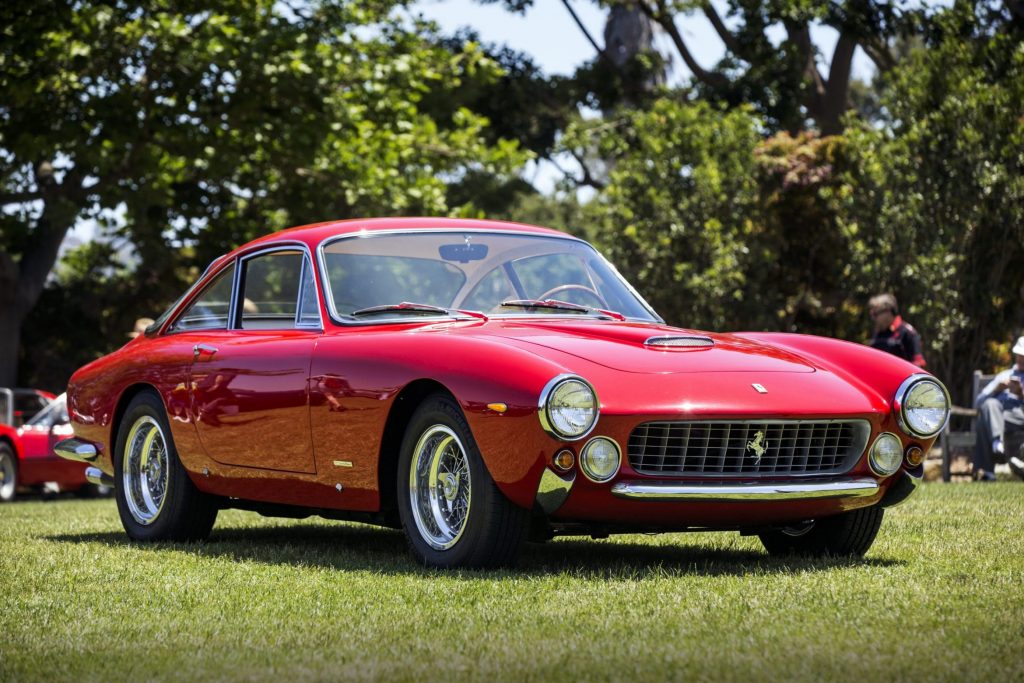 Wow, that's what a car should look like,'  Earl Waggoner stopped for a closer look. Five cars and over fifty years later…
"One day in 1971, I happened to see a Ferrari parked in a garage lot off Slauson, up in the Ladera Hills. I thought, 'Wow, that's what a car should look like!'  I stopped for a closer look; it was a 250 GTL "Lusso." It so impressed me I began looking in the LA Times, and saw a Lusso, 4627, advertised for sale in Pasadena.  It belonged to Asa Clark, who had previously served as the President of the Ferrari Owners Club (1967), or he may have been selling it on behalf of Bert Anakin.
"I went to take a look at it.  He wanted $5500. It had kind of a hard life, but what did I know? He also had a 275 GTS, which was really nice. He said, 'You can have either one of them for $5500.' But I wanted the Lusso.
Fellow TWA Pilot Frank Arrufat check's out Earl's new toy and first Lusso, s/n 4627. © Earl Waggoner
"I wasn't one to chisel and negotiate, I just bought the car. I paid $5500, and after I lived with it for a few days, I realized it was going to need a lot of work to get cheeried out. 
"So, I took a trip to Italy and went to Ferrari with the thought in mind to buy everything that is unique to a Lusso, anything that I might likely need in the future to make this one a nice one. It wasn't easy in those days because not many people spoke English. There were no cell phones, GPS, etc. The thing I did have going for me was that I was a TWA pilot, we flew into Milan, and I could travel for nothing. I got a few days off, went over, and rented a car for practically nothing.  I bought all the things, all the emblems, lights, and rubber unique to the car. Ferrari had a parts department in Modena and Enzo's office was right there. I was sitting in my little cubicle with my camera, and he's standing right outside the door. I didn't even think to have somebody take a picture, but I did step out and shake his hand.
The factory gates circa the early 1970's. © Earl Waggoner
The entrance to Enzo Ferrari's Modena office, with client waiting rooms on the left © Earl Waggoner
Scaglietti, Modena © Earl Waggoner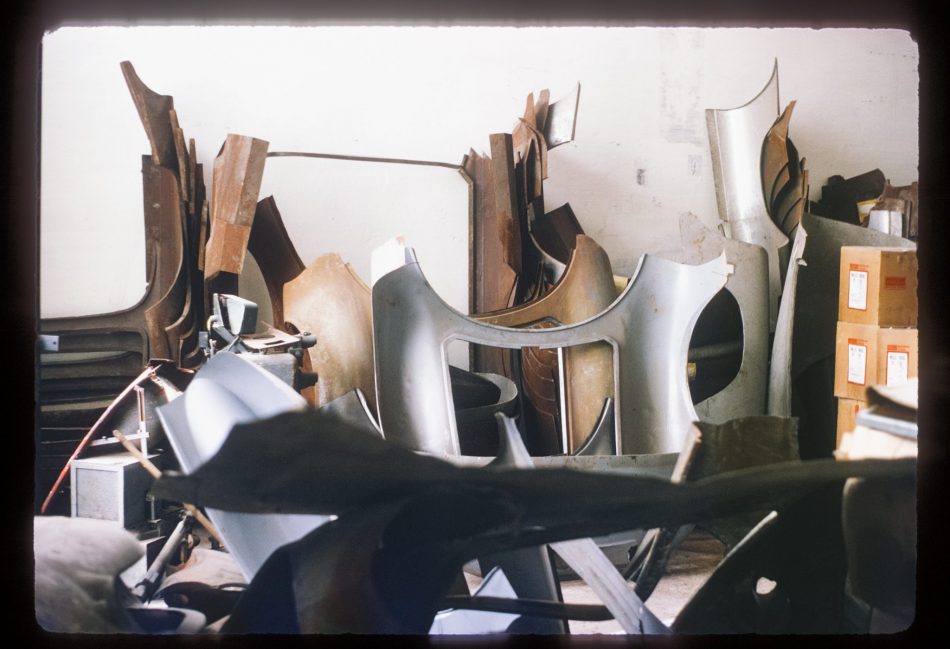 More skins at Scaglietti, © Earl Waggoner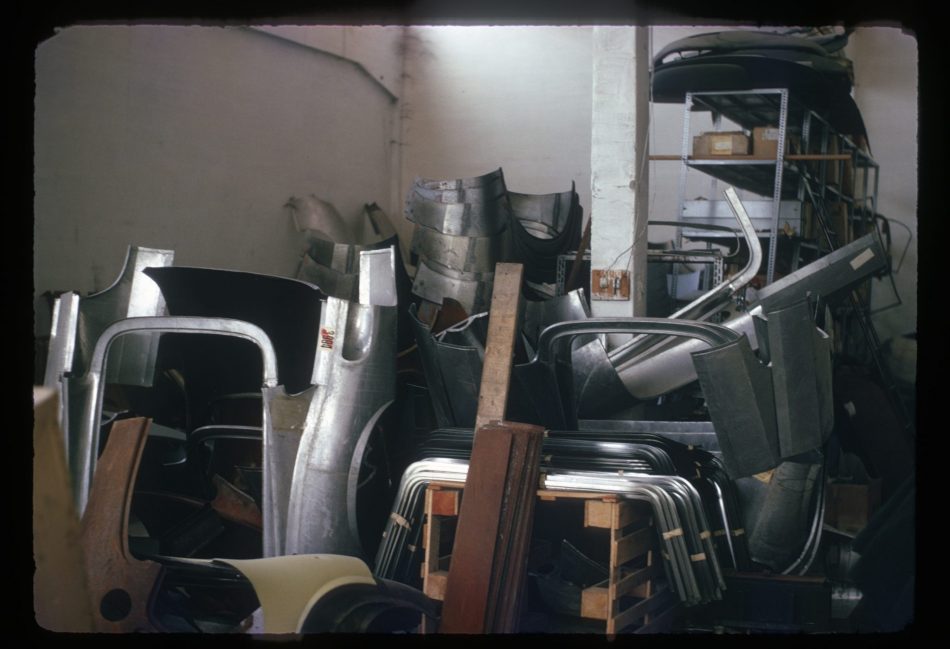 "I came back and my mechanic friend Pete Civati suggested that if I was gonna fix one up nice, maybe I should start on a little higher level.  He knew of 5341 in Ft. Collins, Colorado. I had at trip into Denver, so I went up there and took a look at it. It was a much nicer car than the one I had, for $7500, so I said Ok. [laughs] 
"I returned in a couple of weeks to drive it back to LA, and that was a bit of an experience. I had only previously driven it on a short test drive, and this was in July. I had gone through Cottonwood and Jerome, Arizona, and then on through the desert between there and Blythe. You know, there's hardly any insulation on the floorboard, and those mufflers are right there, just an inch or so below, and my feet were getting hot, I mean really hot! [laughs]  I made it as far as Blythe and pulled into a bar, to get in some place with air conditioning. I went in, drank ice tea, and waited two or three hours.  I told them I couldn't get back on the road.  So I waited until the sun went down before I came back into LA from Blythe.
5341 was originally silver/red, but had been painted green when Earl purchased the car in Colorado. © Earl Waggoner
"After I got Lusso #2, 5341, I sold the first one and made another trip to Italy and gathered up all the things I would need for it.
"When I came home from that trip, the Ferrari Owners Club bulletin was here and there was an ad that said, For Sale, 1964 Berlinetta Lusso, 5785, not like the one in the Road & Track article, but THE one. $10,000.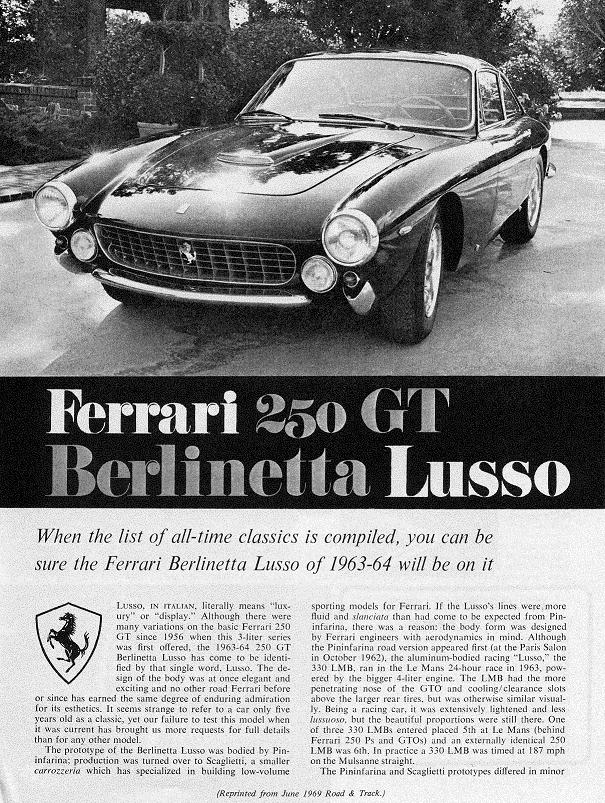 "Well, I was aware of that article and the car. I knew it was in Newport Beach and had always planned to go down to see what was generally considered to be the best Lusso around, to see what it really looked like.  So I went down and I met the owner, Don Novack.  With one look I said to myself, why am I going to Italy? Why am I buying these used cars, trying to come up with a car like this, when here it sits?  And by that time I knew that my $7500 car from Colorado was not going to be like this one $2500 later.
"I said, 'You got any bites?' 
"'Well, I've had a few looking, but no money,' he replied.
"I kinda said, 'Oh geez, I've already got one but this is what I want.'
"'Well,' he responded nonchalantly, 'Think about it and let me know.'
"This was on a Saturday, and I said, 'Well, if I go home and think about it all weekend, and in the meantime somebody else buys it, then I've wasted all that thinking.  So, ah, I'll take it.'
"The next day Larry Bloomer called me and said "Hey, I heard you bought Novak's Lusso. Wanna sell it?' Well, no, I just bought it. Long story short, I still have the car and it is the Road & Track test car in the June, 1969 issue, and it is still unrestored and probably worth more than the $10,000 that I paid for it.  I contacted ROAD & TRACK to suggest they run a 50th Anniversary article, but was disappointed when the Editor regretfully responded that such an article would not fit their current format.
Earl with the Road & Track car, 5785, some 55 years after the issue was published! © Jim Hunter
"At some point along the road in 1974 there was an ad in ROAD & TRACK.  A guy was selling a wrecked Lusso, a burned Lusso, and they were both stored up in Canoga Park, so I went up and took a look.
Chassis 5589, © Earl Waggoner
"The wrecked car, 5589, was pretty decent, but everything that could be taken off the chassis and body shell was gone. It had been hit in the right front but was straight except for that and the body was pretty good.  The other car had been in a garage fire.  It had no engine, no transmission but did have a differential and a rolling chassis.  I'm sure it had heat damage, but I didn't care. As I remember, he wanted $700 for both of 'em. I just bought 'em. So now I'm into numbers four and five, for another $700 . . . and put them in my Hawthorne garage 
"Well, there was this guy in Switzerland, Robert Felhman.  He knew I had this wrecked chassis, and a friend of his came over to talk to me about it. Finally, I got a chance to go to Switzerland and meet him. I liked Robert, a first class guy. He had a Fiat dealership and some really nice Ferraris. His thing was making something out of nothing.  He had an alloy GTB-4 that burnt on the Autostrada that he put it back together. 
"He had bought the remaining Lusso body parts from the inventory I had seen at Scaglietti in Modena several years before. Robert had managed to acquire what remained of the nose and tail sections, body panels, and all kinds of stuff  that I had seen stacked up like paper cups.
"I will give a you a set of skins for a Lusso for your wrecked chassis," he offered.
"Well, that sounded like a good deal, because the chassis was a nuisance to me, big and clumsy, and the only reason I had it was to have some spare body panels in case somebody ran into me. We shook hands on it and I came home. Well, next thing I know I get a phone call from the dock saying, 'We've got a crate here for you.' 
"My God, it's already here, and I hadn't even done anything. Sure enough, he gave me all these body panels, a complete set of skins. Door skins. Hood skins. Nose. Tail. Roof.  All for a piece of junk that was taking up a lot of space! I had a freight-forwarder build a pallet, and sent 5589 to Robert.
The fruits of 5589, © Jim Hunter
© Jim Hunter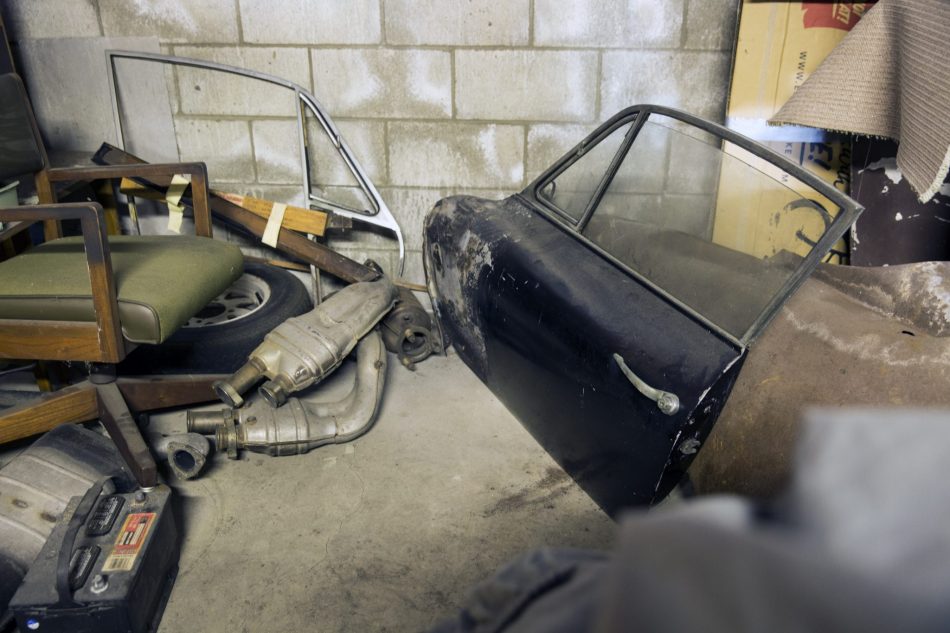 © Jim Hunter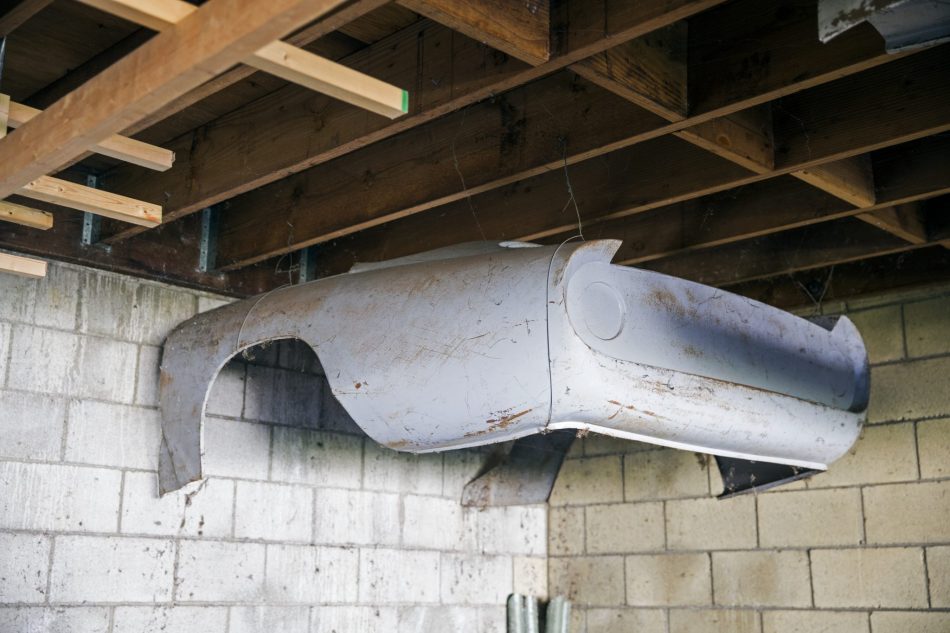 "A few years later, he made a new Lusso out of it with all the parts he had gotten from Scaglietti, engines, and all the stuff he'd accumulated.  He painted it a dark midnight blue, gave it a tan interior, and it was spectacular. 
the burned remains of s/n 5329 © Earl Waggoner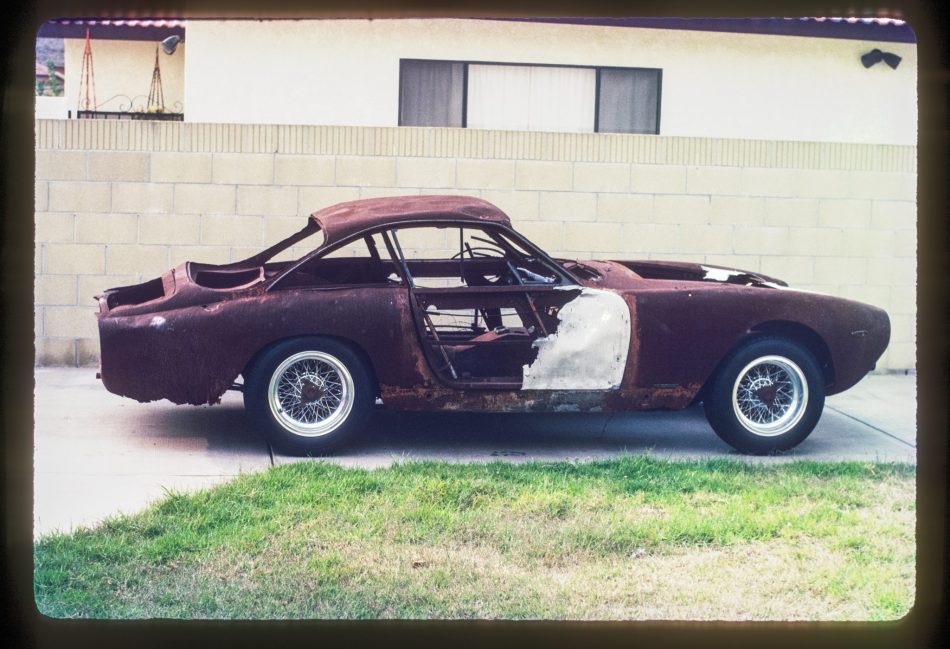 "I'd told everyone I wouldn't ask my worst enemy to try and make a car out of the burned chassis, 5329, but people kept asking and finally this friend came by with a cashiers check for $70,000, saying, I want that car. [laughs] It was not long after Ferrari's death, and anything with a serial number was in demand.  Well, I had about enough spares, so I let it go. In the end, I parlayed $700 into a full set of skins, and $70,000."
"5341 would be the Lusso I've enjoyed the most. First off, I got it when one could actually get on the street without all the congestion and the population doubling in the meantime." 
There have been some memories along the way . . .
"I was never happy with the way the car drove. It wasn't designed for Los Angeles traffic. I didn't like the gearing. It was geared too high. The Lusso was designed for the Autostrada, and when you are in traffic, it doesn't want to get off the line. There's not a lot of torque, so you have to rev the engine slightly and slip the clutch to avoid stalling. Once you're going its great, but it was for that reason that I decided that I was gonna make that car what it should be. I decided to change the rear gear ratio and at about the same time a 275 engine came available.  I had met a guy in Milan who had a 275 engine and transaxle.  I asked what do you want for them?  He said he'd ship 'em to me for a $1000, total. Ok, so I bought them.  With a little modification, you could put a 275 engine in a Lusso and I did just that, but I never finished the job. Never had it running. Never drove it.
"Bob Butler knew this, so he said, 'We gotta get your car going. Why don't you let me restore the Lusso?' Bob had a shop up in Valencia.  Norbert Hoffer and Carl Steuer worked for him – a really nice setup with all kinds of machinery, so I said, 'Yeah you're right . . . lets' do it.' Bob, Norbert and Carl went to work and that's how I managed to get 5341 restored. I still have the original 250 engine.
Earl with 5341, as it appears today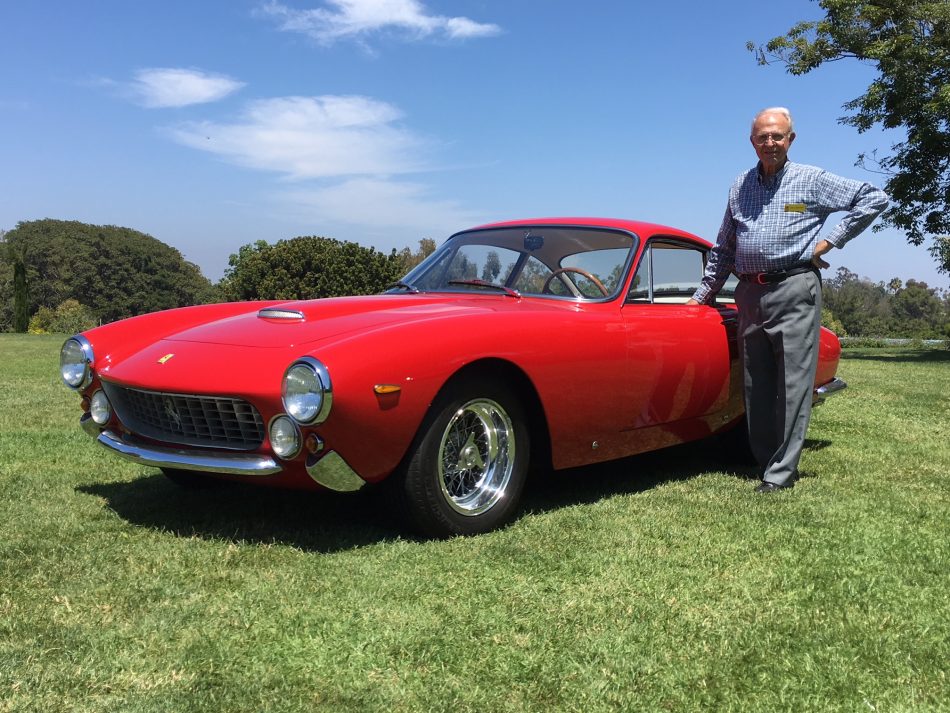 © Jim Hunter 2019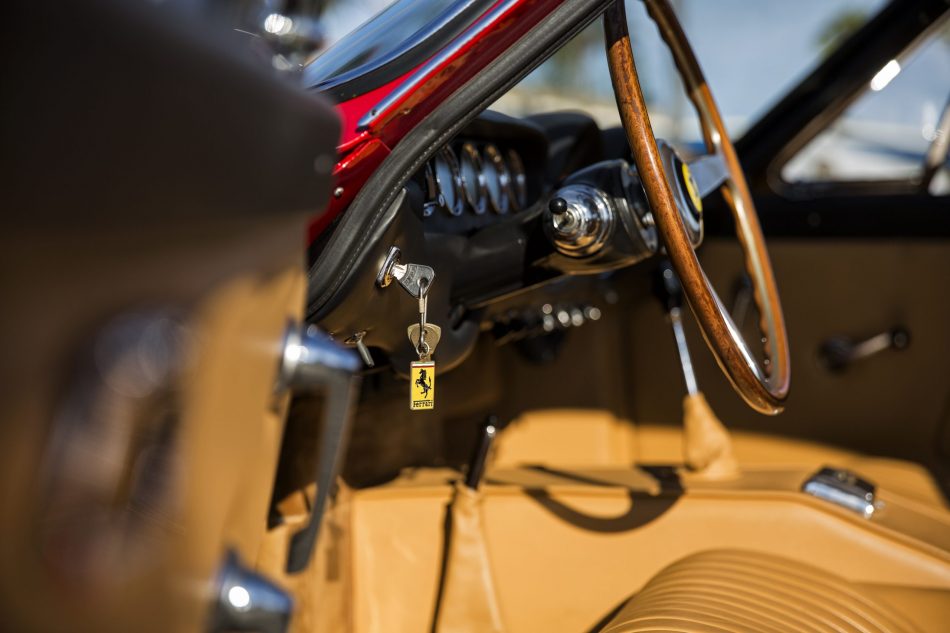 © Jim Hunter
© Jim Hunter
"I would also share this story for anybody with an earlier, V12 Ferrari. I had 5341 down at Norbert's Gran Touring Classics in Long Beach. We did a bunch of stuff including replacing the muffler and having it detailed because I was taking it to the Pasadena show. Norbert was showing a customer's car there that he had flat-bedded up, so when it came time to leave I said, 'Well, you might as well ride back with me.' The flatbed took the customer's car and we left in 5341 and headed down the freeway.  We got down there around the USC campus, cruising along at 60 or so, and all of a sudden phuwhoop, phuloop, and the car kind of bucked a little bit.  
"I said, 'Oh my god, what's going on?' I thought, maybe it's the fuel pump, so I instantly started moving over. I was clear over in the fast lane and was like I'm getting out of here!  PhuhWhoop!  At first, I thought it sounded like it does when you run over the cracks in the freeway. It was losing power but still going, so we decided, 'Ok, there's a truck weigh station where the 110 hits the 405. We'll pull into there, get off the freeway, and see what's going on.'  My feet were also getting warm, so we pulled in. The second I opened my door I saw smoke, and smelled hot paint from the new muffler. Norbert opened the hood and noticed that the coil wire in the center of the left distributor was out, so I took my pen-knife and stripped it back a little bit and put it back in. We're good to go. We decided we had only been running on six – only running on one bank and since the muffler and everything was already hot when the other bank stopped firing, the fuel was still going in and when it would get into the muffler it would explode! I'm sure it was shooting fire out the back and that big whoop that we heard was fuel that instead of being burnt in the engine, was exploding out of the exhaust. Of course, the further we went the hotter the muffler got, and it started to burn the paint off the muffler and heat up the floorboards.  It could have really been bad!  So, I would tell anybody if you ever lose one bank and the engine is already hot, that fuel's continuing to go in there and it can explode. That was a close call, a real experience."
Specific to another unique modification Earl has also done . . . 
"There were a couple of teenage girls that lived up the street, and one day I was with the car, right on the driveway, when they drove by.  They looked up . . . I forget now whether her girlfriend was driving the car, but for whatever reason, they didn't want her Dad to see them. She stopped right there and backed up, and right into the headlight of my Lusso!  
"It wasn't horrible, but I took it to be repaired at Junior's House of Color. Of course, it had the original Marschal lights, and I opted to switch to sealed beams. I never cared for the way the original Marshal light rims did not carry out the line of the fender.  Ferrari probably just used what was available. They bulged up. I found some Fiat headlight rims that carried the fender line, and used them with the sealed beams. It's something that most people wouldn't notice, but I think it really makes a difference in the appearance of the car. Nobody's ever noticed the difference, but I think it is actually better."
Captain Earl Waggoner, stepping onto a Boeing 707 in 1979. Courtesy Earl Waggoner
Earl followed his passion, not hesitating to invest in his goal, and by taking advantage of his wherewithal to source parts and services, he's carved a notable corner in the Ferrari 250 GT Lusso story.  In the process, he's also done quite well, even beyond his rarefied journey that was in itself a success.
"It has been a fulfilling hobby!  I have enjoyed the cars and met many interesting people."
Originally Published in PILOTA, the magazine of the Ferrari Owner's Club, March 2021
The Captain's Chair… © Jim Hunter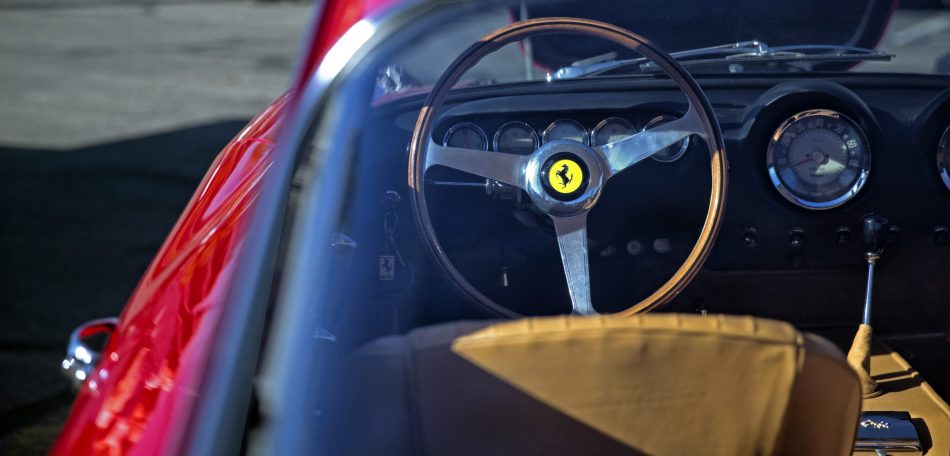 Tags:
250 GT Lusso
250 SWB
250GT Speciale
2689GT
4627
Asa Clark
Berlinetta
Bert Anakin
Brian Crall
Bruce Meyer
Carrera Panamericana
Cavallino Classic
Chuck Queener
Concorso Pasadena
Don Novack
Earl Waggoner
Ed Niles
Ferrari
Ferrari Club of America
GTS
John Von Neumann
Larry Bloomer
Le Mans
Lusso
Pete Civati
Phil Hill
Road & Track
Robert Fehlman
Tour de France
Watkins Glen
Zagato
Zandvoort