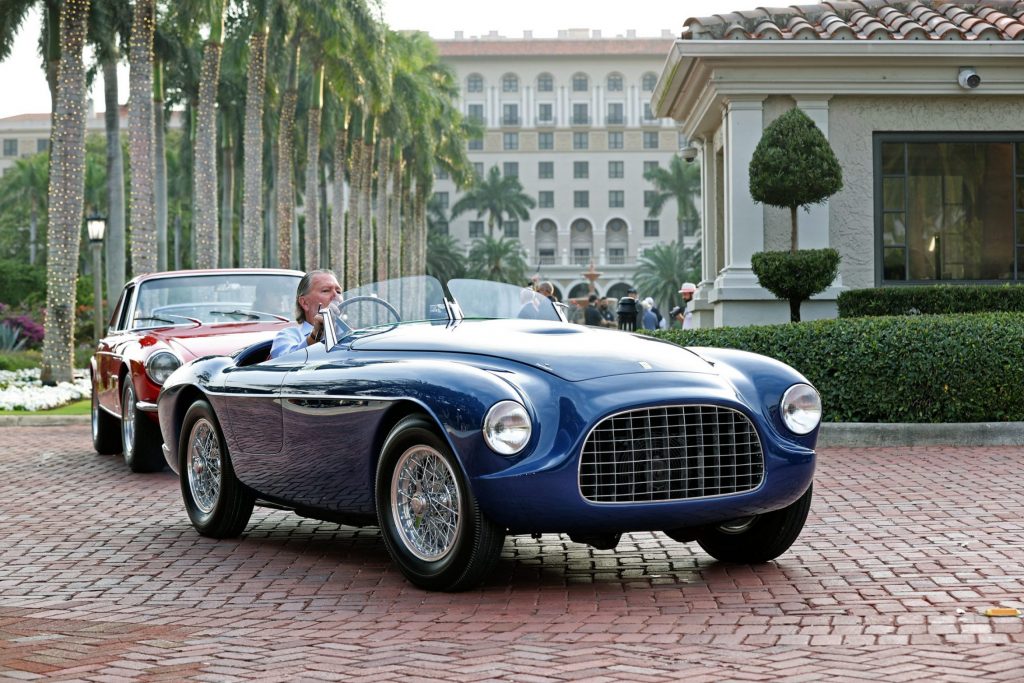 "The cars I'm most interested in are those that are neglected, have not been restored, have some interesting race history, and are all there. I'm kinda like a new guy doing this stuff, started only six years ago. We'll call it a hobby, but in my 'after life' of retirement, it's been a real fun passion that I hope to pursue for a long time."
In a very short time, Tom Peck has made his name as a force to be reckoned with on the major concours circuit.
"I was born and raised in East Long Beach of very humble means. My Dad had gotten out of the war and started a small business. We couldn't afford things like Levi's, so I would get the Sears Best Jeans to wear to school. My mom drove a Nomad and always even as a young kid, admired cars and became a fan of the early 50s' automobile.  I remember, 8 or 9 years old, sitting with my friends, I could hear the Ferraris racing down Ocean Blvd. We'd watch Corvettes and other cars speed by and occasionally a Ferrari, which was just like, I mean, we almost jumped out the window! I always thought, 'That's a Ferrari! That's a car from Italy! That's the neatest sounding noise I've ever heard,' so from early on I had caught the car bug of the '50's era."
Tom went through a couple of schools to earn his degree in Biological Sciences. Tempted by the romantic appeal of oceanography or studying photography under Ansel Adams, he ultimately opted for the practical sensibility of going to work in the family business in 1975.  That decision was to pay unexpected dividends.
"By 1977, only two years out of college, my Dad's partner saw a Ferrari down at Newport Imports on Coast Hwy. He was Czech and in broken English said, 'This the sexiest car I've ever seen. I'm down there right now and I'm gonna buy it!' It was a 308 GTB 77. He got the car and I was drooling all over it. About six months to a year later, he went in and told my Dad, 'You know, your son is doing a really nice job for the company, I think we should buy him a Ferrari.' At that point I'm like 27 and I'm thinking Holy Smokes. My Dad replied, I think he'd rather have the money if you ask him.  I said, 'No, I'll take the car.' LAUGHS
So I went down to Newport Imports and they had a 308 GTS coming in, red and tan. I said, 'That's great, I'm on it.' So here I'm 27 years old, and I have a convertible Ferrari, my first Ferrari. I was bit for good." 
Tom's appreciation for the marque progressed through the evolution of later models including a "Miami Vice" Testarossa, several F360's, and on through into today's Ferrari supercars.
"To make a long story kind of short, it wasn't until 2013 when we sold the family business that I had the wherewithal to pursue what I was really passionate about, and that is early Ferraris.  I bought a couple of restored cars, a 250 Europa, Vignale body. Shortly after that, Ken Roath had restored at the factory a 212 Inter Cabriolet, actually one of the first two cars bodied by Pininfarina for Ferrari. It was a beauty, I walked in, said I love this car, and bought it on sight.
The 1955 250 GT Europa – s/n 0419 GT © Jim Hunter
1952 Ferrari 212 Inter Cabriolet at the Dana Point Concours d'Elegance, © Jim Hunter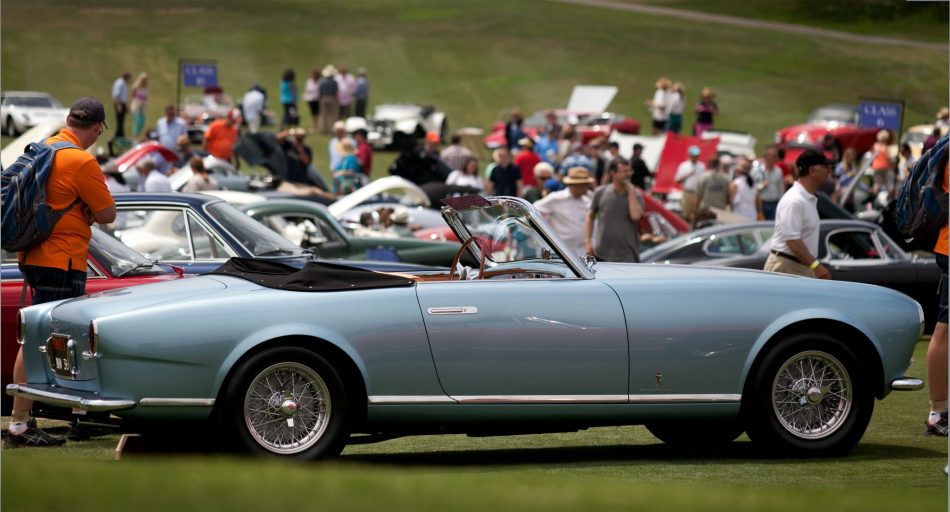 "I was into a couple of true vintage, properly restored, kick in the pants to drive Ferraris, but I started looking more closely and thought half the story in these cars is bringing them back to life. I thought this would be a fun thing to do, so I began scouring around and the first project car I found was 0438MD. It had been well driven, separated from it's motor, and really required a complete restoration."
0438 MD
Working with Ferrari Classiche, Tom undertook his first full restoration. The process took approximately 18 months.
"We got the car back from Ferrari, maybe in May of '15. I had literally never been to a car show and everybody said you've got to enter your car in Pebble Beach." 
It so happened that Pebble had put together a special class that year for cars that had competed in the Pebble Beach Road Races.  0438MD was entered and raced by John Von Neumann in the 1956 race, his first Ferrari.  
"We were up against some pretty serious hardware. Les Wexner had three cars in the class. John Shirley had a car. It was quite a lineup and every car on the lawn was red, except for my blue 0438MD. I didn't know what to do. I was just nervous as a hen, couldn't even think straight.  So, I thought this is a little four-banger car here and the best thing I can do is be on my game, thoroughly research the car in every way I can, and just know it cold. I told the judges the story of the car, the ownership going back to "International Playboy" Porfirio Rubirosa, it being the only Ferrari that James Dean was ever photographed in, and it being Von Neumann's first Ferrari. Turns out, I win my class at Pebble Beach."
Phil Hill was among the names of those who raced 0438 MD
James Dean tries out 0438MD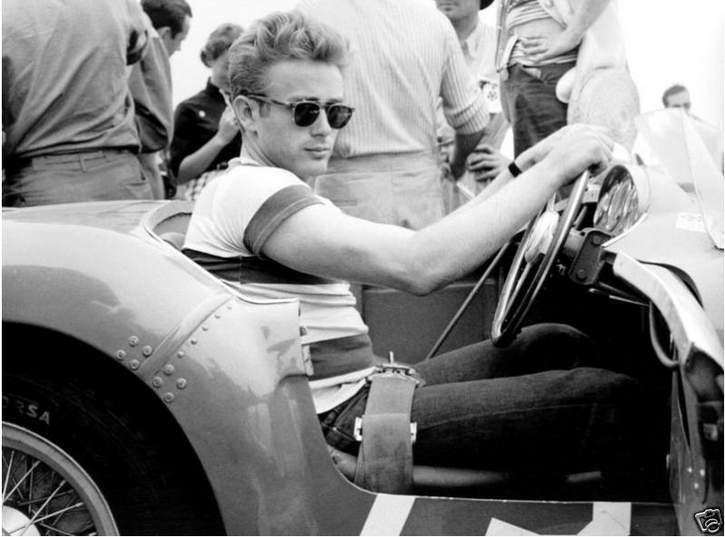 The award fired Tom up and he soon found his next project, a Touring-bodied 212 Export, his first 12-cylinder.  
"The chassis, 0102E, had a nice factory racing history, and was then bought by 20th Century Fox for the movie, THE RACERS, starring Kirk Douglas. 
However, Enzo would not let the studio use his name nor his cars for the movie. The producer, irritated, decided to create his own Italian sports cars and call them Buranos."
0102E, at Ferrari Classiche still in it's "Burano Spyder" form
0102E was the most heavily modified of three Ferraris purchased and converted for filming. Tom had the original motor but the original body, of course, was missing.
"We found the original aluminum body in the back of a body shop near Maranello.  It needed work, so Ferrari Classiche said let's just make a new body, the original is gonna cost a lot more, and we can't guarantee it because the aluminum is 70 years old. I said, 'No way, I don't care, I want everything original.'
"We got all that done, and the car was ready for Pebble in 2017. I came in 2nd but I was just delighted to be on the podium at all, having brought the car back from what I'll call a derelict with a fake body.  I went on to show the car at Cavallino, and it also did well at Ameila Island, and that sort of set the trend for me.
Piero Ferrari with the restored 212 Export, s/n 0102E
"The next car I found came out of Les Wexner's barn. Les had one of the most magnificent Ferrari collections in the world. 0580MD was the last of the 2nd series four-cylinder Mondials.  It had been around the block a few times and I saw it as a great restoration project.
0580MD on display at the Lyon's Air Museum © Jim Hunter
Through research in Sweden, we found out the car was in the Stockholm Motor Show in 1955. So we found the photographer who took the original pictures of the car at the show, found racers from the era, and an enthusiast who helped me dig into research in terms of races it ran in, photographs, documents. We ultimately restored 0580MD to the way it was at the show, which was red and black.
"One of the last things we did was make sure the paint didn't have a gloss coat or look fresh out of restoration. Back in the day, Scaglietti had two weeks to hammer out a body, get some paint on it, and get it back to Enzo for a race. We decided imperfections would be true to how the car actually looked at that Stockholm Motor Show. Certainly, even after only one race, these aluminum bodies got beat up pretty bad.
500 Mondial, Series II Spyder, 0580MD
I brought 0580MD to Pebble in 2018 and had some pretty serious competition, including Chris Cox, who had a beautiful Testa Rossa fresh from the factory. Anyway, I won. Winning with another four banger just made me even more enthusiastic. Ultimately, 0580MD went on to Cavallino and won several awards there as well.
"I fell across 0428MD, which had been in pieces in a box for the better part of 50 years up in the Bay area. Will Haible, the owner, always had the dream to restore the car and was able to put the engine back together. Ferrari completed the car in 1954 entered it in the inaugural Imola Grand Prix as a 2-liter Mondial. Umberto Maglioli drove this little 4-banger car to victory. Ferrari took the car back, and within a week popped the first Lampredi 3-liter 750S motor into it."
Alan Boe wrote in Cavallino #234 that 0428MD then went directly to Monza for the 1000 km, to be driven by Nino Farina, but a practice incident hospitalized Farina and damaged the car. Ferrari immediately pulled the 3-liter motor, badged 0428MD, and placed it in a Pininfarina Spyder, 0440MD, which Mike Hawthorn and Maglioli then drove to victory. Enzo Ferrari thus decided to re-christen the 750S as the 750 Monza in honor of the win.
After the race, the motor was immediately reunited to a repaired 0428MD, which became known as the 750 Monza prototype.  The car was eventually sold to Alfonso de Portago, who campaigned the car in the Carrera Panamericana and Bahamas Speed Week. The car went on to compete in North America under the ownership of Sterling Edwards.
de Portago behind the wheel of 0428MD
"You always have a dilemma when you restore a car. Do you go back to how it was when the factory first raced it, or when it was sold as new to it's first customer?  In this case, we chose the sale to Portago, who also became a factory driver after racing 0428 MD, and we just loved the Carrera Panamericana paint scheme. We brought it to Pebble in '19, finishing in 2ndplace behind the Phil Hill Monza owned by Patrick Otis. Unexpectedly, I did receive the Enzo Ferrari Trophy for the Best Ferrari at Pebble, and I was very proud of that."
The biggest news was yet to arrive, however.
"We took the car to Cavallino last January, and did very well. I was on top of the world to get Best of Show. The pandemic hit, and next thing I know, I get contacted by Peninsula Classics, stating 0428MD qualified as a contender for The Best of the Best Award, selected from a short list of exclusive winners.' We submitted, and formally learned on the 9th of February that I was awarded the Peninsula Classics Best of the Best Award for the 750 Monza prototype, 0428MD.  I am overjoyed that a little 4-cylinder Ferrari was selected to be The Best of the Best."
"Best of the Best" 0428MD at The Cavallino Classic, 2022 © Jim Hunter 2022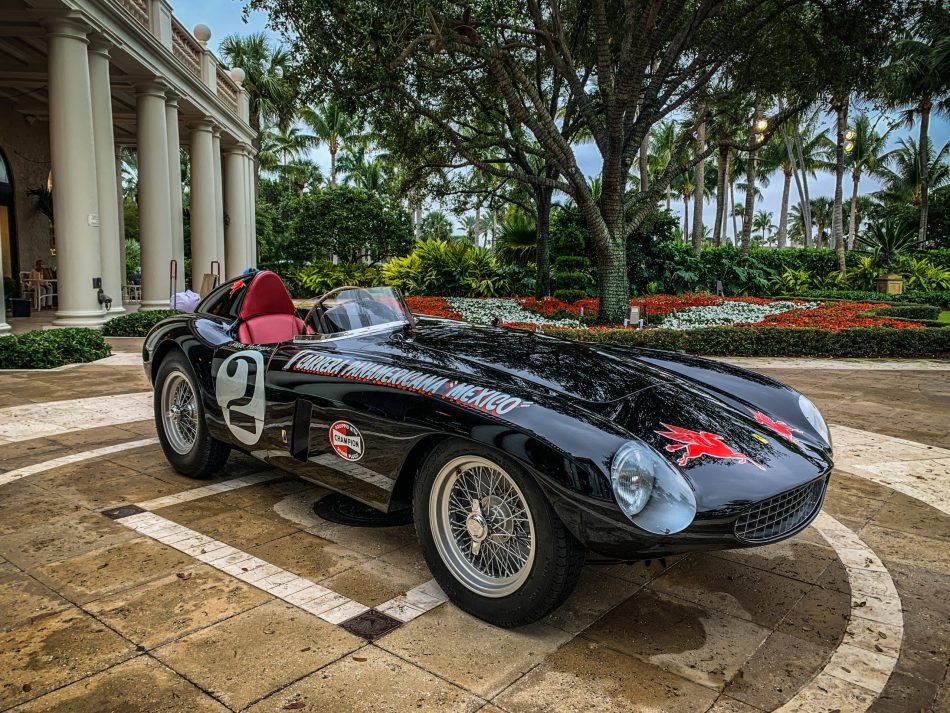 Tom is humble about his accomplishments and gives credit where it is due.
"It's always a team effort. I'm a nut for the research. I love the sleuthing, however I'm the last person to say it should be this or that. I'm a conductor, a facilitator of people who have the knowledge and do the work to get to the correct answer. It's not really about the hardware as it is the recognition of the car itself and the selfless support of enthusiastic researchers and artisans, vested with a wealth of information and craftsmanship that they are willing to share."  
He also relishes presenting the completed work.
"I love being a participant, and the great pleasure of presenting a Ferrari accompanied by my beautiful wife, Jill. She'll camp out with me next to the car all day long. I don't leave to get lunch; I don't hob nob. She shares my enthusiasm and we stay with the car and to talk to anybody who has interest in it. At the end of the day I'm fully exhausted, but rewarded in sharing what I've learned with my better half and with people who genuinely care.
Teammates: Tom & Jill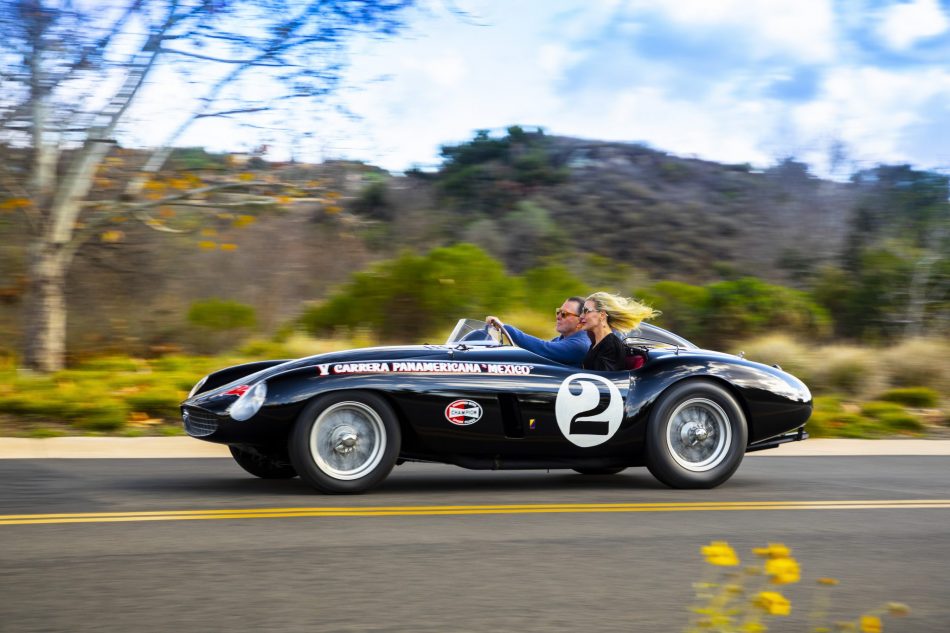 "Along the way I've picked up a couple of more cars. 0192ET, a 1952 Vignale-bodied 225 Sport, another car out of Les Wexner's barn that is under restoration right now.  It has a great racing history. I'm hoping it will be ready for Pebble Beach in 2022. 
"In the last year, I also acquired a 375MM, 0476AM.  Most 375MM's are very serious 4 and half-liter race cars, but a few, including this car and John Shirley's Pebble Best of Show chassis, 0402AM, sold new to Roberto Rossellini, were made for special clients with street bodies. This car represents Ghia's last Ferrari, and we're excited to bring it back to how it looked at the Turin Motor Show in 1955."
The consistent success Tom and his restoration partners have enjoyed derives from a deep appreciation and healthy appetite for fully understanding "the real magic and history" behind these cars.  The value resides not in the superficial, but instead the respect for faithful preservation as a guideline into the future. 
"For many years, the 4-cylinder cars have been overlooked, under appreciated. The 12-cylinder Ferraris became the thing, but it was the 2-liter, 4-cylinder F2 500 that carried Ferrari to two World Championships and helped the promote the company as being able to later sell, call them less tuned race cars, to sportsmen, who in turn raced them as individuals. In many cases, this resulted in victories against factory entries, so they have a great history. 
"They are very visceral machines, a handful to drive. It's suicide clutches, RH drive, and a cacophony of noises complimenting the straight-pipe exhaust. I drive mine for 20 minutes and my heart's racing. They're becoming more appreciated nowadays as ever much Enzo Ferrari, Aurelio Lampredi developed race cars that found a way into promoting privateer racers outside of the factory. 
"That's my speech on 4-cylinder race cars." [LAUGHS]
Originally published in Vol 29, No. 3 issue of SEMPRE FERRARI, the magazine of The Ferrari Club of America Southwest Region
Tags:
0428MD
0580MD
Alfonso de Portago
Carrera Panamericana
Cavallino Classic
Ferrari
Ferrari Club of America
John Von Neumann
Phil Hill
Tom Peck